Lately, the term "hitting pay dirt" has taken on new meaning for college football stars.
On July 1, the NCAA moved to allow college athletes to benefit from their name, image and likeness. And that decision propelled college sports – football in particular — into uncharted territory.
On the eve of the 2021 campaign, college quarterbacks like J.T. Daniels of the University of Georgia (photographed above) and Bryce Young of the University of Alabama are suddenly high-paid pitchmen. Daniels, for example, secured a partnership that makes him a paid "brand ambassador" for chicken chain Zaxby's, while other restaurant chains, like Raising Canes and Bojangles, have also signed athletes to NIL deals.
"I get asked all the time what my favorite food is. It is Zaxby's. Hands down," Daniels said, per a press release. "This is the type of brand partner I am excited to have."
Talk about calling an audible. For years, college athletes could scarcely benefit beyond the room, board, and training-table meals their athletic scholarships provided. All of a sudden, athletes like Daniels are getting paid to pitch products for multiple companies, and Young is set to receive nearly $1 million in NIL money after signing with Creative Artists Agency, according to multiple reports.
That means college sports – and, to an extent, restaurant marketing – have entered uncharted territory.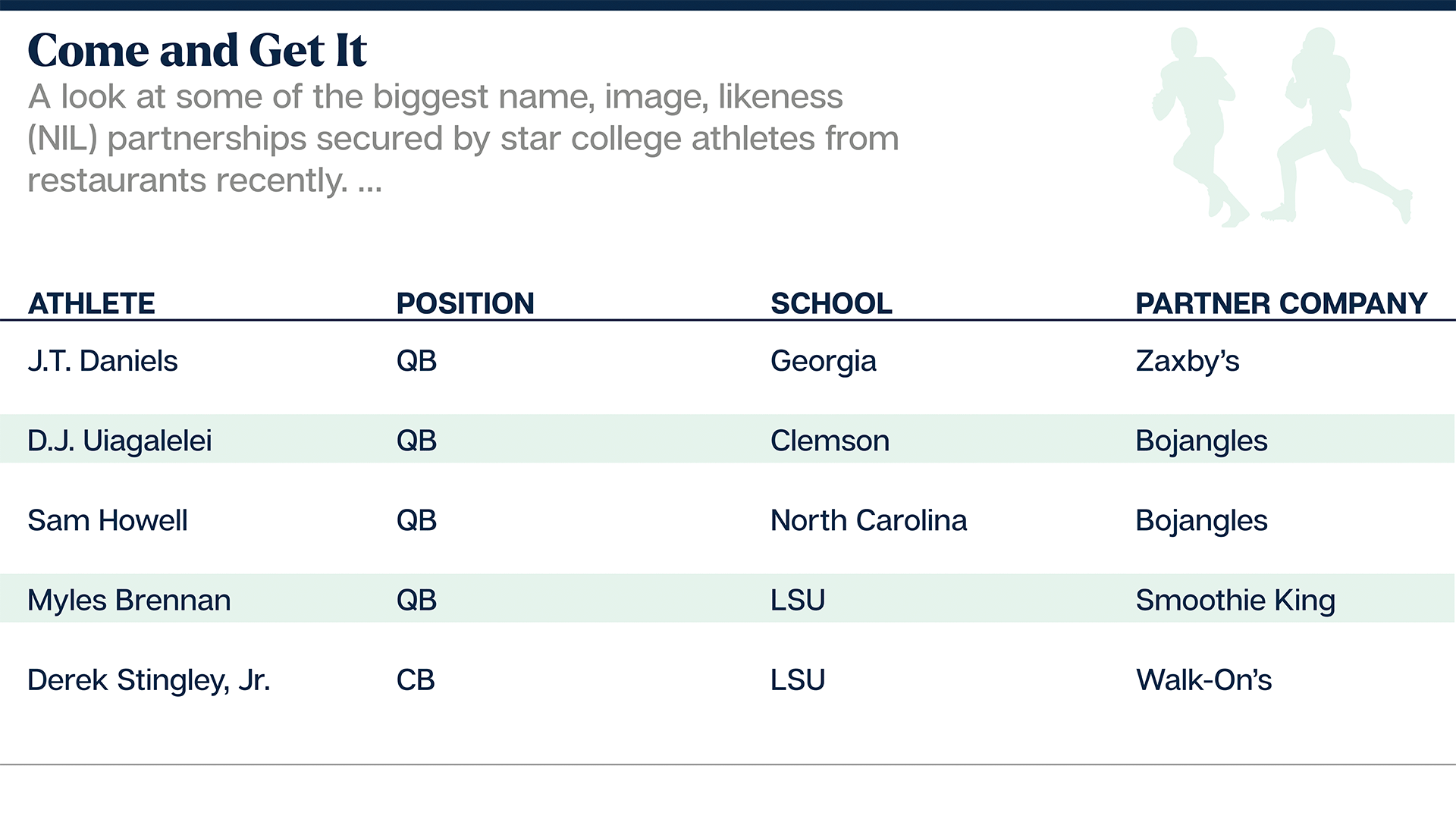 COACH SPEAK
"I'm not sure anybody can see exactly where it's gonna go," said Kirk Ferentz of the University Iowa — the longest-tenured major-college football coach – during a recent press conference. NIL "is gonna be one more challenge. A huge challenge, for everybody in life, especially college student athletes, is time management. This is gonna be one more thing to deal with.
"And I've got a feeling it may be a little bit more attractive than, you know, a Rhetoric class or Western Civilization."
Said Nick Saban, the coach of defending national champ Alabama in a recent press conference: "There's no precedent for it. … Everything that we've done in college athletics in the past has always been equal. Everybody's had equal scholarship [money]. Now that's not going to be the case – you know, at some positions some players will have more [NIL] opportunities than others."
A MAD SCRAMBLE
Recent weeks have served as a two-minute drill of sorts, as restaurants hurry to form paid partnerships with young athletes like Daniels and Young. Clemson quarterback D.J. Uiagalelei and North Carolina signal-caller Sam Howell both have endorsement deals with Bojangles, for example. Other restaurants that have signed NIL deals with college athletes include Runza, Pal's Sudden Service, and Walk-On's Sports Bistreaux, reported Restaurant Business (Aug. 18).
These athletes are not yet household names outside their regions, either. In fact, Daniels, now in his junior year, passed for a rather ordinary 10 total touchdowns last season, Uiagalelei was a backup in 2020, and Young has never even started a game for Alabama.

But such partnerships help restaurants reach the valuable Gen Z demo that includes teens and young adults. Daniels, who's represented by Everett Sports Management, will, for an undisclosed amount, make appearances on behalf of Zaxby's at corporate events, as well as in advertisements, and share Zaxby's-branded content from his personal social media accounts.
"We're thrilled to partner with Heisman hopeful quarterback J.T. Daniels," said Zaxby's CMO Joel Bulger in a press release. "His leadership qualities on and off the field are remarkable and something that aligns well with our brand."