As retailers seek to increase sales and customer engagement via digital channels, Walmart will use livestream video to create immersive shoppable experiences in partnership with video e-commerce company Firework.
Is this the start of a new era in digital marketing?
Beginning this month, Walmart Connect, Walmart's closed loop omnichannel retail media platform, will leverage Firework's capabilities to bring shoppable, social-media-style videos to advertisers and its own digital properties.

"Customers will be able to dive into dynamic livestream shopping environments across product categories and lines," Jason Holland, chief business officer at Firework told The Food Institute. "Walmart kicked off the partnership with livestream shopping events featuring J&J and P&G, but the use cases go far beyond beauty products."
Walmart Connect's first four livestreams took place between September 13th and 16th, in support of Walmart's Mega Beauty Event. The replays are available to watch—and shop from—anytime on Walmart's website.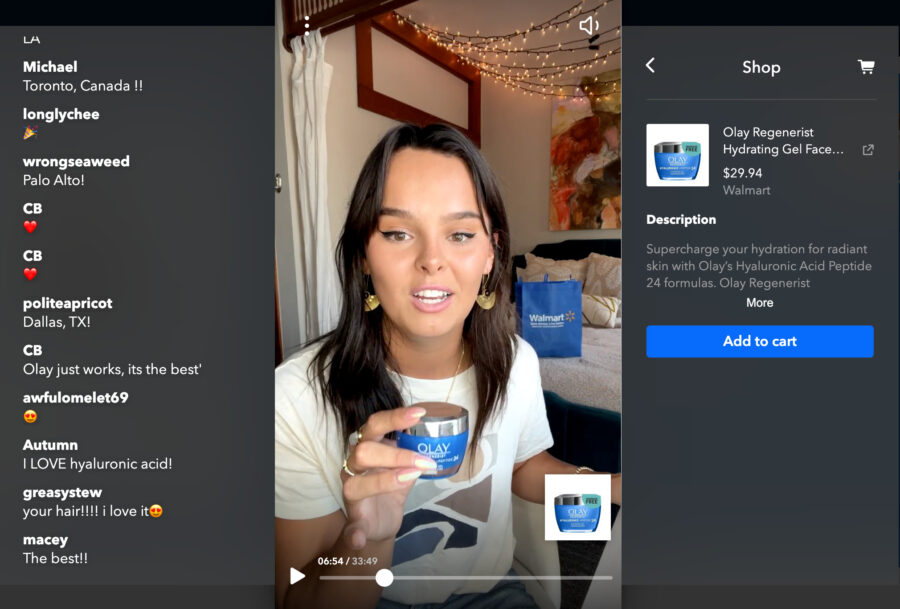 Image via walmartshoplive.com
How it works
"Livestream shoppable videos work for a few key reasons," Holland explained. "First, they allow customers to see products in action and in real-time, being demonstrated by influencers, peers, and employees."
During one of the inaugural livestreams, influencer Chloe Mitchell showcased Olay and Pantene products in an informal, conversational style, while a steady stream of comments from engaged viewers appeared on screen.
"Second, they allow for direct brand-viewer engagement," Holland continued. "Customers can ask questions and learn more about products in the moment."
A few minutes into the livestream, a poll popped up asking viewers which brands they have in their household, Olay or Pantene? As Mitchell discussed each product, a small pop-up appeared in the bottom right corner of the vertical video featuring an image of said product. When clicked, viewers could instantly add that product to their cart without missing a beat of the livestream.

The live element
"It's undeniable that a live event is inherently more exciting than a canned recording," Holland said. "There's a greater feeling of connection and the sense that anything might happen."
The live element, then, accomplishes two important goals—it both pulls consumers in and keeps them there.
"By treating livestream shopping events as events (especially if paired with time-bound promotions), brands and retailers can create a greater sense of urgency and boost engagement in the moment," Holland explained.
The ability to keep consumers engaged is precisely what makes livestreams so appealing to brands and retailers, because engagement drives sales.
Exploding e-commerce
Walmart's move aims to capitalize on the exploding e-commerce industry in the U.S., with sales expected to break the $1 trillion mark for the first time, and consumers coming to expect an omnichannel ecosystem from retailers.
Livestream shopping has already seen massive success in China, where it accounts for nearly one-fifth of all e-commerce and is expected to reach $480 billion in sales. If Walmart's shoppable livestream videos can meet the needs of the moment, it likely won't be long before other western retailers follow suit.
"The mere fact that the number one company on the Fortune 500 is diving into livestream shopping says just about all you need to know about the future of e-commerce here in the states," Holland said. "Livestream shopping is here, and it's here to stay."