NEW YORK CITY— "The positive energy and excitement was palpable from the minute the show floor opened," said Ben Davis, Content Chair and Strategic Advisor at PBW.
Davis is referring to the atmosphere at the 2023 Plant Based World Expo, where exhibitors from more than 200 global companies showcased their plant-based products across more than 250 booths.
The Food Institute was on the scene at the event, taking in the sights, sounds, and most importantly—tastes—while chatting with exhibitors about their offerings. Here are the top trends we spotted: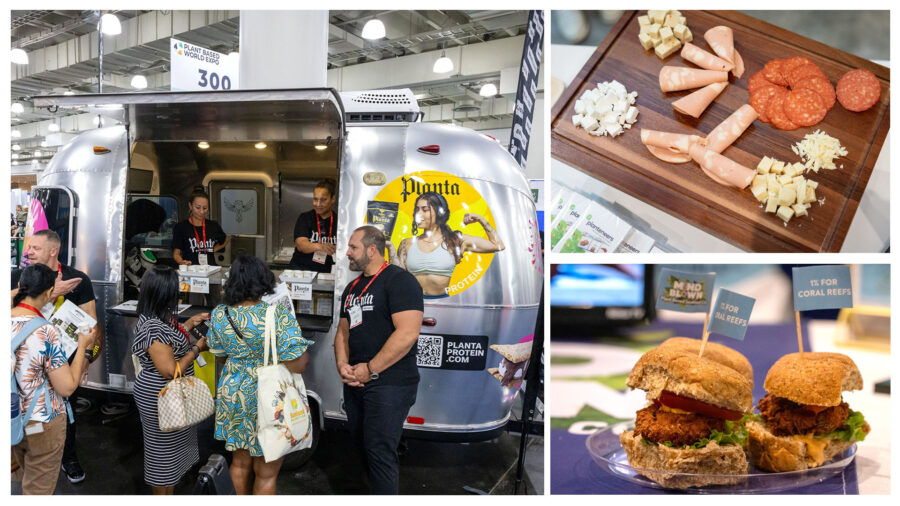 Innovative Upcycled Products
There were a variety of unique upcycled products on display at the Expo, from nutrient-dense snacks made from discarded vegetable peels to natural ingredients like citrus fiber, a byproduct of the citrus juicing process.
OléBK rice bran butter, made from upcycled rice bran and produced by Paragon Pure Inc., was a noteworthy standout. The structured solid fat is a more sustainable substitute for palm or coconut oil, with less saturated fat content. Ideal for use in pastries and bakery products, Paragon Pure had fresh-baked chocolate chip cookies available to sample at the event made using OléBK rice bran butter, which yielded a melt-in-your-mouth texture.
The sustainability credentials of the product are equally as impressive as the taste. "Rice bran is produced in enormous quantities as a byproduct of white rice production," explained Chris Gregson, CEO at Paragon Pure. "The majority of rice bran is either discarded or fed to animals. Rice bran butter is upcycled from rice bran through an extraction and refining process similar to other vegetable oils."

Short and Familiar Ingredients Lists 
Research shows that consumers are reading product labels more closely and becoming increasingly wary of artificial or highly processed ingredients. As a result, many exhibitors on the show floor were eager to showcase the simplicity and quality of their ingredients.
Panacheeza, for example, is a brand-new plant-based grated parmesan cheese made from just five familiar ingredients. Organic cashews, nutritional yeast, pink Himalayan sea salt, garlic powder, and apple cider vinegar come together to create a cheese alternative that is shelf stable and free from preservatives or additives.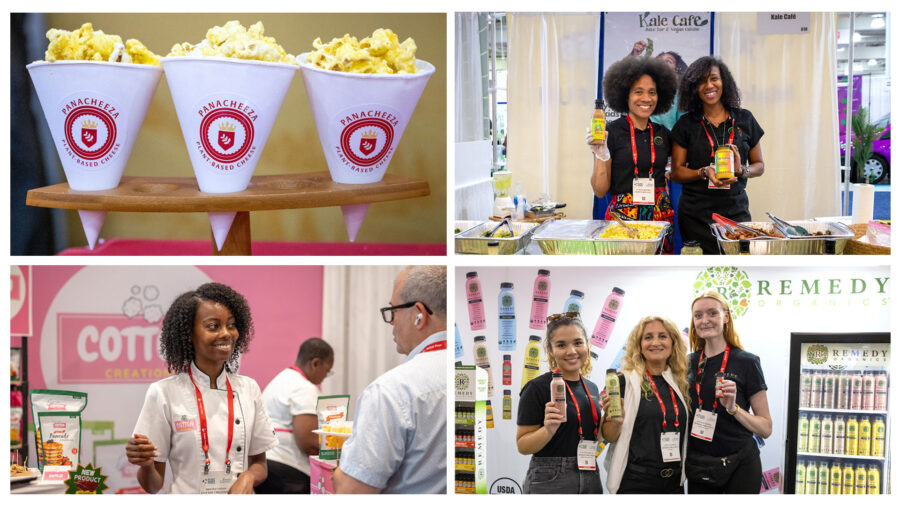 And then there was Green Wolf Foods, winner of best new/start-up business at the World Plant-Based Innovation Awards 2023 announced during the Expo. Green Wolf had their Vegami on display at the show, a wheat protein salami alternative packed with veggies, greens, and mushrooms.
According to Green Wolf's founder and CEO, Alex Volkov, using clean, recognizable ingredients was "nonnegotiable." The brand is more focused on creating a vegetable-forward product that is tasty in its own right than trying to recreate the taste of traditional meat. "Vegami is not trying to be an exact replica of meat-based salami," said Volkov. "Breaking up from the imitation game allowed us to create unique flavors, like Spinach and Kale, that you will not find in any product out there."

Global Culinary Creativity
Bold, international flavors were on full display at this year's Expo. There was Kewpie's Yuzu and Kosho Dressing, a spicy take on a traditional Japanese condiment called yuzukoshō; Soft Spot's plant-based cheese from India; plant-based croissants from France; and organic certified and vegan Dutch stroopwafels.
During a panel on "Decoding Gen Z's Palate and Crafting Authentic Connection," DeAndra Forde, Ph.D. student and nutritionist at Drexel University, noted that the next generation is looking for companies to "bring diverse, cultural flavors to the plant-based world."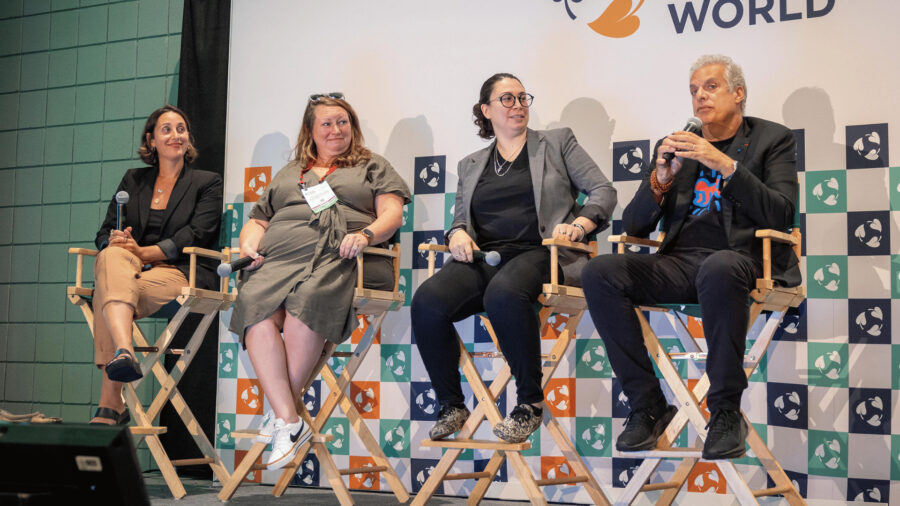 Caloless noodles are one such option, a pasta with just 30 calories per serving, made from konjac—a root vegetable that grows in parts of Asia. "Konjac has a long history of use in China, Japan, and Southeast Asia as a food source and as a traditional medicine," explained Steven Shen, COO at Caloless.
"For U.S. consumers, they need to know that konjac has a lot of potential health benefits, since it contains glucomannan, a water-soluble dietary fiber," said Shen. "Today, Japan is still the biggest konjac food consumption market in the world, [but] the rest of the world has started to realize the importance of this unique ingredient."