A one-year stock chart seems to tell a story that investors in the food industry have heard before: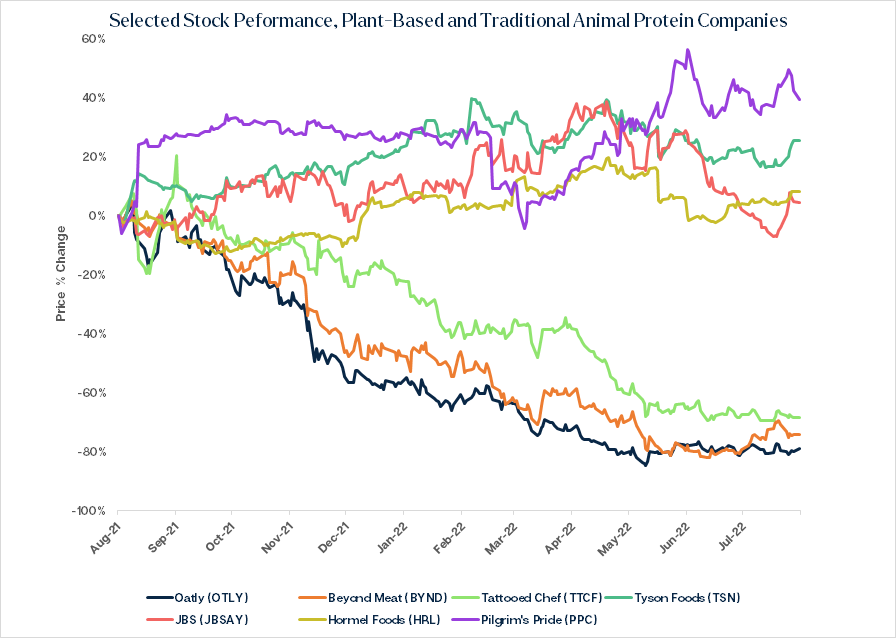 The story is simple: another new, 'hot' category is just another fad. Before the pandemic, organic food was the new trend. And while Whole Foods sold to Amazon, and Annie's to General Mills, neither acquisition was a winner. Those companies that didn't sell out paid the price: Hain Celestial, one of the category's bigger players, has seen its stock fall by two-thirds from a 2015 peak.
Gluten-free was another supposed challenge to legacy manufacturers.
Shares of Boulder Brands, maker of gluten-free brands Udi's and Glutino, at one point in 2014 had risen more than 400% in just four years. Growth then stalled, and the stock plunged before Pinnacle Foods stepped in with a discounted buyout offer the following year.
The stunning sell-off in plant-based stocks, including Oatly, Tattooed Chef, and Beyond Meat, would seem to suggest that history is repeating. After all, even in a heavily inflationary environment, purveyors of traditional meat products like Pilgrim's Pride and Tyson Foods are doing quite well. (Given that the S&P 500 has declined 8% over the past year, any positive returns count as "doing well".)
Meanwhile, plant-based stocks have crashed.
PLANT-BASED'S EXPECTATIONS
But the plant-based stocks story is a bit different — because the expectations were so different. At its peak, Boulder Brands was valued at roughly $2 billion. Not long after Oatly's initial public offering in May of last year, the company had a market capitalization over $17 billion. That figure was more than 20x expected 2021 sales.
A year ago, Beyond Meat was valued at around $6 billion, and even that was a haircut from a peak market cap over $10 billion. Tattooed Chef, a niche frozen food business, at last year's top had a market value above $2 billion.
It's worth putting those valuations in the context of traditional players in the industry. Oatly was worth nearly as much as Campbell's Soup. Beyond Meat's peak market value exceeded that of poultry industry giants Pilgrim's Pride and Sanderson Farms combined. Tattooed Chef's market cap exceeded that of B&G Foods, a 200-year-old diversified manufacturer with roughly $2 billion in revenue.
Those comparisons, too, tell a story: that 2021 investors believed that plant-based manufacturers could not just compete with, but displace, traditional manufacturers. That is the only possible explanation for why these three sharply unprofitable companies at one point had a combined valuation of roughly $25 billion.
That figure now is about $5 billion. But private companies — most notably Impossible Foods — add a few billion more to the category's total value. And so even sharply lower market valuations still imply that the industry as a whole will post significant profit at some point.

UPON FURTHER REVIEW …
In other words, the market isn't saying — yet — that plant-based is a fad. It's not saying that Beyond Meat and Oatly have no future.
Rather, what it's telling us is that the most optimistic predictions from a year ago, predictions that forecast exponential growth for years to come, were wrong.
What it's telling us is that plant-based foods won't displace traditional offerings — only complement them.
Vince Martin is an analyst and author whose work has appeared on multiple financial industry websites for more than a decade. He is the lead writer at Overlooked Alpha, which offers market-wide and single-stock analysis every week. He has no positions in any securities mentioned.