Plant-based was a unifying theme at the Specialty Food Association's 2022 Summer Fancy Food show last week, with companies showcasing unique innovations across multiple food and beverage categories.
With that, the plant-based specialty retail market grew 4% in 2021 and exceeded $7 billion, according to SFA's State of the Specialty Food Industry 2022-2023 report.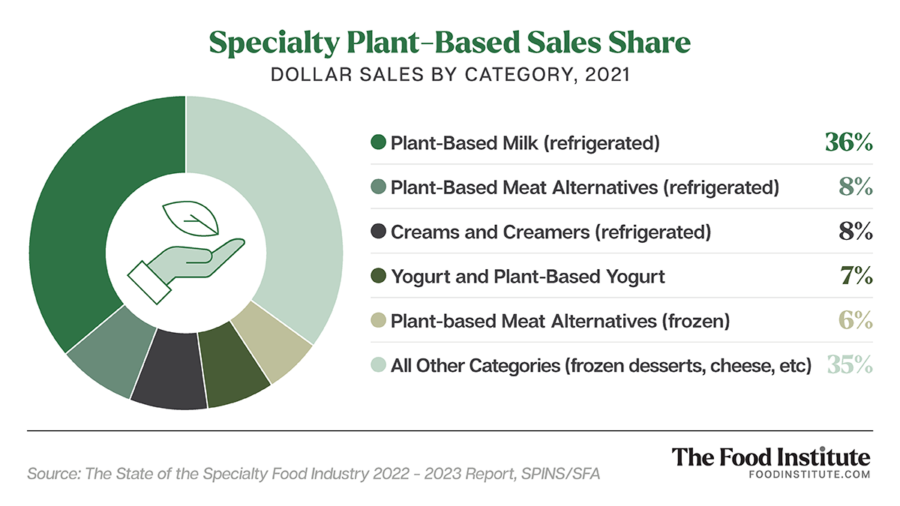 These figures reflect growth on top of the 22% spike the market experienced in 2020. As the report states, the future of plant-based and "new protein" is "churning with activity, investment, and truly revolutionary mechanisms for innovating and manufacturing."
Here are a few highlights from the exhibition floor:
Alt-Dairy Branches Out
From line extensions to new inventions, dairy alternatives came out to play.
Specialty cheese was a hot category for innovation, from Rind's Sofi award-winning artisanal carrot-based cheeses to major producers like Savencia Cheese rolling out new varieties of vegan brie for grilling and entertaining.
Oat milk was also standout inclusion across categories. Lifeway Foods, for instance, launched a line of flavored oat milks in January after performing extensive research and development on a wide range of plant bases.
"Our core kefir business has delivered healthy growth, but we're always looking for the next innovation," Derek Miller, vice president of communications at Lifeway, told The Food Institute. In addition to being vegan, "[oat is] a great option for those with a wide range of food sensitivities and allergies."

Other noteworthy products of the alt-dairy persuasion:
Crepini added a plant-based option to its line of egg wraps as consumer seek more convenient on-the-go breakfast options.
Hummus company Hope Foods launched a line of sweet and savory cheese-style dips made with a blend of cashews and almonds.
A Brave Robot / Coolhaus collaboration from The Urgent Company drew crowds with ice cream sandwiches made with animal-free dairy protein by Perfect Day.
Whole Plant Snacking Boom
Snackable fruits and vegetables were a recurring theme on the floor, with a focus on expanded varieties and portable portions. Some companies built on the familiar plant chip concept with popped or freeze-dried varieties or elevated flavor offerings to include more sweet, spicy, and international tastes.
Others, like Rick's Picks, Poshi, and Authentic Fruits channeled on-the-go convenience with portioned pouches of fresh snackable veggies slices and superfood-boosted smoothies.
Better-for-you confectionary was also a noteworthy theme. Back to Nature, for instance, has extended their line of cookies and crackers to include plant-based chocolate bars, gummies, and other chewy candies.
Mushroom jerky and other shelf stable alt meat snacks — one of the fastest growing subcategories in specialty food — also saw significant representation.
Alt-Meat Looking Forward
Following the major boom and deceleration in meat alternative retail sales over the past two years, specialty producers highlighted more up-and-coming products.
"We expect that new brands coming into the plant-based segment will likely steer clear of overcrowded bigger categories, and this should foster some interesting new innovation as a result," David Browne, SFA's co-principal writer/researcher said in the report.
Seafood alternatives had a noteworthy turnout with companies like Good Catch and Current Foods highlighting new offerings from fried shrimp and crab cakes to "sushi grade" tuna and salmon.
Plant-based chicken was also represented by companies like Sundial Foods, which produces vegan "bone-in" wings, and Rebellyous Foods, which won an SFA Sofi Award in 2021 for their faux chicken nuggets.
As plant-based meat categories become oversaturated, delivering on taste and texture is critical. "Standing out from the rest of the category is increasingly difficult," Kristie Middleton, vice president of business development at Rebellyous Foods told The Food Institute, adding that Sofi Awards are "an opportunity for tastemakers to validate products and tell the world which emerging brands are truly best-in-class."