The pandemic era has seen a significant rise in the sales of plant-based milks and cheeses, experts said, attributing the upward trend to consumers developing more healthful habits after having eaten indulgently at the beginning of the period of relative isolation.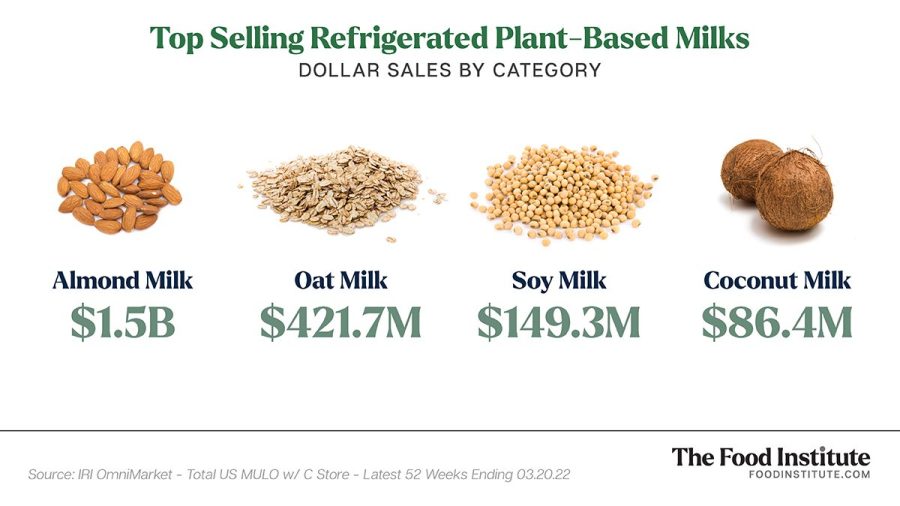 "Consumers indulged to a certain extent [and many experienced] the infamous 'Covid 15 weight gain,' but as the pandemic drew on, they sought to regain control of their health," Michael Aucoin, CEO of Eat & Beyond, which recently acquired Mylk Brands, Inc., told The Food Institute.
"Increased awareness during the pandemic of the notion that 'we are all connected' manifested in a growing interest in plant-based options which have benefits associated with health and the environment," Aucoin added. "Non-dairy milk and cheese options have long been one of the first plant-based options that consumers try, so it makes sense we have seen increased interest in this product category."

The increasing popularity of milks and cheeses made from soy, nuts, and oats is attributable also to environmental concerns about dairy and increased instances of lactose intolerance.
Fruit also can be added to the list of foods used to make plant-based milks. Banana Wave, which Eat & Beyond acquired along with Mylk Brands, Inc., is a milk made with oats and bananas, for example.
Transparency Market Research forecasts the plant-based milk market to expand at a compound annual growth rate (CAGR) of 8% through 2029 and reach a valuation of $30 billion.
The global plant-based cheese market that was valued at approximately $1.01 billion in 2019 was anticipated to grow at a rate of more than 12.8% through 2027, Wise Guy Reports noted.
"The macro-trend towards plant-based is undeniable and will continue for years to come," Aucoin said. "The health, environmental and animal welfare drivers behind this trend will only continue to become more prevalent in the consumer's mind."