Plant-based meat sales in restaurants and retail are beginning to plateau following a meteoric rise throughout the pandemic period, while traditional meat engagement remains strong.
Data and supporting analyst insights from IRI suggest that this trend is likely to continue, as key category consumers prioritize protein diversity coupled with plant-forward eating.
Plant-based meat alternatives are still below 10% household penetration on the retail side, Anne-Marie Roerink, President of 210 Analytics, noted in a recent IRI webinar exploring refrigerated meat department alternatives in the first half of 2021.
"There's going to be some continued trial, but much like the organic and grass-fed markets, I think we're going to ultimately see this become a nice niche offering," said Roerink.
Sectors Slowdown
In the restaurant space, orders of plant-based burgers and sandwiches at fast-food establishments were unchanged for the year ended in June, while beef burger orders climbed 12% over the same period, according to market researcher NPD Group Inc.
As Bloomberg reported, some of the fast-food chains that introduced plant-based versions of their menu items are stalling in trials, while others, like Dunkin' Donuts, have pulled alt-meat offerings entirely (Sept 24).
IRI data for the 52-week period ending September 19 reveals a similar slippage in the grocery store.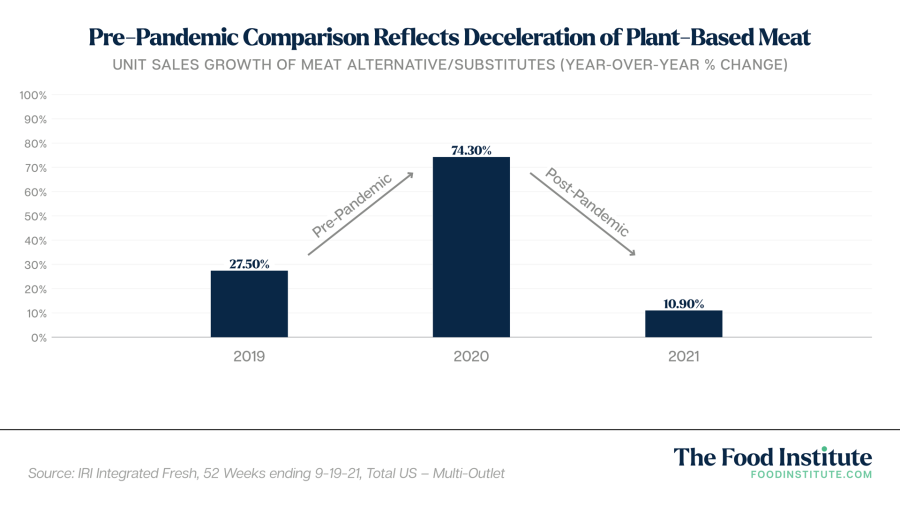 Mid-Year Growth Analysis
While refrigerated plant-based alternatives grew 7% in the first half of this year, Jonna Parker, Principal, IRI Fresh COE noted that the increase is marginal in relation to the meat department, which withstood its' most disruptive year in history and continues to show strong engagement versus pre pandemic 2019.
This data based on a graph from the IRI and 210 Analytics webinar reflects side by side category sales for traditional and plant-based meat drawn to scale.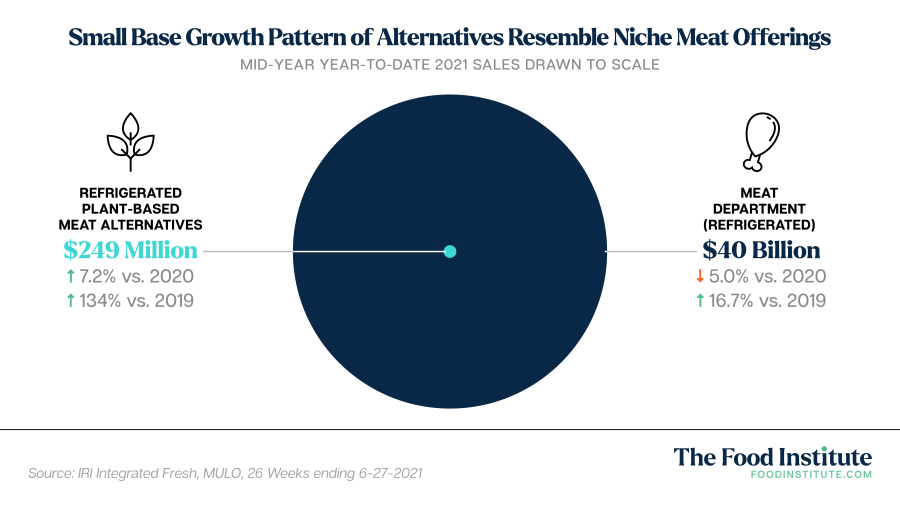 While the alternative meat category is starting to plateau, Parker notes that it's not a free fall environment. "Those who purchase meat alternatives within traditional grocery stores are also engaged in the meat department," said Parker. These consumers, or Flexitarians, are more likely to also buy animal or processed meat proteins in the same basket.
By far, eating meat is still the norm, added Roerink. But 34% of the population aspire to eat meat "a little bit less," making Flexitarians a key driver for plant-based meat alternatives. These buyers choose plant-forward eating over strict vegan or vegetarian options and align their buying decisions with health halos and social responsibility.
"It's really just about protein variety," said Roerink. A little less red meat and a little bit more meat alternatives, seafood, and poultry.

Room for Innovation
While sales are slowly returning to earth, the plant-based meat category continues to push traditional boundaries.
As per Millennial demand, more plant-based meat inclusions are popping up in frozen meals, including breakfasts, appetizers, and entrees. There is also notable traction in the produce department, particularly with jackfruit-based items.
Other disruptions are in the pipeline for items like full cuts and deli slices, noted Mission: Plant founder and managing director David Benzaquen in a recent Food Institute podcast.
For instance, Slovenia-based Juicy Marbles has developed a new technology to make whole cuts of plant-based meat like filet mignon that incorporate fat marbling and muscular texture.
"It'll be a game changer," said Benzquen. "To open people's minds to the fact that you can have an entire steak, made from plants in a much more sustainable and healthy way."