Amidst the booming cultured dairy market, major food manufacturers including the Kraft Heinz Company General Mills are taking plant-based cream cheese to the next level.
Earlier this month, Kraft Heinz launched its Philadelphia Plant-Based spread in select regions of the U.S.
"The $32 million plant-based cream cheese market has grown more than 44% over the past year alone," Keenan White, Senior Brand Manager at Philadelphia Cream Cheese told The Food Institute. "This felt like the perfect time to bring our 150+ years of cream cheese expertise to the category."
The Bel Group is expanding its assortment of alternative dairy products as well. In January 2023, the company will roll out Nurishh animal-free cream cheese spread in partnership with food tech startup Perfect Day, reported Food Business News.
In November of 2021, General Mills also launched a cream cheese alternative — the first offering from its Bold Cultr product line — in partnership with Perfect Day.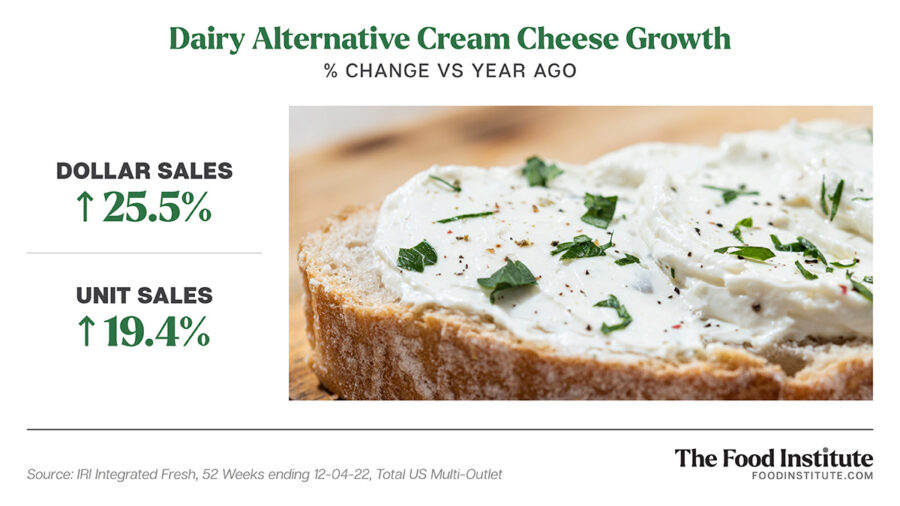 According to David Benzaquen, Founder and CEO of Mission: Plant, cream cheese is a prime category for plant-based innovation.
"Consumers have already shown their willingness to adopt dairy alternatives through the milk category," said Benzaquen. "As a condiment that doesn't require any cooking or preparation, it's incredibly easy for consumers to swap it into their lives without being intimidated about using it right."
"Innovation in this area is also a good way for bigger conglomerates to diversify their product lines, knock out or acquire smaller, younger competitors, and use some of their excess plant-based milks and byproducts," added Jennifer Estevez, Founder & Managing Partner at Consciously Planted.

Market Growth
Overall, the cultured dairy segment is thriving at retail, with multiple subcategories posting year-over-year growth.
"We continue to see the interplay between managing the total shopping spend in the light of high inflation versus the love for dairy and the important role it plays across all meal occasions," noted Heather Prach, IDDBA's Director of Education, in a recent report by 210 Analytics.
This momentum can be credited to major players tying into mega trends like plant-based integration, health, and wellbeing. "It is this focus on innovation that is keeping the dairy aisle strong," said Prach.
Much like any plant-based category, however, product development has faced challenges.
As Estevez notes, consumers have high expectations for this American dietary staple as both a topping and an ingredient, and early vegan cream cheese producers did not hit the mark.
"We as humans are creatures of habit and we want familiar flavors and textures, which is why this space needs more innovation." said Estevez.
According to 2021 data from Philadelphia cream cheese, IRI, and Mintel, less than half of current plant-based cream cheese consumers are repeat customers, further proving that "the current options on the market aren't meeting expectations and there is no true category leader," said White. "The 1-2 punch of texture AND flavor has historically been difficult to achieve in the plant-based cream cheese category."
As Benzaquin observes, though, cream cheese has a more subtle flavor and uniform texture than some of the finer, more aged cheese options like bloomy rinds, which works to its advantage.
"Since [cream cheese] doesn't require some of those more unique flavors and textures, it can be made quite affordably without the complexity of aging [and] special molds," Benzaquin said. "This makes it more approachable for consumers seeking plant-based [cheese] options that don't break the bank in times of high inflation."

Product Developments
Kraft Heinz launched its Philadelphia Plant-Based spread after two years of research and development.
"Getting dairy notes in a plant-based product is hard," said White. "We knew that we wanted to get our recipe right before debuting it on store shelves, so we spent this time continuously watching and learning from our competitors to ensure our product delivers the multi-sensorial experience consumers want from their plant-based cream cheese but are not currently getting."
With a 65% market share per IRI, Philadelphia is the largest cream cheese manufacturer in the U.S across all three packaging formats, making this release particularly noteworthy for the category, reported Dairy Foods.
The recipe incorporates a coconut oil base along with other dairy-free ingredients to create what the company believes is the same creamy, spreadable texture as the original dairy recipe.
"That being said, it is not an exact taste match as it has its own unique flavor and has completely different ingredients," said White.
The product is slated for national rollout in 2023.