Cheese is pegged as the next growth category for plant-based dairy at retail, as quality innovations flourish and big players start to make inroads.
Globally, the vegan cheese market is expected to expand at a CAGR of 12.6% from 2022 to 2030, according to Grand View Research. Shifting consumer preferences are driving this demand, alongside rising cases of lactose intolerance and other food-related allergies.
At retail, plant-based cheese holds significant growth potential in its home base, the dairy case, while more pre-sliced and specialty varieties are popping up in perimeter deli.
On the restaurant side, vegan cheese is projected to grow to 5.0% menu penetration over the next four years, according to Datassential's artificial intelligence engine, Haiku.
"Today, plant-based cheese is found on roughly 3% of the menus around the country and is most common in the trend-forward fast casual restaurant segment at operators like MOD pizza and Veggie Grill," Marie Molde, a registered dietician at Datassential, told The Food Institute.
Retail Growth Indicators
In a 2021 IRI plant-based study, cheese alternative sales in the dairy aisle showed 14.1% growth for the 52-week period ending October 31, while overall cheese was flat.
Given the size of the total cheese category — which leads total milk by more than $2.5 billion — the growth potential for plant-based cheese is significant, John Crawford, VP, Client Insights-Dairy at IRI told The Food Institute.
Plant-based products account for 0.9% of the total cheese category — a small fraction compared to 13% share for plant-based in total milk, Crawford noted.
Similarly, the percentage of households buying plant-based cheese is low, at 5%, compared to 43% for plant-based milk, Crawford said, adding that the percentage has increased 1 point year-over-year.

Breakdown by Department
Storewide, plant-based cheese alternatives totaled $224.7 million in the 52-week period ending February 13, with unit sales down 4.6% according to Food Institute analysis of IRI data.
In the dairy aisle, sliced and shredded cheese alternatives — the largest and most established varieties — saw a significant drop in unit sales year over year, while the emerging cream cheese subcategory maintained forward momentum.
According to the October IRI report, chunks and wedges round out the top five plant-based cheese varieties by dollar sales.
In the deli department, there's not much focus on plant-based cheese products behind the counter. However, the space has seen an uptick in pre-sliced and specialty offerings.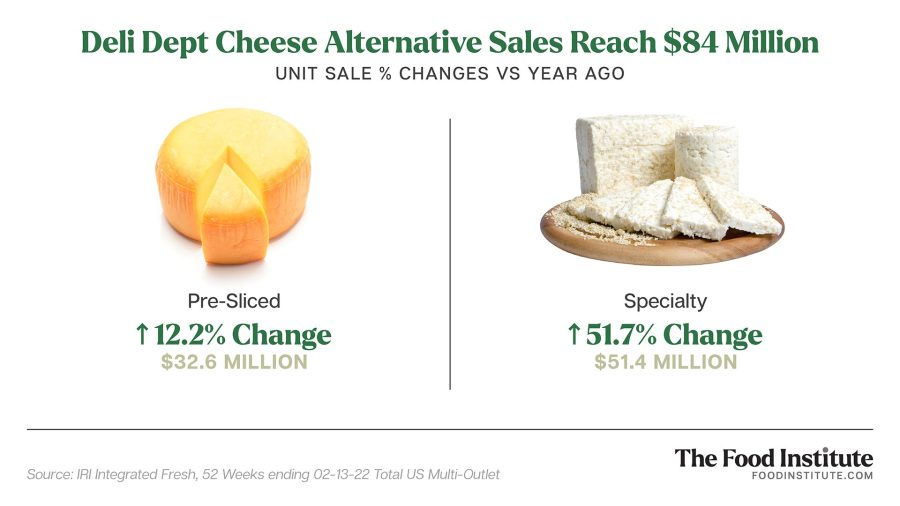 Company Activity
Several plant-based brands have a stronghold in the cheese category.
Daiya leads the top ten brands with 31.6% of total dollar share, followed by Violife (16%), Follow Your Heart (15.6%) and Miyoko's Creamery (4%), according to IRI's October 2021 POS data for multi-outlet and convenience retail channels.
Private label varieties also ranked among the top five, capturing 4.7% of the total share.
Traditional dairy brands are also starting to play in plant-based, said Crawford, most notably Bel Brands, which released a vegan version of their Baby Bel mozzarella cheese snacks in February. The offering builds upon Bel's growing portfolio of plant-based products, which includes Boursin Dairy-Free, which launched in 2020.
General Mills has also entered the plant-based cheese space with its Bold Cultr line, produced in partnership with precision fermentation food tech startup Perfect Day. In November 2021, the CPG manufacturer released Bold Cultr's first product, a cream cheese alternative, in select markets.
Quality Innovation
As with most plant-based alternatives, the main focal point of plant-based cheese innovation is on quality, "trying to make the product perform more like dairy cheese in terms of melting, mouthfeel, and taste," said Crawford.
While vegetable oils and starches lead ingredient lists for most major producers, companies like Miyoko's Creamery are pushing boundaries with vegan milk cultures.
As The New York Times reported, this newer generation of cheese products is more convincing because it's produced from cultured plant-based milks that develop texture and flavor through fermentation, rather than solely through additives.
"More than one-third of consumers agree that alternative dairy products are getting better," said Molde. "Wider use will hinge on the ability to provide great taste, healthfulness, and perceived quality."