Pandemic challenges in 2021 impacted the plant-based industry in divergent ways, as more consumers experimented at home and operators across restaurants and retail prioritized inventory over innovation.
"At retail, we are seeing the biggest [plant-based] players continue to grow volume, and smaller players cede share, underscoring how important scale has been to deal with pandemic-related production and supply chain issues," senior analyst Jennifer Bartashus of Bloomberg Intelligence told The Food Institute.
Similarly, many restaurants and other foodservice outlets pared back menus to focus on high sales-velocity items, she added.
All the while, investments continue to flood the market.
According to PitchBook, companies creating bio-engineered foods — which includes plant-based, cultivated, and fermented proteins— raised $5.2 billion in global Venture Capital funding as of November 2021, marking a 68% year over year increase. (Nov 23).
Manufacturers have also been investing in plant-based innovations. As IRI forecast in a recent dairy report, many of those items will finally hit shelves later in 2022.
That forward momentum is already apparent in the QSR space, with major fast-food players like McDonald's and KFC recently launching plant-based menu expansions.
Dairy alternatives are also gaining traction across new retail categories and enjoying boosts within the thriving coffee shop sector. Oat milk saw a 5.4% increase on menus over the past year, according to data from Technomic's Ignite Menu.
"Other milk alternatives, such as rice milk – which showed 7.9% growth in the past year – may also become more prevalent," Katie Belflower, Associate Editor at Technomic, told The Food Institute.
Plant-Based Meat Alternatives
According to IRI data, plant-based meat alternative sales totaled $1.2 billion in the 52-week period ending January 23, with unit sales down 5.1% year over year.
A December report by 210 Analytics, LLC shows overall category gains early in 2021 offset the deceleration trend which began in the latter half of the year, when sales began lapping 2020 spikes triggered by pandemic impacts and expanded retail distribution.
As Jonna Parker, Team Lead for IRI Fresh, noted, 2020 was always projected to be a great growth year for plant-based meat alternatives — almost every retailer was slotting more space in frozen and creating new territory in the meat department pre-pandemic.
"Pandemic stock up behavior and the fact that beef, especially, got hit with supply chain constraints as early as April 2020 further energized the sales of plant-based meats," Parker told The Food Institute. "When anything grows from almost nothing to something and gains that much more distribution, we're not expecting that same growth trajectory in the second year when those things lap."
Plant-based meat alternative sales got a further boost in 2020 as a significant portion of foodservice demand shifted to retail. In part, Bartashus attributes sluggish retail sales growth in 2022 to more people being comfortable going back to restaurants.
"[During the pandemic] plans for new additions of meat alternatives were put on hold, and some existing menu items were phased out as restaurants looked to streamline menus and optimize profitability per item," said Bartashus. "As a result, we are only at the beginning phases of seeing a recovery of alternative meat sales to restaurants."
Plant-Based Dairy Alternatives
Compared to plant-based meat, alternative dairy, particularly milk products, "is much more mature and has a much higher usage frequency, making those items a normal part of shopping baskets," said Bartashus.
Dairy-related health concerns, particularly lactose intolerance, also contribute to stronger consumer demand for products in this category.
According to IRI data, plant-based dairy alternative sales totaled $5.3 billion in the 52-week period ending January 23, with unit sales up 2% year over year, largely boosted by milk and yogurt subcategories.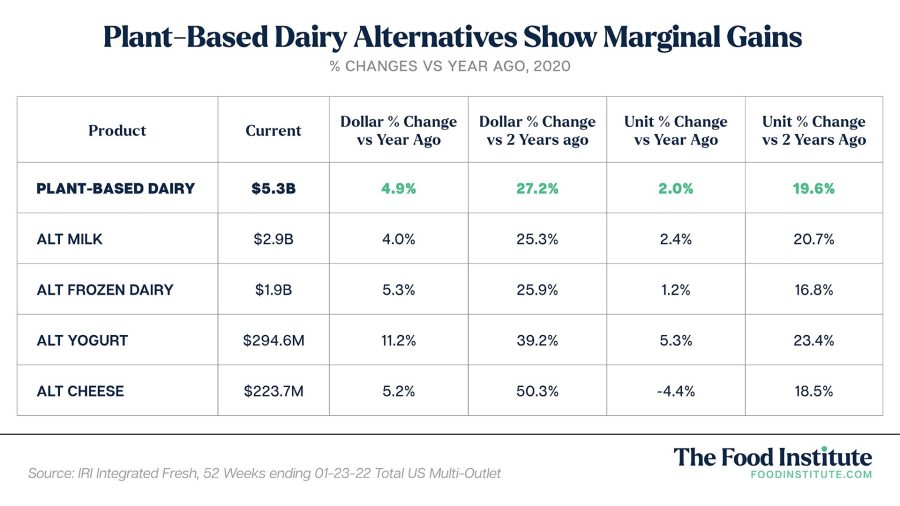 Alternative milks, including both refrigerated and shelf-stable almond, coconut, oat, and soy varieties, led category sales, followed by frozen dairy, with totals approaching $2 billion across the ice cream, sherbet, and novelty subcategories.
Meanwhile, slippage in plant-based cheese shreds and slices offset substantial growth in cream cheese and deli varieties.
According to IRI's Top Trends in Dairy for 2022 report, oat-based products in particular are achieving strong sales increases across multiple dairy categories. Oat milk recently became the No. 2 alternative, surpassing soy but trailing almond by a considerable margin.
Bloomberg Intelligence has also identified growth in the alternative ice cream, yogurt, and cheese categories.
"These products are particularly appealing to consumers who are already buyers of alternative milks, and broader availability, better tasting products and more variety are drawing more people into those categories," said Bartashus.

The Year Ahead
Both meat and dairy alternatives are expected to continue growing in the forecast period from 2021 to 2024, with dairy alternatives remaining the larger category ($7.9 billion vs $2.6 billion), but meat alternatives seeing a higher growth rate (7% vs 15%), according to NPD Group data shared in a recent Food Institute webinar.
Meanwhile, Technomic data indicates fast-food restaurants will continue to experiment with plant-based, whether they be permanent or limited-time items. "Offering plant-based menu items introduces a wider range of vegetarian- and vegan-friendly options to eliminate the veto vote," said Bellflower.
Furthermore, Bartashus notes that the Beyond Meat/KFC nugget limited-time-offer could potentially trigger a spike in faux-chicken nugget and tender sales at retail, much like how Burger King's Impossible Whopper fueled interest in plant-based burgers.
Technomic is also watching restaurant expansion into other plant-based proteins outside of beef and chicken. "Plant-based pork is up 18.2% on menus year over year and plant-based fish is up 12.1%," said Bellflower.
Bartashus echoed the growth potential of plant-based seafood as well as bacon alternatives.
"Cleaner labels, better nutritional profiles and promoting ease of use – such as using crumbles as a swap for beef in recipes – are also in focus," Bartashus concluded.