Snacking behavior continues to evolve as more consumers return to work and resume activities outside the home.
In the months ahead, companies should anticipate demand for on-the-go items —including snack bars and single-serve packaging — combined with continued snacking at home, Joan Driggs, Vice President of Content and Thought Leadership at IRI told The Food Institute.
Notably, IRI projects that the consumption of snacks at home will remain higher than pre-pandemic levels, with a growing focus on better-for-you offerings. This outlook is largely due to Americans increasing their screen time throughout the pandemic.
"In the first half of 2021 alone, The Digital Entertainment Group reported that Americans spent $6 billion on streaming content, an increase of 17% over 2020," said Driggs. "We're turning this additional time watching content or gaming into an event, which includes new consumption occasions."
Salty Snack Stats
Total sales for salty snacks reached $23.9 billion for the 52 weeks ending December 5, per IRI, with dollar sales up 5.1% year over year.
Chips dominated the top five best sellers, with both potato and tortilla varieties showing minor deceleration in unit sales against the backdrop of 2020's pandemic peaks.
Meanwhile, ready-to-eat (RTE) popcorn continued to see growth across the board, with unit sales up 11% compared to pre-pandemic 2019.
U.S. demand for salty snacks at the manufacturer level is forecast to grow 1.5% per year through 2025, according to Freedonia Focus Reports.
While ongoing concern over the health impact of salty snacks will prevent faster gains, product offerings featuring healthier profiles will support advances.
---

---
In addition to RTE popcorn, IRI data shows a considerable uptick in unit sales across offerings that skew better-for-you, including dried meat snacks and dried fruit.
Globally, the meat snacks market is expected to grow at a CAGR of 7% and reach $14.5 billion by the end of 2029, according to Future Market Research.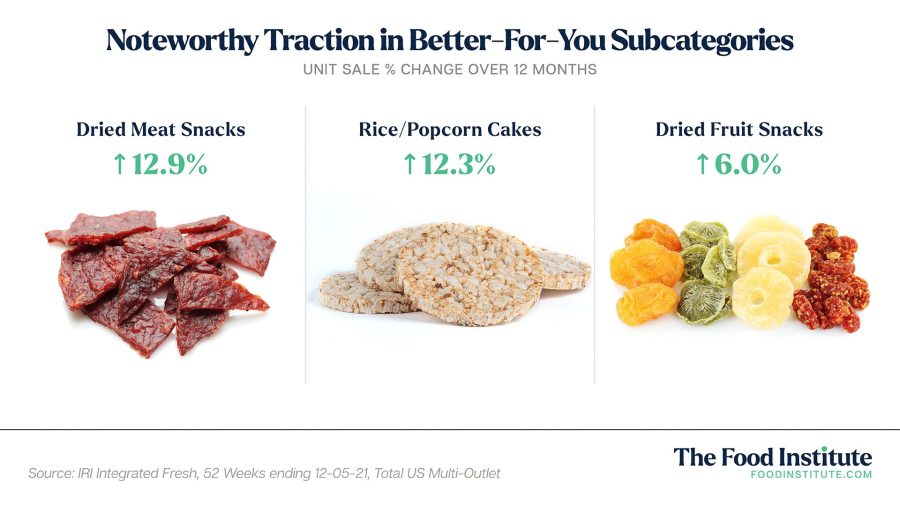 Along with creating new consumption occasions, Americans are also paying more attention to their health and wellness. IRI consumer survey findings show that Americans have an average of 6.6 wellness goals.
"We're looking for positive nutrition wherever we can," said Driggs. "That might take the form of lower-sugar sweets, or high-protein snack chips, even popcorn made with avocado oil, which has a healthier halo."

Trends to Watch
In the months ahead, keeping up with the snack category will require companies to carefully review their assortment and production to accommodate the balance of in-home and on-the-go consumption.
Driggs also anticipates further focus on:
Look for companies to tout alternatives such as healthier oils, baked vs. fried, high protein, or added nutrients like gut health or vitamins.
Consumers gravitate to new flavor experiences and snacks – along with beverages – have always been a go-to category for something new.
After extended time at home, consumers are more aware of the waste they're generating, so packaging and even carbon labeling will be of increasing importance.