This article is sponsored and written by RSM US LLP.
A resilient supply chain can handle and recover from disruptions. Disruptions may include changing market trends, inflation, and labor shortages, and during the COVID-19 pandemic, many food processing companies were faced with supply chain challenges. For example, major U.S. poultry and pork processing plants faced closures to ensure workers' health and safety.
The United States Department of Agriculture has committed to providing technical assistance for meat and poultry companies to better conduct infrastructure upgrade projects. Additionally, the Food Supply Chain Guaranteed Loan Program offers loans to fund these projects, which could include technology upgrades.
To prepare your business for supply chain disruptions and prevent waste, you can use technology to help build a more resilient supply chain.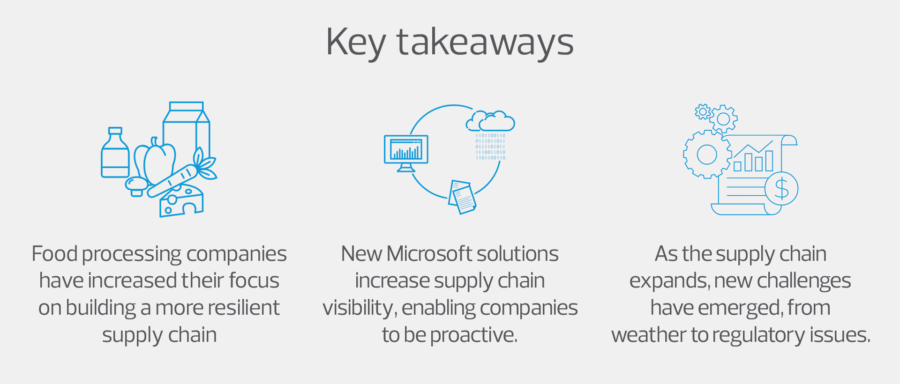 Technology Supporting Resiliency 
It is vital to have visibility into the full supply chain—and technology can help. For example, Microsoft's Power Platform can enable digital transformation which can help shift processes from reactive to proactive, as well as identify potential problems quickly by automating actions.
The Power Platform brings many tools together including Power BI, Power Apps, Power Pages, Power Automate, and Power Virtual Agents. The connected applications bring in data from every area of the business to inspire increased insight and productivity, making it easy for users to develop efficient supply chain solutions.
Several of these solutions provide direct benefits to enhance supply chain processes. For instance, Power BI is a business intelligence solution that provides real-time data visibility, interactive reporting, and actionable insights through data visualizations. End users can access their data from reports and dashboards to solve problems before they arise. Companies can utilize live data dashboards and interactive reporting of their food processing, such as production scheduling.
Power Apps is a low-code application builder to empower users to quickly build and launch productivity apps. One can create applications like a user-friendly app to create purchase orders. Power Automate can turn a company's manual tasks into automated workflows and connect to enterprise resource planning systems like Microsoft Dynamics 365. For example, if a record changes, an email could be sent to a production manager about the change. The platform can visualize data, create user-friendly apps, and automate repetitive processes, then connect to an ERP system or other data sources.
In addition, ERP software like Dynamics 365 enables supply chain visibility through inventory, warehousing, and asset management. The built-in mobile application allows warehouse workers to receive, pick, pack, and ship goods while recording these transactions in real-time. The platform also has the capability to connect to Internet-of-Things (IoT) sensors providing actionable data to optimize production. Companies can also manage their assets to improve productivity and prevent downtime by proactively scheduling maintenance.
In addition to having extensive experience with the features readily available from Dynamics 365, RSM also understands lot tracing for food safety and load handling to accurately locate inventory.
When utilizing various technological capabilities, your business can be better informed and prepared to handle future disruptions. 
Increasing Your Resiliency 
Over the years we have partnered with numerous companies in the food and beverage industry to advise them on their transformation strategy, help them implement solutions, and manage them long-term. Can you confidently answer the following questions?
Are you a resilient part of today's supply chain?
Are there areas where you know you have room to grow but are not sure where to start?
Do you lack the visibility to see what is going on in your internal supply chain?
If you need help answering any of these questions, reach out to us and we can show you how we can help you become more resilient and be ready for the next disruption.
RSM US LLP
RSM US LLP, has a robust practice supporting food and beverage brands across worldwide with a wide range of audit, tax and consulting services. The clients we serve are the engine of commerce and economic growth, and we are focused on developing leading professionals and services to meet their evolving needs in today's ever-changing business environment. RSM US LLP is part of RSM International, a global network of independent firms with 48,000 people across 120 countries. For more information, visit https://rsmus.com/, follow us on Twitter and/or connect with us on LinkedIn.