Christmas has come and gone and, despite what many expected, it appears there were still plenty of presents purchased. According to Mastercard SpendingPulse, which tracks payments including cash and debit card, U.S. holiday sales rose 7.6% despite inflation. The increase represents the holiday season, which runs from November 1st through December 24th. 

This rise wasn't quite the 8.5% increase from a year earlier, but it's still higher than the 7.1% that Mastercard had expected. 
According to ABC News, clothing sales rose 4.4%, online sales rose 10.6%, while in-person spending exhibited a 6.8% uptick.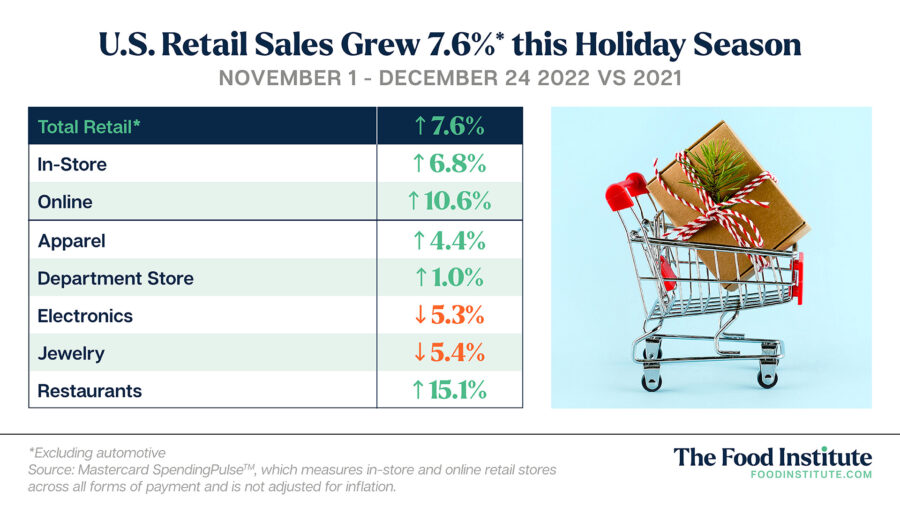 Americans are spending in new ways of late, too, industry experts noted.
"This holiday retail season looked different than years past," noted Steve Sadove, senior advisor for Mastercard, in a press release. "Retailers discounted heavily but consumers diversified their holiday spending to accommodate rising prices and an appetite for experiences and festive gatherings post-pandemic."  
"Inflation altered the way U.S. consumers approached their holiday shopping – from hunting for the best deals to making trade-offs that stretched gift-giving budgets," Michelle Meyer, North American chief economist, Mastercard Economics Institute, said in a press release.
"Consumers and retailers navigated the season well, displaying resilience [amid] increasing economic pressures."  

Notable trends this year were the continued growth of online shopping (10.6% higher than the same period last year) that can be attributed to convenience and the availability of discounts, Black Friday and weekend shopping being the most popular days to shop, and an increase in in-person dining up 15.1% year over year.
Consumers also began shopping for private label goods, going to cheaper stores and discount hunting. Retailers took note and made adjustments.
"The market conditions are changing but consumers are still spending. We had to pivot a bit to support where demand is growing, such as different price points like launching a new line on Amazon," Marc Werner, founder and CEO of GhostBed, told The Food Institute. "We also saw a change to omni-channel sales as Google is pushing more price shopping comparison. …"