California's grape crush was down 8.7% in 2019 when com­pared to 2018, according to the state's final California Grape Crush Report, compiled by the California Department of Food and Agriculture. The total was about 4.1 million-tons, down from the 4.5 million-tons reported in 2018.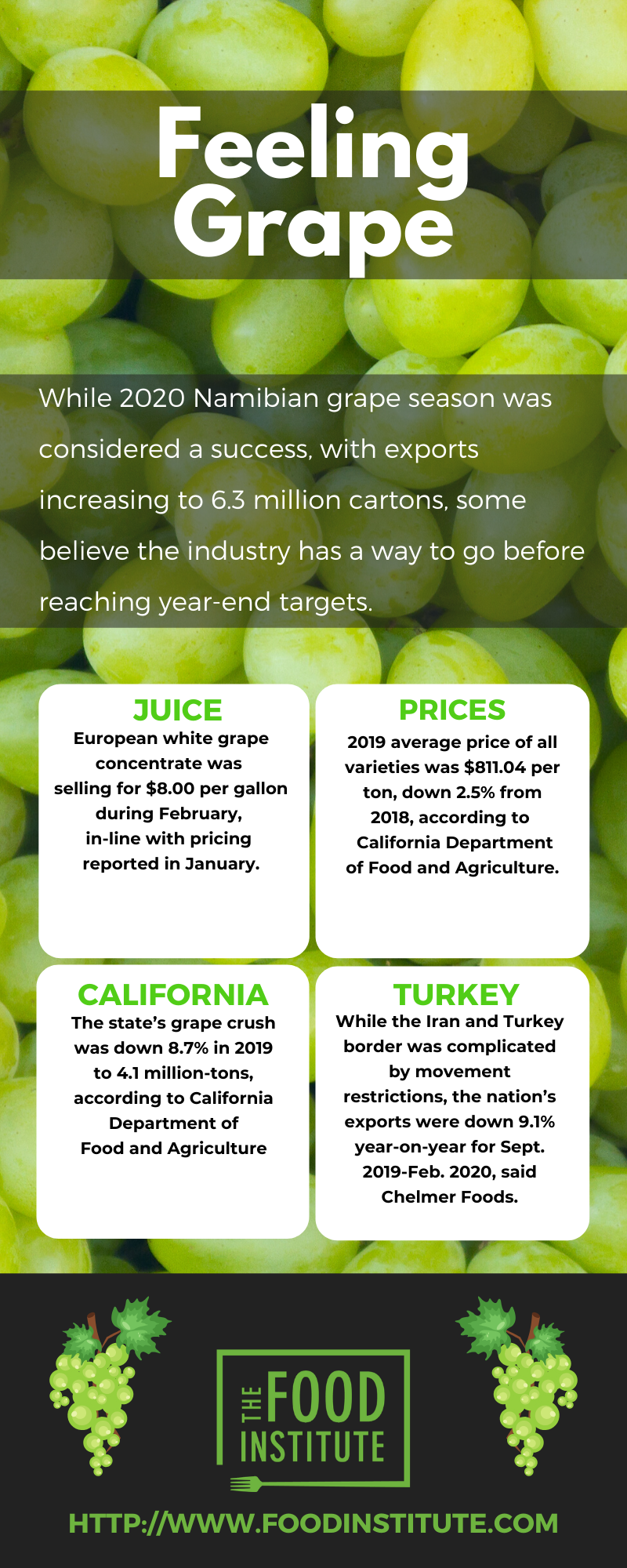 Red wine grape varieties accounted for about 2.2million-tons in 2019, down 11.9% from the prior year, while white wine va­rieties reached 1.8 million-tons, down 3.9% from 2018. The total of grapes crushed for concentrated reached 409,307 tons, repre­senting 9.9% of the 2019 grape crush total.
Both raisin and table grape production also dropped. Tons crushed of raisin type varieties totaled 61,056 tons, down 26% from 2018, and tons crushed of table type varieties totaled 134,470 tons, down 5.6% from 2018.
The 2019 average price of all variet­ies was $811.04 per ton, down 2.5% from 2018. Average prices for the 2019 crop by type were as follows: red wine grapes, $1,019.56, nearly the same as 2018; white wine grapes, $589.54, down 7.2% from 2018; raisin grapes, $245.05, down 18.%; and table grapes, $262.66, up 36.8%.
USDA reported prices for imported fresh grapes on March 23, with comparisons made to prices reported March 16. Chilean product entering via both the Los Angeles and Philadelphia areas saw prices increase during the period.
Prices for 18-lb. containers of bagged white seedless types in extra-larger sizing ranged $28.00-$30.00; large $26.00- $28.00; and medium-large $24.00-$26.00.
Prices for bagged red seedless grapes in 18-lb. boxes from Chile imported via those markets were reported between $22.00-$24.00 for extra-large sizes. Pricing for large sized grapes ranged $20.00-$22.00, while medium sizes were $16.00-$18.00. Black seedless grapes in the same packaging were priced between $24.00-$26.00 for extra-large sizes; $22.00-$24.00 for large sizes; and $20.00-$22.00 for medium-large sizing.
Peruvian imports were moderate, with movement expected to decrease season­ally. White seedless grapes imported via the Philadelphia and New York City areas trended up, with prices for 18-lb. cases of bagged grapes in extra-large sizing ranging $32.00-$34.00; large $30.00-$34.00; and medium-large $28.00-$30.00. Red seedless grapes from the country were selling between $22.00-$24.00 for extra-large sizes, while large sizing was reported as $20.00-$22.00. Medium sized product sold between $16.00-$18.00.
The 2020 Namibian grape season was con­sidered a success, with exports increasing to 6.3 million cartons. However, some believe the industry has a way to go before reaching year-end targets, with table grape personality Andrew Vermaak saying 10 million cartons were originally expected, reported FruitNet (March 12).
This may have been somewhat ambitious and optimistic. Regardless, growers in the region take the growth as a positive, and report government support for the industry. Namibia sees much of its crop ripen in November and December, with most crop shipments sent by Christmas. As such, it is the earliest southern African producer.
Regarding pricing, Argentine white concentrate sold between $6.50-$7.00 per gallon in February, compared with a flat $7.00 figure reporting in January. The range was slightly below the $6.75-$7.25 range reported in Feb. 2019.
European white grape concentrate sold for $8.00 per gallon during the month, in-line with pricing reported in January. Additionally, pricing was relatively stable when compared to the year-ago period when it ranged between $8.00-$8.50.
Supermarket sales of frozen grape juice products declined 13.4% in dollar sales during the 52-week period ending Dec. 1, 2019, according to data from IRI. The category grabbed $9.4 million in total sales, with Welch's representing the most-purchased brand with $4.5 million in sales. However, dollar share contracted 23.1% during the period, as private label pushed up 0.6% to $2.7 million in total sales.
Bottled grape juice sales also declined in the period to $213.7 million, representing a dollar share decrease of about 4.7%. Welch's was the top-purchased brand in the category as well, according to the IRI data. Sales for the brand reached $124.6 million; unlike frozen varieties, private label bottled grape juice sales contracted 10.1% in the reference period, totaling $57.6 million.
However, IRI data showed refrigerated grape juice sales increased 18.2% on dollar sales basis during the 52-weeks ending Dec. 1, 2019. In all, the category brought in about $1.7 million in sales during the period, with Tropicana serving as the category leader with 48.5% of the dollar share. Sales for the brand reached $1.6 million.
Dried grape varieties from Turkey were challenged by downward pressure on prices, according to Chelmer Foods. Chelmer noted the nation's exports were down 9.1% year-on-year for the Sept. 2019-Feb. 2020 time period, with exports in February alone down 17% from Feb. 2019. Additionally, the border between Iran and Turkey was complicated by movement restrictions enacted in response to the coro­navirus pandemic. As such, the flow of Iranian fruit into Turkey was reduced dramatically.
Meanwhile, the coronavirus pandemic complicated exports of Indian grapes from the state of Maharashtra. About 35,000 metric tons of the product were stuck as companies could not export them in March, reported The Hindu BusinessLine (March 20).
Producers in the region exported over 74,000 metric tons to various countries, down from the 89,000 metric tons reported in March 2019. Receiving countries included the Netherlands, the UK, and Germany.