Consumers are redefining the concept of healthy eating with a growing taste for functional, authentic, and adventurous ingredients, according to a new report from Tastewise.
Demand for functional health support from foods and beverages has increased 4% over the past year. Furthermore, 18% of all Americans are calling out the health benefits of their food and beverage while sitting down to eat.

"Ten years ago, affordability and taste were the top motivators behind America's food and beverage choices. If it was tasty and good for the wallet it was on the plate," said Alon Chen, CEO at Tastewise. "Health – while always a consideration for some – has become a much more mainstream consideration in the interim, joining other demands like convenience, authenticity, nostalgia and sustainability on the table."
For its report, Tastewise AI utilized billions of data points from recipes, restaurant menus and social media interactions to identify food & beverage trends for the year ahead.
Here are a few key takeaways.
Florals and Botanicals
Due to their high correlation with functional benefits, Tastewise expects to see botanical innovation extending beyond the beverage category in 2023. Menu mentions of botanicals increased 97% in the past two years, while mentions of their floral counterparts increased 75% during the same time.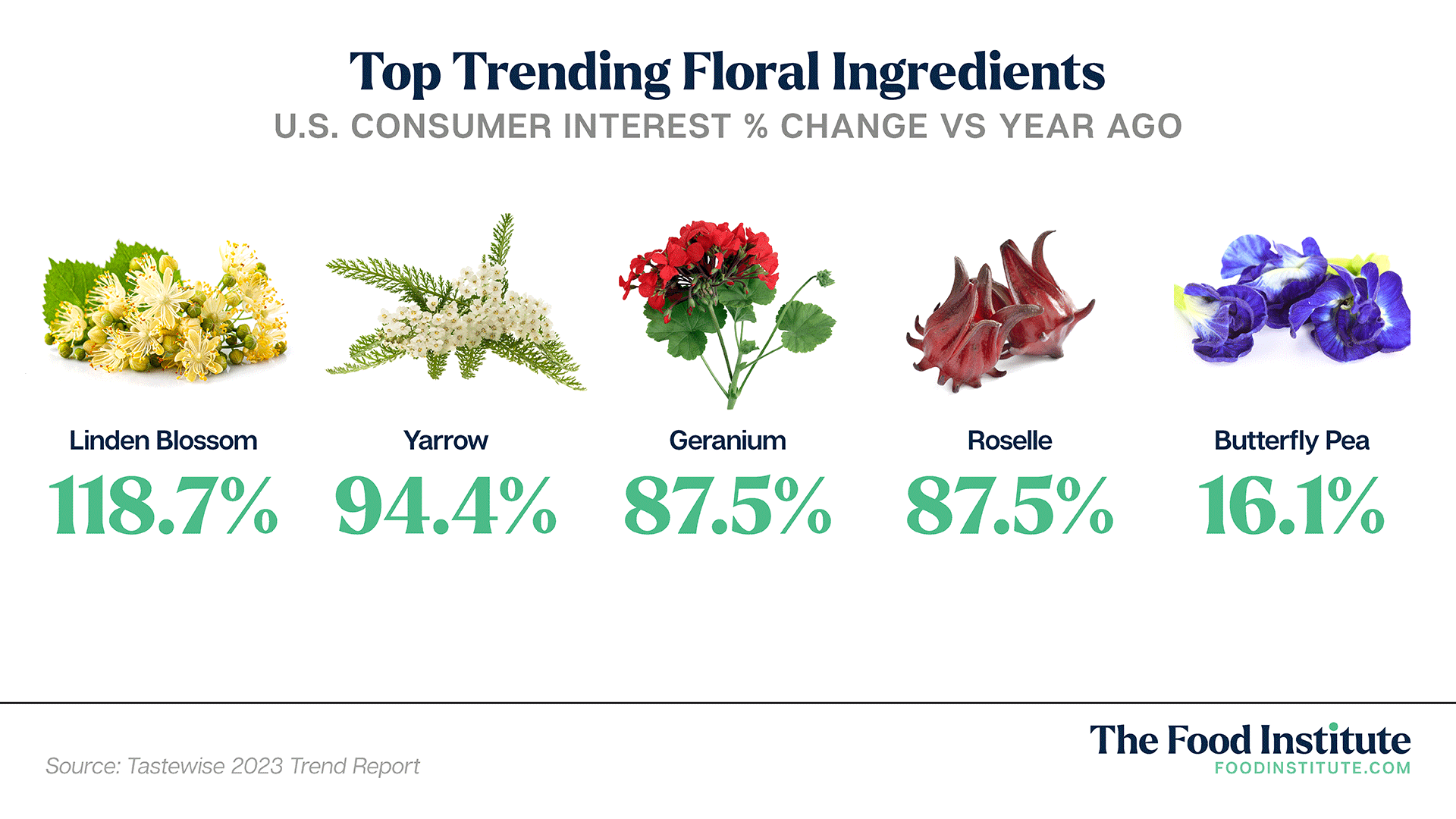 As consumer interest in customization grows, Tastewise predicts that condiments, often referred to as the last touch moment of flavor, will take on new character as a functional health provider. Of the top 10 fastest growing seasonings within the condiment category, six are floral or botanical ingredients — vetiver, catnip, patchouli, tonka bean, yarrow and kokum.
Energy Drinks Redefined
2022 was big year for energy drinks and that momentum is expected to continue. However, energy drinks that leave the jitters behind to focus functional needs and premium flavors will be in particularly high demand in 2023.
Beverages that boost energy are up 21% year over year while interest in energy drinks that call out health benefits increased 45% during the same period.   
According to Tastewise, this category is entering its "hero era," as consumer's conception of the product pivots to focus more on flavor and experience. Emerging demands tend to focus on nutrition, while dominating claims center on functional health.

Global Libations
Interest in culturally authentic non-alcoholic beverages has grown 31% over the last two years, signaling an opportunity for brands to introduce new global concepts into the American mainstream.
2022 saw a significant bump in Latin American beverages with consumer interest growing 14% year over year in 2023.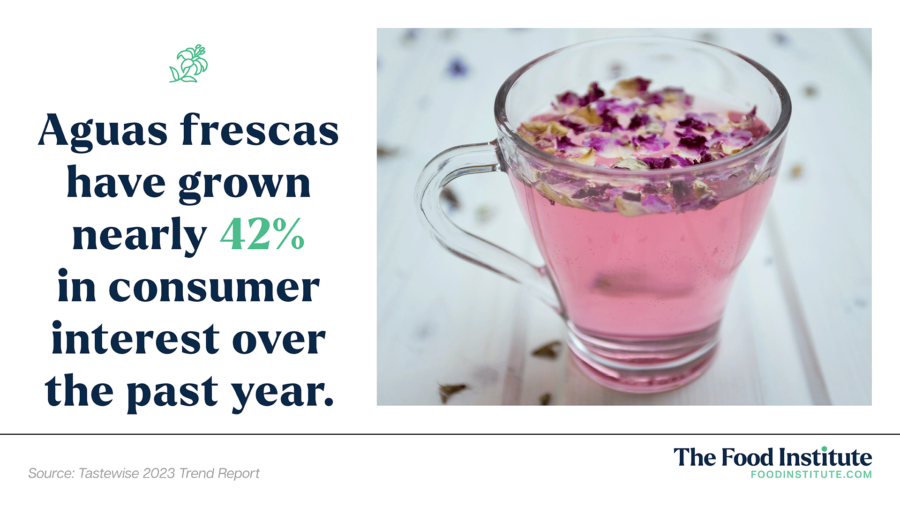 Along with aguas frescas, Latin American specialty beverages gaining traction in the U.S. include horchata (+16%) a sweet rice drink popular in Mexican cuisine and chicha morata (+45%), a cold Peruvian beverage made from purple corn.
In addition to anchoring global and niche beverages to familiar flavors, Tastewise recommends that brands consider the role of natural alternatives to processed sugar in non-alcoholic beverages, including jaggery, a common ingredient in Indian, African, and South Asian dishes, and monk fruit which is often found in Chinese cuisine.
Flavor Fusions
Tastewise expects to see fusion taste profiles continue to rise across categories in 2023, particularly in areas of indulgence and dessert mashups.
Although sweet and spicy remain top taste profiles in the U.S., consumer call outs of related food and drink on social media have decreased 25% and 41% accordingly over the last two years, while demand for adventurous flavors has grown 20% during the same period.
Fusion flavors like spicy honey have stepped in to fill the gap. For instance, interest in hot honey and frozen desserts has grown 150% over the past two years. Nostalgia and tradition will continue to play key roles in the development of new and indulgent fusion dishes that mirror the likes of ice cream chicken sandwiches and cornbread ice cream.