Here are trending economic and food industry data points, as well as major economic and company earnings releases for the coming week: PPP, Restaurant Revitalization Fund, lumber shortage and inflation, hiring recovery, inflation in Brazil, India's impact on the global supply chain, and earnings from Sysco Corporation (SYY), Shake Shack Inc. (SHAK), Beyond Meat, Inc. (BYND) and more.
---
Trending Economic News
PPP is running out of money, but the Restaurant Revitalization Fund has begun accepting applications. The additional $292 billion of Paycheck Protection Program funding will run out before the May 31 deadline. Thus far SBA has approved 10.8 million PPP loan applications. SBA's Restaurant Revitalization Fund started on May 3.
New homes cost $36,000 more because of an epic shortage of lumber. Last year sawmills shut down production amid expectations for construction delays. Now they can hardly keep up with pend-up demand. Lumber futures soared above $1525 per 1000 board ft. from $500 last November.
Brazil's central bank (BCB) raised its benchmark interest rate to fight inflation. Higher energy prices have pushed inflation above the bank's target ceiling. BCB increased the rate by 0.75% and expects to raise it again next month. YTD BCB lifted interest rate from 2% in Jan to 4.25% by Jun. Consumer prices rose 6.17% in the year through mid-April, and many economists forecast 8% by May.
Hiring accelerated in April, but still fell short of expectations. ADP reported private payrolls grew by 742K in April, below forecast of 800K. It was the fastest pace of labor market recovery since September amid an increase in COVID-19 vaccinations and the lifting of business restrictions. The service-providing sector added 636K jobs led by leisure & hospitality (237K).
India's second COVID wave may have a bigger impact on the global supply chain than many realize. India's pharmaceutical industry is the third largest in the world and produces 70% of the world's vaccines (note: not COVID vaccines). India also provides IT, back-office, and other non-core operations for companies around the globe. Most indicators suggest the economic impact of COVID is less severe than last spring, but recovery will be delayed to 2022.
---
Upcoming Economic Releases
| | | | | |
| --- | --- | --- | --- | --- |
| | | | Forecast | Previous |
| 5/11/2021 | | NFIB small-business index (Apr) | 98.7 | 98.2 |
| 5/12/2021 | | Consumer price index (Apr) | 0.2% | 0.6% |
| 5/13/2021 | | Producer price index (Apr) | 1.5% | 1.0% |
| 5/14/2021 | | Retail sales (Apr) | 0.2% | 9.8% |
| 5/14/2021 | | Import price index (Apr) | 1.0% | 1.2% |
Source: Bloomberg, CNBC, Trading Economics, Food Institute
>> For more information on CPI/PPI and Retail Sales, go to Food Institute Economic Benchmarking.
---
Select Food & Beverage Industry Data Points
Foodservice – Restaurants
OpenTable restaurant diner growth data (2019 baseline): U.S. = -20% as of May 5, 2021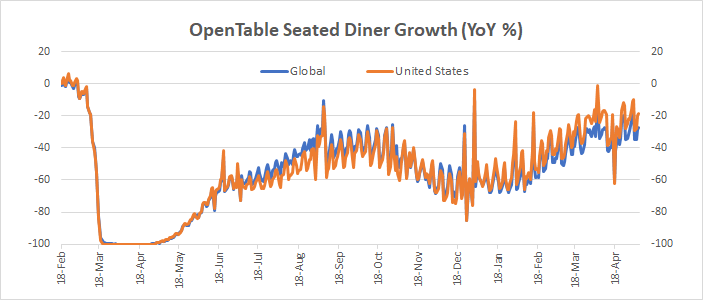 ---
Shake Shack (SHAK) reported Q1 2021 results
Total Revenues: $155.3 million (+8.5%)
Same Store Sales: +5.7% in Q1 (April: +86%)
App & Web Sales: +230% YoY
Operating Income: $235.9 million
Store Growth:

10 new stores in Q1
5 new stores in Q2 (quarter to date)
Expected store growth of 35 to 40 in 2021
Key Takeaways:
SHAK is leveraging digital orders to cultivate customer loyalty
The company launched "Now Serving" which features limited-time offers with celebrity chefs. The goal is to spotlight ethnic foods, while engaging customers in local markets
Growth will likely outpace the broader restaurant industry as customer loyalty remains strong
---
Foodservice – Distribution
Sysco (SYY) reported Q1 2021 results
Total Revenues: $11.8 billion (-13.7%)
Gross Profit: $2.1 billion (-17.2%)
Gross Margin: 18% (-77 bps)
Operating Income: $235.9 million
Business Segment Performance:

U.S. Foodservice: $8.4 billion (-12.8%)
SYGMA: $1.6 billion (+15.9%)
International Foodservice: $1.7 billion (-31.3%)
Key Takeaways:
Independent customer count growth increased > 10%
Restaurant Rising campaign and removing minimum delivery requirements have helped performance
The company is well positioned to capitalize on the foodservice industry recovery
---
Food Manufacturing – Plant-Based
Beyond Meat (BYND) reported Q1 2021 results
Net Revenues: $108.2 million (+11.4% vs. last year)
Gross Profit: $32.7 million
Gross Margin: 30.2%
Business Segment Performance:

U.S. Retail: $63.8 million (+27.8%)
U.S. Foodservice: $16.7 million (-26.0%)
International Retail: $17.2 million (+189%)
International Foodservice: $10.4 million (-44%)
Key Takeaways:
Competition remains strong from direct competitors (e.g., Impossible Foods) and large traditional meat companies (e.g., Tyson, JBS, etc.)
BYND is experiencing both slower growth and margin pressure as R&D and marketing expenses eat into earnings
---

Earnings Calendar of Select Companies
| | | | | |
| --- | --- | --- | --- | --- |
| Announce Date | | Company | EPS Estimate | Previous Quarter EPS |
| 5/10/2021 | | US Foods Holding Corp. (USFD) |  $                0.05 |  $                0.05 |
| 5/10/2021 | | Tyson Foods, Inc. (TSN) |  $                1.12 |  $                1.94 |
| 5/11/2021 | | Aramark (ARMK) |  $               (0.34) |  $               (0.31) |
| 5/11/2021 | | Flowers Foods, Inc. (FLO) |  $                0.39 |  $                0.28 |
| 5/12/2021 | | The Wendy's Company (WEN) |  $                0.14 |  $                0.17 |
| 5/13/2021 | | Alibaba Group Holding Limited (BABA) |  $                1.79 |  $                3.41 |
| 5/13/2021 | | Utz Brands, Inc. (UTZ) |  $                0.14 |  $                0.33 |
Source: Bloomberg, CNBC, Yahoo Finance, Food Institute