Here are trending economic and food industry data points, as well as major economic and company earnings releases for the coming week: Gen Z Unemployment, Robinhood and new generation of investors, earnings from McCormick (MKC), General Mills (GIS), Constellation Brands (STZ), and more.
---
Why is Gen Z staying on the sidelines during the best job market in decades?
U.S. businesses hired 692K workers in June and 3.1 million YTD. Yet there are still > 9 million unfilled job openings. "Many employers still can't find enough workers," Federal Reserve Bank of Dallas President Robert Kaplan said in a Bloomberg interview, "and they don't know why." Among the different demographic groups, Gen Z stands out as the most unwilling group to jump back into the job market. Let's take a closer look.
Higher Gen Z jobless rate
Gen Z has nearly 2x the unemployment rate of older generations. During the pandemic outbreak, the overall unemployment rate was ~11.5%, while Gen Z was >23%. As of June, the overall unemployment rate dropped to <6.0%, while Gen Z remains > 10%.
There are many explanations for why young people struggle to find and retain employment. According to Forbes, the top reason cited by employers is work ethic. Today's younger workers may not be as emotionally prepared for the workplace as previous generations.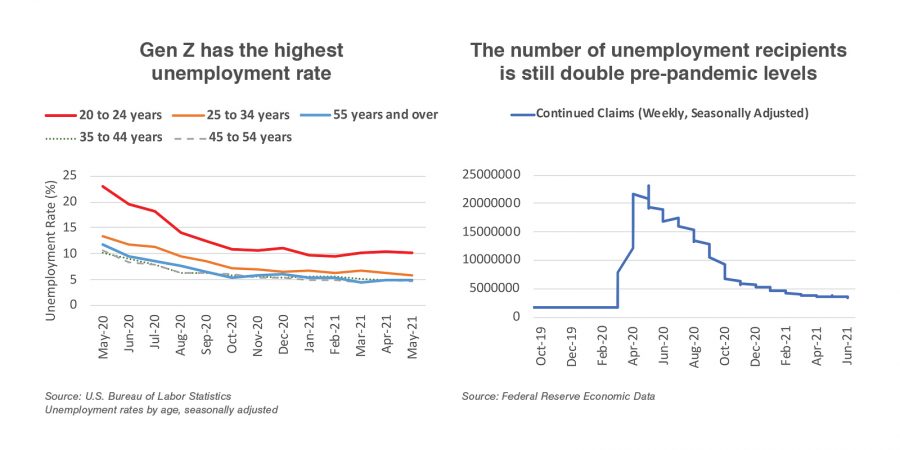 Alternative sources of income
Goldman Sachs chief economist Jan Hatzius cites unusually generous unemployment benefits, which in some cases exceeded minimum wage, as an obstacle for hiring managers. Even as the number of new jobless claims dropped to a pandemic low of 364K in the week ending June 26th, the number of beneficiaries that continued to receive unemployment benefits is double pre-pandemic figures.
At the same time, more and more young people became interesting in investing. A new GOBankingRates survey found that 71.96% of Gen Z investors started investing within the last six months. Unlike older generations who opt for long-term investments, many Gen Z investors are aiming for short-term profits using risky strategies such as day-trading, option-trading, cryptocurrencies, meme stocks, and SPACs. About 40% of Gen Zers check their investments every day.
Robinhood has been instrumental in attracting Gen Z investors. With a free mobile app, free stock for referrals, no paperwork, and seamless execution, Robinhood removed many barriers to entry for first time investors. Over the past five years, Robinhood users increased eight-fold. The average age for Robinhood users is 31, while >30% are under 24.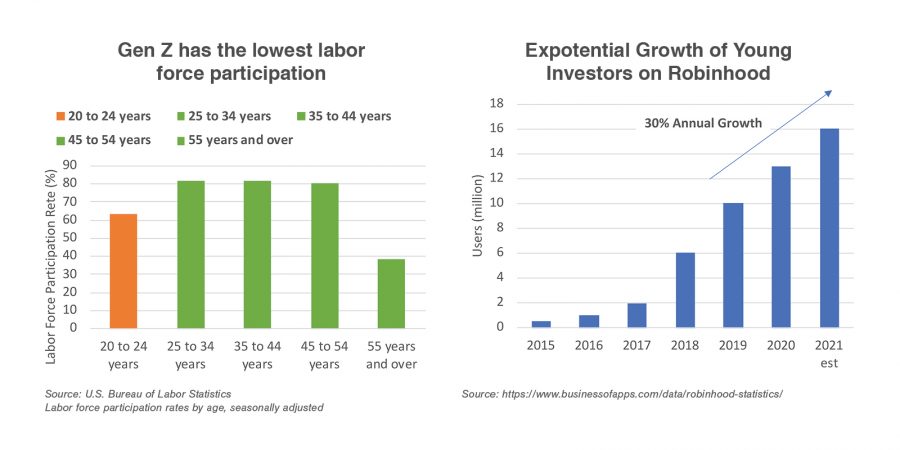 Power, approval, comfort, and control
According to Tom Brooks, Head of Marketing at Guidant Global, Gen Z workers are confident in their abilities and have the drive to succeed, but they often suffer from career anxiety. They are willing work hard, and in return, expect a lot, particularly when it comes to flexible work schedules, company culture and technology. They value freedom and flexibility at work and look to managers for direction and structure, but not necessarily approval. They also want to contribute to corporate culture and technology matters. Although Gen Z is concerned about financial security, it is purpose, energy, and culture that motivate them. In short, Gen Z's attitude towards work is quite different from previous generations.
With rapid technology advancements transforming our world in recent years, perhaps it should come as no surprise that younger workers would approach work with a different mindset.
---
Upcoming Economic Releases
| | | | | |
| --- | --- | --- | --- | --- |
| | | | Forecast | Previous |
| 7/7/2021 | | Job openings (May) | 9.1 mil | 9.3 mil |
| 7/8/2021 | | Continuing jobless claims (weekly) | 3.38 mil | 3.47 mil |
| 7/8/2021 | | Consumer credit (May) | $18.25 bil | $19 bil |
Source: Bloomberg, CNBC, Trading Economics, Food Institute
For more information on CPI/PPI and Retail Sales, go to Food Institute Economic Benchmarking.
---
Select Food & Beverage Industry Data Points
Foodservice – Restaurants
OpenTable restaurant diner growth data (2019 baseline): U.S. = -9.5% as of June 30, 2021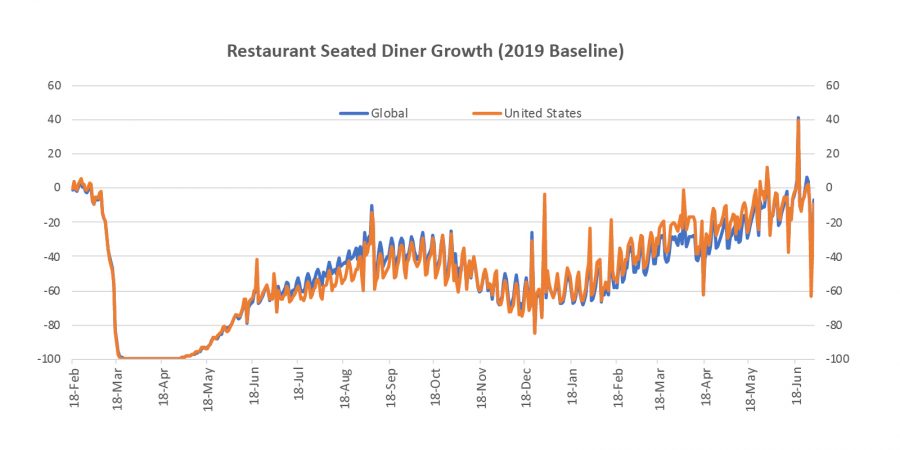 ---
Food Manufacturing
McCormick & Company (MKC) reported Q2 2021 results
Sales: $1.56 billion (+11% vs. last year; +8% in constant currency)
Gross Profit: $614.6 million vs. $579.5 million last year
Operating Income: $237 million vs. $257 million last year
Business Segment Sales:

Consumer: $945.2 million vs. $962.6 million
Flavor Solutions: $611.5 million vs. $438.5 million
Key Takeaways:
For fiscal year 2021, McCormick sees sales rising 11% to 13% (8% to 10% constant currency)
Management sees the following trends to be "sustainable":

Sustained shift to consumers eating at home
Increased digital engagement
Clean and flavorful eating
Trusted brands

FONA and Cholula acquisitions (acquired in Nov and Dec 2020) boosted sales numbers by 5%
Longer term, on the heels of the FONA acquisition, management sees the Flavor Solutions segment as a high growth opportunity with new addressable markets like beverages
To see more, click the links below:
General Mills (GIS) latest fiscal quarter results and key takeaways
Constellation Brands (STZ) latest fiscal quarter results and key takeaways
---