The food industry took major hits throughout the pandemic. In the aftermath, internal and external wage disparities continue to exacerbate labor issues industrywide.
In 2020, median food industry employee compensation was $33,392, down 0.7% year over year, according to Food Institute data derived from a Wall Street Journal analysis of annual S&P 500 company disclosures (July 6).
The data sample includes 6.1 million employees across three major categories, including food production, retail, and consumer services.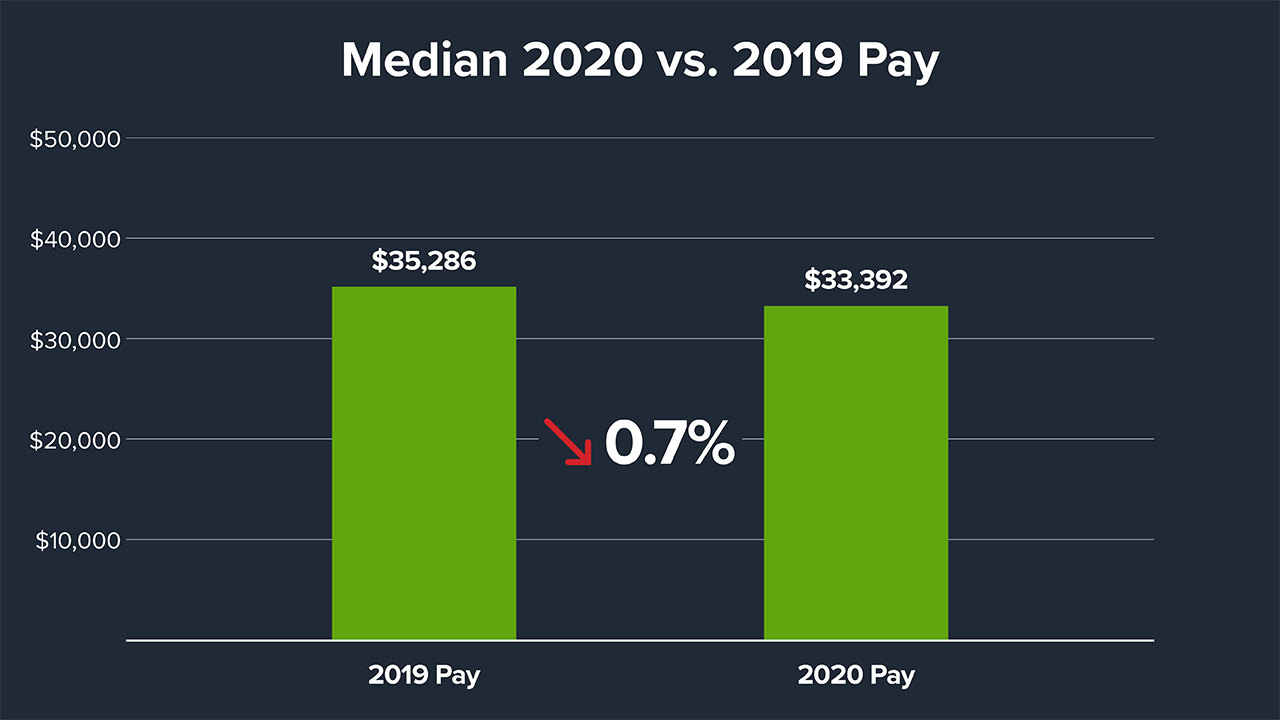 Overall, the median compensation in the U.S. across all major industries was $71,251 the same year, reflecting a 2.3% increase. Data also revealed that food industry CEOs received wages 400 times higher than the average employee.
"The compensation data in 2020 show two things: the abnormal impact that COVID-19 had on the food industry, and the wage gap that food industry workers face compared to workers in other industries," said Brian Choi, Managing Partner and CEO of The Food Institute. "I think these factors have helped contribute to the hiring problems the U.S. food industry has been facing over the past few months."
---

---
Wages By Sector
The pandemic's rollercoaster effect created significant rifts in employee wages. A side-by-side comparison of the highest company increase in pay (Dominos) versus the greatest loss (Hershey) reflects the scope of these fluctuations.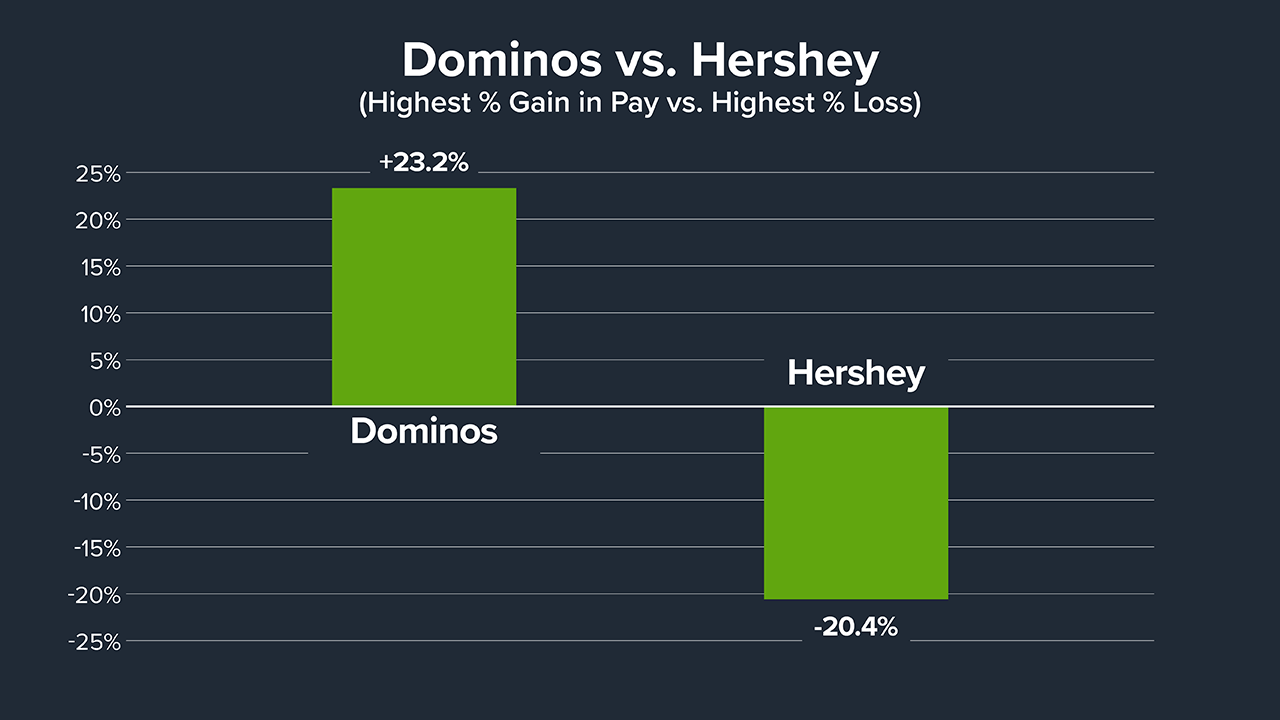 In the food retail sector, the average employee wage was $29,007, down 8% from the year prior. Wages decreased across all attributable companies, including:
Costco Wholesale (-16.30%)
Kroger Co (-8.10%)
Walmart, Inc (-6.90%)
The average wage for consumer services was $12,113, down 2% from 2019. Wages in this sector fluctuated drastically, with Domino's Pizza spiking 23.2% while Chipotle Mexican Grill dropped 7.30%. Other notable highs and lows include:
Starbucks (+5.40%)
McDonalds (-1.80%)

The average wage for food and beverage producers was $40, 726, reflecting a 2% increase year over year. This sector also contained a broad wage range, with Monster Energy jumping 15.8% and Hershey falling 20.4%.
Other notable company fluctuations:
Campbell Soup Co (+7.90%)
Kellogg Co (+7.50%)
McCormick & Co (+5.60%)
Constellation Brands (-9.20%)
Kraft Heinz (-7.20%)
Internal Wage Disparity
The Wall Street Journal's data further confirms the massive rift between median CEO and employee wages.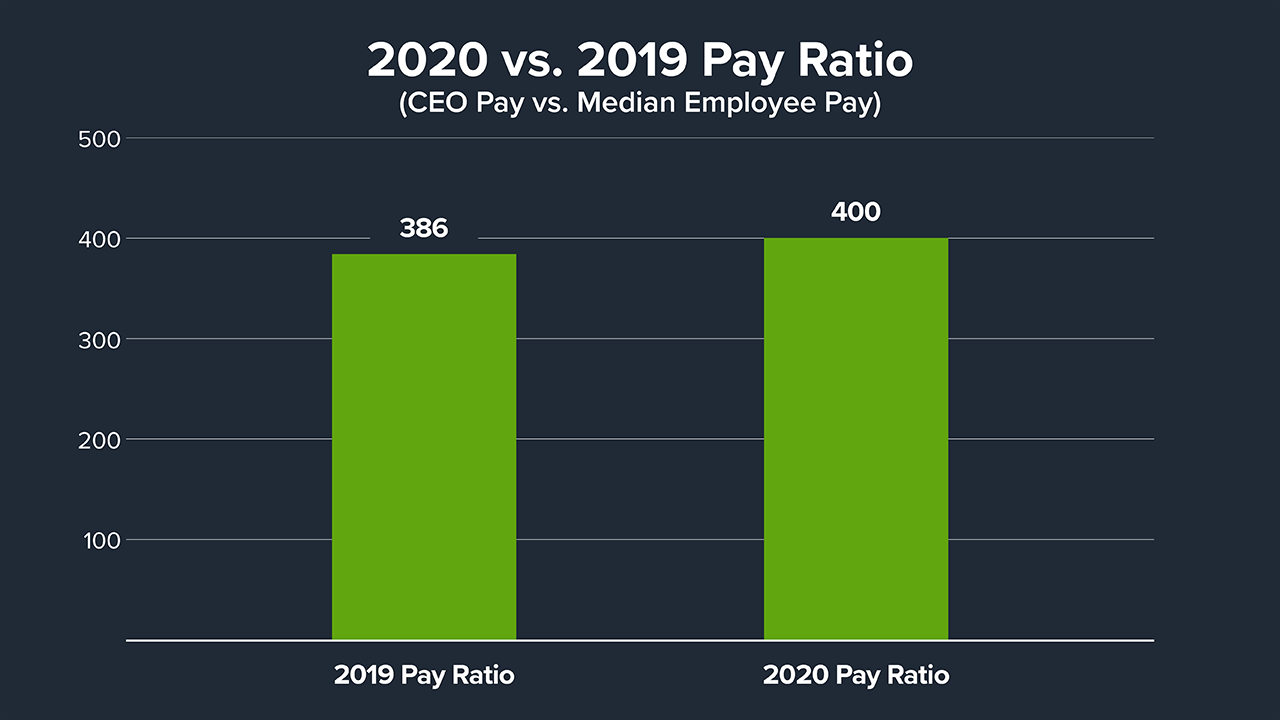 The 2020 pay package of DoorDash CEO Tony Xu far exceeded that of most S&P 500 CEOs, while top executives at Walmart and Target also saw compensations surging the same year.
"It's not a surprise that CEO compensation has been a hot button issue in 2021, especially since many workers have lost their jobs due to the pandemic," said Choi. "However, it's important to view compensation in the context of a broader set of performance criteria, and not base the figures solely on the pandemic."