Despite U.S. inflation cooling by more than forecast in October, rates remain 7.7% higher than 2021 and many consumers are preparing for a more financially cautious holiday season.
According to the latest EY Future Consumer Index (FCI), 56% of cost-concerned consumers started shopping earlier in the holiday season this year and 50% are aiming to spend less by cutting food and drink spending both in and out of the home.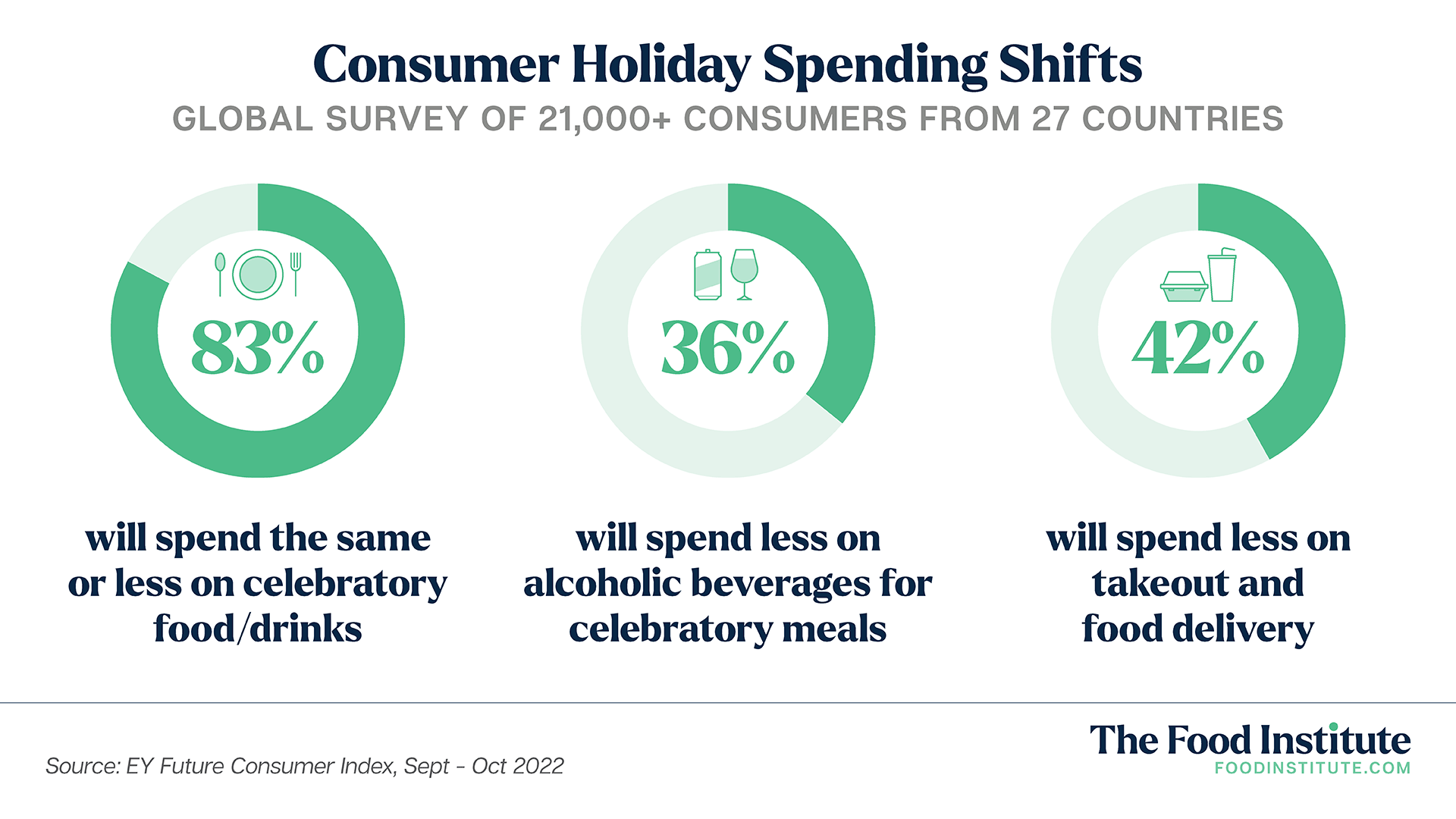 Although these statistics represent overall consumer sentiment, divergent priorities are also shaping spending behavior across the globe.
"With fears of a resurging pandemic finally seeming to lessen, new consumer concerns have entered the arena," said Kristina Rogers, EY Global Consumer Leader, in a company statement. "Focus has shifted to the planet and finances as price increases due to inflation have swept the board particularly in gas, household energy, and fresh/package food."
Beyond the Price Tag
While worries over inflation and the economy still take precedent for a leading percentage of consumers, FCI's global survey found that a broad variety of respondents are approaching the holiday season with a desire to live sustainable or healthy lives, or to have rewarding experiences.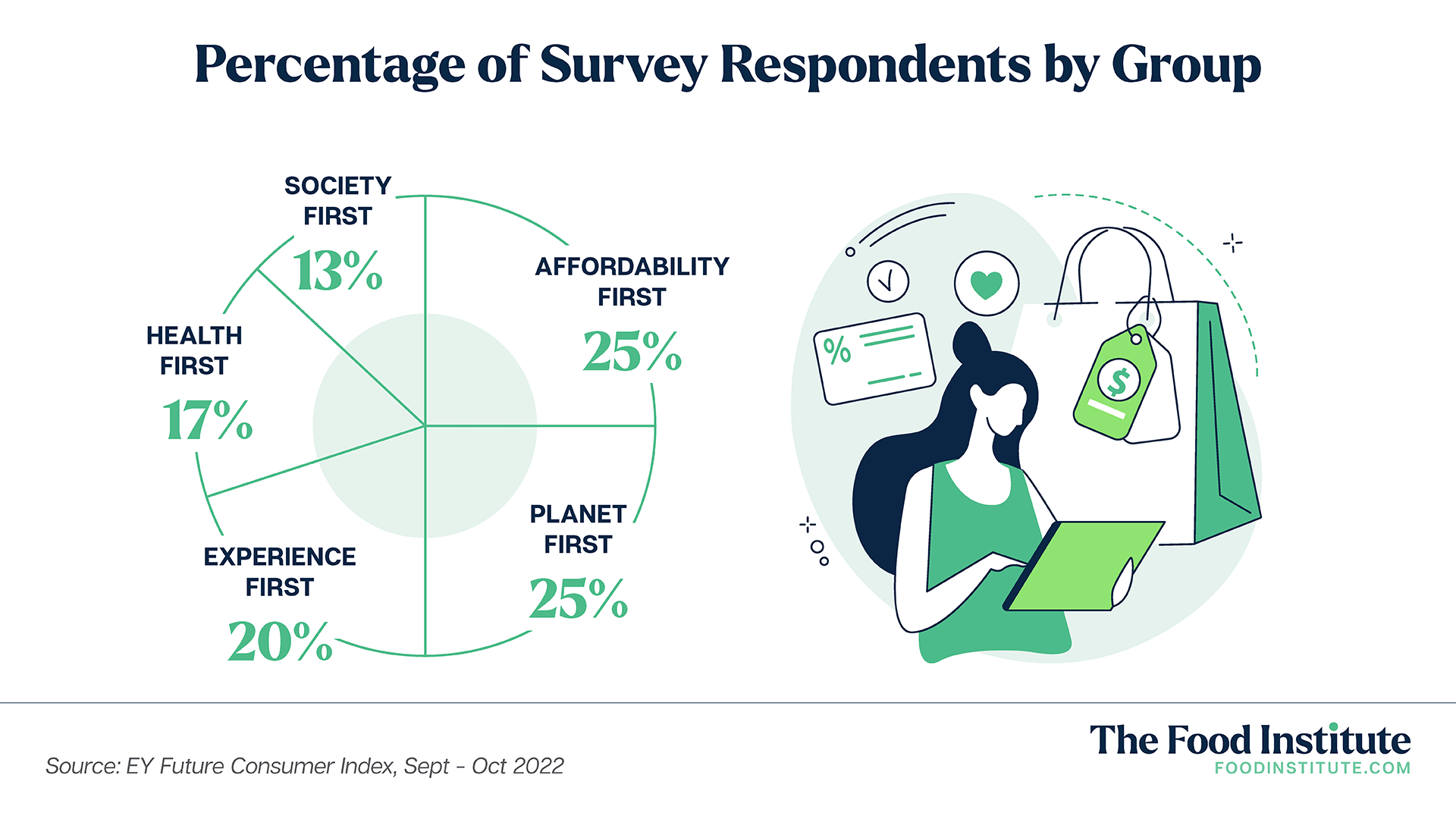 The EY survey suggests that consumer companies must not only look at global consumer sentiment but understand the nuances and needs of different consumer groups to truly understand how best to serve them.
"Consumers have remained remarkably resilient and continue to shift their priorities in response to emerging disruptions," said Rogers. "With "Planet first" now as large a consumer tribe as "Affordability first"—and with more than half of respondents globally expecting businesses to take the lead to drive positive and environmental change—prioritization in this area is key to unlocking value."
Affordability Versus Experience
With seemingly unrelenting cost-of-living challenges, 62% of "Affordability first" respondents—those who are cost-led—are very concerned about the rise of living expenses.
"The stock response from many among this consumer group is to purchase cheaper alternatives or purchase less," Rogers told The Food Institute. "[They] are much more likely to focus on essential products and they are trading down to private label where possible."
Meanwhile, "Experience first" respondents are eager to catch up on missed experiences from the pandemic. Although 41% of this group are extremely concerned about their household debt, their overall optimism overrules these concerns and 50% are willing to buy non-essentials, services, and experiences to bolster happiness.
Another key insight for this group is how food is prioritized in their share of wallet.

"They are much more willing than other groups to spend money on experiences and almost half of them expect to go on vacation in the next six months," said Rogers. "This points to the fact that, although they are willing to spend more, food and beverages may not be the main channel through which they scale up their discretionary spending."
Other noteworthy year-over-year comparisons between these two groups:
Experience-first consumers are four times more likely than affordability-first consumers to invite more people over to celebrate the holiday season this year.
Thirty-seven percent of experience-first consumers intend to spend more this holiday season across the board compared with 16% of affordability-first consumers.
Fifty-one percent of affordability-first consumers also expect to spend less on out-of-home recreational activities such as a going to bars and restaurants, while Experience-first consumers are divided—31% expect to spend more and 30% expect to spend less.
Other Consumer Categories
"Planet-first" consumers have fewer financial worries. These respondents are less likely to cut their spending unless to live more sustainability. Forty percent will make sustainable food choices for their celebratory meals this holiday season and 40% will purchase less food in a bid to reduce food waste.
"Society-first" consumers also care for the environment. Seventy percent are deeply concerned about the fragility of the planet and view the holiday season as an important opportunity for them to express their social values through what they buy and how they bring people together.
"Health-first" respondents will prefer to avoid the holiday crowds. Seventy-four percent of these respondents say they are more aware and cautious about their physical health.