Retailers are digging up new ways to boost fresh mushrooms sales in the produce department and beyond, as consumer interest in fungi functionality continues to thrive.
The global mushroom market size is expected to reach $115.8 billion by 2030, according to a new report by Grand View Research, expanding at a CAGR of 9.7%..
And with considerable reason. In addition to possessing health and sustainability halos that intrigue buyers, mushrooms are a versatility powerhouse, Anne-Marie Roerink, principal and founder of 210 Analytics told The Food Institute.
"Mushrooms play a role in virtually all food types from a hearty breakfast omelet to comfort food dishes to salads," said Roerink. "This means that unlike some commodities that have strong seasonality, mushrooms are really always in season."
Category Stats
Comparative unit sales for fresh mushroom are down for the 52-week period ending March 20, per IRI data, but still outpacing numbers from 2020's pandemic pivot point.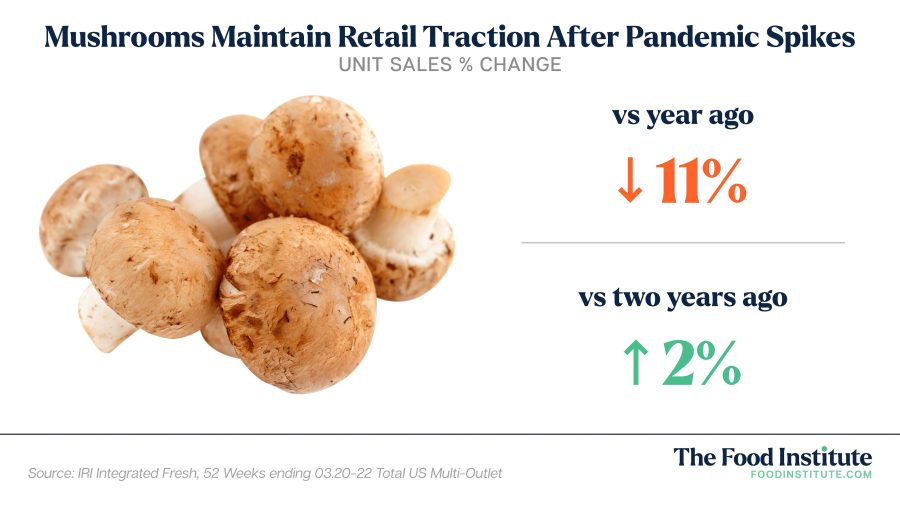 2020 was the highwater mark for fresh mushrooms, with sales trending in the top ten for absolute dollar growth for 52 straight weeks, said Roerink, adding that 2021 was the second-best year since 2016.
Furthermore, at 1.9%, the price increase for mushrooms in 2021 fell significantly below the average price per pound for total produce (+7.1%) and total vegetables (+4.6%), according to a March retail performance report by The Mushroom Council.

Popular Varieties
The overall influx of category sales dollars came from new buyers, increased purchase frequency, and consumers experimenting with varieties that tend to have slightly higher price per pound.
"The share of the traditional white button mushrooms is declining a bit in favor of portobellos and baby bellas, also referred to as crimini or brown mushrooms," said Roerink. "These tend to have a bit longer shelf life which is good for the retailer and good for the consumer as preventing food waste is high on the radar for both."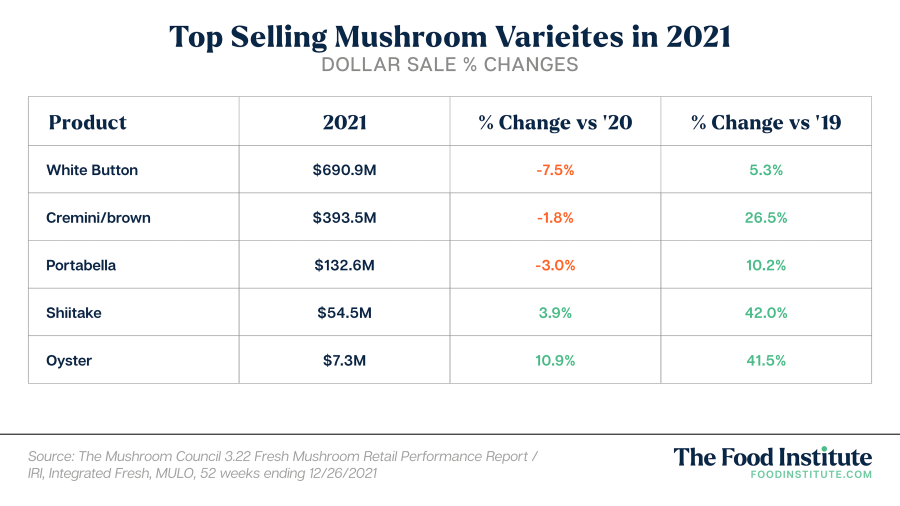 Growth Opportunities
Beyond the traditional usage occasions, retailers are merchandising mushrooms to align with today's big dietary trends, such as keto and plant-forward eating.
Consumer Education
By educating shoppers about the taste and health benefits of different mushrooms through banners, flyers, and recipes, retailers can encourage further trials both in-store and online.
According to Southeast Produce Council and 210 Analytics, What's New 2021 report:
59% of consumers purchase specific fruits and vegetables because they associate them with specific health benefits
54% of consumers want to see nutrition information on produce labels
38% want to see taste and texture descriptions for new/lesser-known fruits and vegetables

Simplified Meal Prep
Slightly more than half of mushroom sales are generated by cut or further prepared options.
"This value-added share is much higher than seen in most commodities and points to one of the biggest trends in produce retailing right now, being convenience," said Roerink. "The different varieties cover a range of flavors and pre-sliced and diced options allow for easy additions to meals."
Protein Blends
During periods of low meat inventory and higher prices, mushrooms lend themselves very well to blending, which stretches the meat and gives it a health boost, said Roerink.
In addition to connecting the dots between meat and mushrooms in the produce department, some retailers are putting prepared options like stuffed portobellos in the meat department to address consumer needs, she added.
"We also see growing availability of blended items, meaning ground beef, pork, turkey, with diced mushrooms," said Roerink. "The Power of Meat 2022 found that about one in six people eat a flexitarian diet, meaning these people still want to eat meat and poultry, but a little less of it and blended items are the perfect answer for that."