New research shows reason for optimism in the fine-dining space.
Merchant Centric, which monitors customer reviews, recently noted that, during the first half of 2021, fine dining had the strongest guest sentiment and star rating (4.38) when compared to restaurant industry segments like quick service and fast casual, and far higher than the industry's average rating of 3.86.
"This indicates that fine dining has found its way through much of the challenges posed by new protocols, staffing challenges, menu supply management, etcetera," Adam Leff, co-founder of Merchant Centric, told The Food Institute. "Perhaps the guests to this segment are also less price sensitive and thus fine dining has been able to pass along increases easier, to support the higher touch provided at fine dining [restaurants] that guests have been craving."
Furthermore, analysis by guest-experience platform Paytronix showed that restaurant gift cards – especially fine-dining ones – were popular Black Friday purchases. This year consumers snapped up gift cards from fine-dining restaurants in greater numbers than Paytronix has seen since it began tracking Black Friday sales in 2018.

The Paytronix findings align with research released by the National Restaurant Association, which found that 62% of consumers hoped to receive a restaurant gift card this holiday season, and 38% saying they would save the gift card for a special occasion.
While restaurants are dealing with labor and material shortages, and now the new omicron coronavirus variant, consumer interest in fine-dining appears to be up, said Kishan Vasani, CEO of Spoonshot, an AI-powered research platform. Vasani noted, for example, that references to fine dining in consumer and influencer articles and blogs grew by 20% in the first half of 2021.
"Our data projects consumer interest to grow by a further 21 percent in the coming 12 months," Vasani said.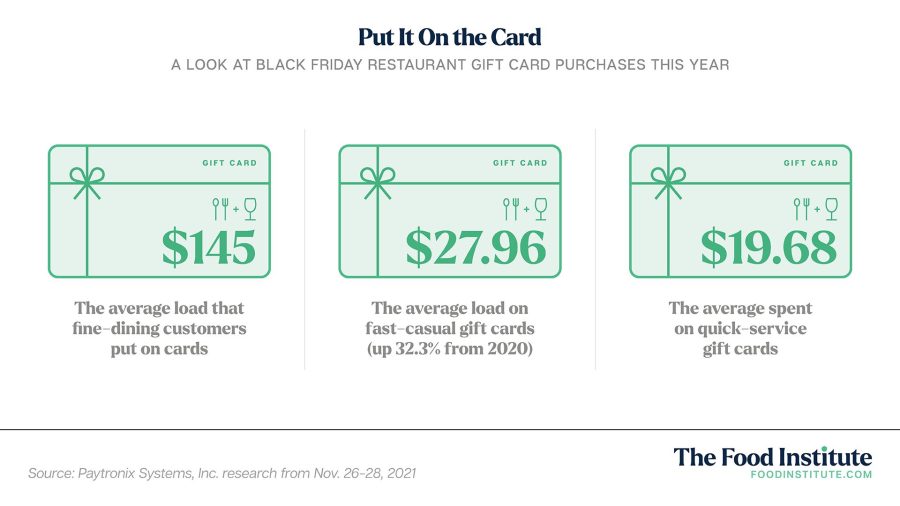 Consumers appear to be more hopeful as they look ahead to 2022, and fine-dining establishments, in particular, could be the beneficiary. Paytronix analyzed aggregate gift card sales for 163 brands around Black Friday 2021 and identified the following trends regarding the restaurant sector:
Fine-dining customers bought 89.1% more gift cards this year.
Fast-casual restaurants saw a 27.9% increase in overall card sales.
Quick-service card sales declined 15% when compared to the same weekend a year ago.
Miles Woodruff, CEO of plant-based seafood manufacturer Sophie's Kitchen, said fine-dining restaurant operators appear to have spent slow periods earlier in the pandemic rethinking their business strategies – a move he feels is paying off.
"Aside from the typical additions of outdoor seating, ghost kitchens and delivery services, fine-dining restaurants are challenging themselves with menu ingenuity," Woodruff said. "The culinary experts took this time to reinvent themselves and their food. …"