CHICAGO – Oat milk and other plant-based milks were in abundance at Coffee Fest Chicago recently.
Today's coffee shop consumers want plant-based options to address their concerns about health, animal welfare, and the environment. While all plant-based milks are suitable for vegans and flexitarians as well as those with lactose intolerance issues, plant-based milk producers at the show highlighted how their particular product offers better taste, more attractive latte art, and lower environmental impact than competing products.
Oat milk
By claiming environmental superiority over almond milk along with the ability to produce a better microfoam and offer delicious taste, Swedish brand Oatly has been able to overtake almond milk in specialty coffee shops.
Oatly won over baristas in New York City specialty coffee shops such as Intelligentsia and La Colombe when it entered the U.S. in 2017, followed by entrance into retail channels in 2018. At the show, the default plant-based option offered by exhibitors was oat milk. In supermarkets, almond milk continues to be the sales leader, followed by oat milk as plant-based milk sales continue to rise.

While Oatly didn't exhibit at Coffee Fest, several other oat milk producers were represented at the show. Dairy producer HP Hood LLC sampled its Planet Oat oatmilk Barista Edition and Almond Breeze almond milk Unsweetened Barista products. The barista at the Proper Syrups booth used Premium Oat Milk from newcomer Ghost Town Oats who calls itself the world's first Black, queer, and barista-owned oat milk company. The Los Angeles-based company seeks to bring oat milk to underserved communities of color, many of whom have higher rates of lactose intolerance.
Rise Brewing Co, maker of organic nitro cold brew coffee, lattes & oat milk sampled its line of RTD canned Nitro Cold Brew Coffees made with oat milk and introduced a RTD tea – London Fog Nitro Oat Milk Earl Grey Tea.
Macadamia milk
Jindilli Beverages' Milkadamia brand showcased a number of products made with macadamias at the show including an unsweetened latte da barista formula, prototypes of its RTD Milk Tea and RTD Coffee Latte, and single-serve creamer cups of its sweetened and unsweetened macadamia milk. Speaking of how macadamias are regeneratively farmed, Brett Sardo, EVP, International & Foodservice at Milkadamia said, "Macadamia trees are in the rainforests of Australia. We don't water them. When macadamias mature, they drop to the ground." He added that "Milkadamia is a neutral product, you're not getting a nut-forward flavor, much closer to a 2% milk feel."
Sesame milk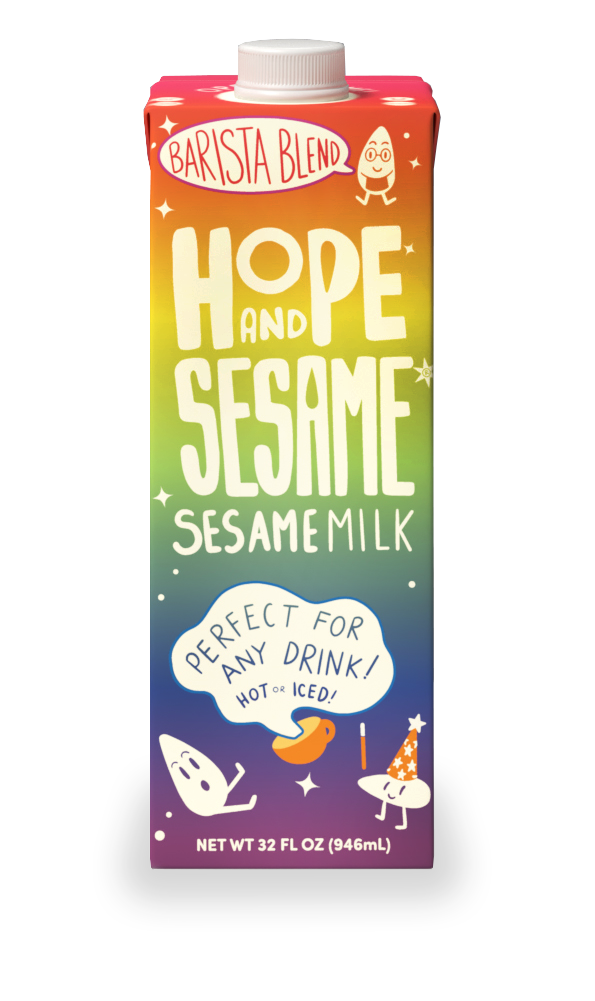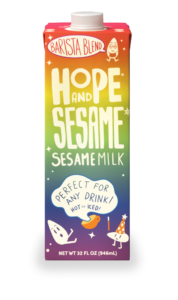 Hope and Sesamemilk Barista Blend won Coffee Fest Chicago's award for Best Consumable Product. Planting Hope Brands LLC, a women-led company, upcycles by producing sesame milk from the rest of the sesame after sesame seeds are pressed for oil.
Julia Stamberger, CEO/Chair, Co-founder of The Planting Hope Company, told The Food Institute: "Baristas and coffee drinkers want plant-based creamers with nutritional value that can meet the high standards of foaming, frothing, steaming and latte art in hot and cold drinks. They also want to make sure what they're consuming isn't harming the environment. We developed sesamemilk to fill in a huge gap for a fully functional, nutritious and sustainable alt milk all while using 95% less water than almond milk and 75% less water than oat milk."
Hybrid milks
Mylk is a hybrid milk made with oats, coconut cream, and faba protein that aims to appeal to coffee aficionados and the environmentally conscious. Myracle Kitchen Barista Mylk was featured at the Espresso State of Mind booth. UK-based Rebel Kitchen worked with World Barista Champion James Hoffmann to develop this alt milk.
In terms of sustainability credentials, Mylk boasts USDA Organic, Glyphosate-Free, Non-GMO Project Verified, and Vegan Certified certifications along with being carbon neutral.
Virginia Lee is a food, drinks & beauty trends explorer and market researcher. She has advised companies on innovation and market entry opportunities in consumer packaged goods at Euromonitor International, Brightfield Group, and Innova Market Insights. Connect with Virginia on Twitter and Instagram at @VirginiaALee.