Sixty-four percent of Americans aged 18 and older surveyed in 2019 said they drink a cup of coffee every day, with 42.9% doing so just because they like the taste, according to research from MyFriendsCoffee. Even with this high percentage of consumers drinking coffee, the category still took a hit during lockdown restrictions amid the coronavirus pandemic. However, it's poised to make a comeback as consumers look for their next caffeine fix on the path to normalcy.
The Category Pre-COVID
Coffee consumption in the U.S. in the fiscal year 2018/2019 amounted to almost 26.5 million 60-kg. bags, the research found.
This is an increase over U.S. total coffee consumption in all previous financial years. Americans also ranked 25th among coffee consumption per capita with an indicator of 4.2 kg per person per year.
Of those who drink coffee, 79% consumed coffee at home, with 45% using a geyser coffee machine and 13% using an espresso machine. The low percentage of espresso machines was associated with the high cost of the equipment.
Men and women consumed approximately the same amount of coffee. Men drank 1.7 a day on average, and women consumed 1.5 cups of coffee per day, but their annual coffee costs vary greatly with men spending $1,934 and women spending $2,327 due to difference in drink preference, likely from women opting for more expensive specialty drinks such as lattes, cappuccinos, etc.
When looking at age groups, it was found that coffee is still a popular drink among Americans of all ages. Forty-seven percent of U.S. residents between the ages of 18 to 24 drank coffee, while 64% of those between the ages of 25 to 39 did so, and 62% for those aged 40-59.
Sixty-five percent of coffee drinkers consumed it in the morning, while only 30% drank their coffee at night and 5% at any other time of day.
As for coffee away-from-home, 60% of Americans drinking coffee regularly visited the network of branded coffee houses. Coffee shops in the U.S. were very popular with more than 37,274 branded coffee houses and coffee-orientated restaurants.
Starbucks was declared the most popular chain in the country, accounting for 40% of the entire coffee shop market with approximately 14,875 stores and an average growth of 585 stores per year. Dunkin' followed in second place, occupying 26% of the market with about 9,570 stores throughout the U.S., and Caribou coffee in third, occupying 13% with approximately 4,700 stores.
Seventy-eight percent of coffee shops in the U.S. were part of the Starbucks, Dunkin', or Caribou coffee networks and only 22% other networks.
Coffee Business in Pandemic Era
Bigger coffee makers, such as Starbucks and Nestle SA, have more capacity to survive the closures during the coronavirus outbreak than smaller, specialty producers, according to a senior beverage analyst for Rabobank International James Watson, reported Bloomberg (May 29). He noted the big companies may fill the gap left by small producers through acquisitions or by taking over accounts from specialty coffee makers.
Currently, as consumers are buying more coffee to get their fix at home, big producers such as Nestle are benefitting. In the 13 weeks ended May 17, U.S. retail sales at supermarkets and other outlets rose 15% from a year earlier, according to data from IRI.
Additionally, JDE Peet's B.V. recently raised $2.5 billion in its IPO, valuing the company at $17.3 billion in one of the world's biggest IPOs so far this year, reported The Wall Street Journal (May 29).
JDE Peet's sells coffee across the U.S., Europe, and parts of Asia through both cafes and grocery stores. About 80% of its coffee is sold for at-home consumption, a market that has held up so far during lockdowns, though its smaller business as an operator of coffee shops represents a potential risk for IPO investors depending on how quickly people are able to return to their normal lives.
Peet's also faces competition from Nestle, which commanded almost 25% of the coffee market based on retail sales, according to Euromonitor data, while Peet's follows with just over 10%.
As for Starbucks', sales are starting to recover from the hit it took due to the coronavirus as it moves towards normalizing its operations. Starbucks said it lost as much as $3.2 billion in revenue during its fiscal third quarter because of the pandemic, reported CNBC (June 10). U.S. same-store sales fell 43% in May, but in the last week of the month, same-store sales tumbled just 32%. For the full fiscal year, the company expects same-store sales in the U.S. and China to decline 10% to 20%.
The chain plans to accelerate the transformation of its store portfolio in the U.S. through the integration of the physical and digital customer experience. Over the next 18 months, it will accelerate expansion of convenience-led formats such as drive-thru, mobile order only pickup, and curbside pickup.
CNN reported on June 11 that Starbucks is closing up to 400 stores to enable it to pivot stores away from the café model and focus on the pickup-only and to-go businesses. Starbucks said its retail strategy is designed to "enhance the customer experience, expand our retail presence, and enable profitable growth for the future."
Meanwhile, shares of Starbucks' Chinese rival, Luckin Coffee, fell 13% on June 8 following reports that its chairman and largest shareholder could face criminal charges, reported The Motley Fool (June 8). Luckin admitted on April 2 that it fabricated sales transactions totaling as much as $ 310 million from the second quarter of 2019 to the fourth quarter.
At Dunkin', the chain is looking to hire 25,000 workers as it begins to recover, reported CNBC (June 8). The coffee chain is launching its first advertising campaign centered on hiring to tout the benefits of working at its restaurants. It is partnering with Southern New Hampshire University to offer store employees an online college education.
Dunkin' shares were recently trading up 3% in premarket trading after receiving an upgrade from KeyBanc Capital Markets. Eric Gonzalez, KeyBanc analyst, said the company "has executed well during the pandemic," and predicted its same-store sales will improve relative to the fast food category as Northeast states reopen.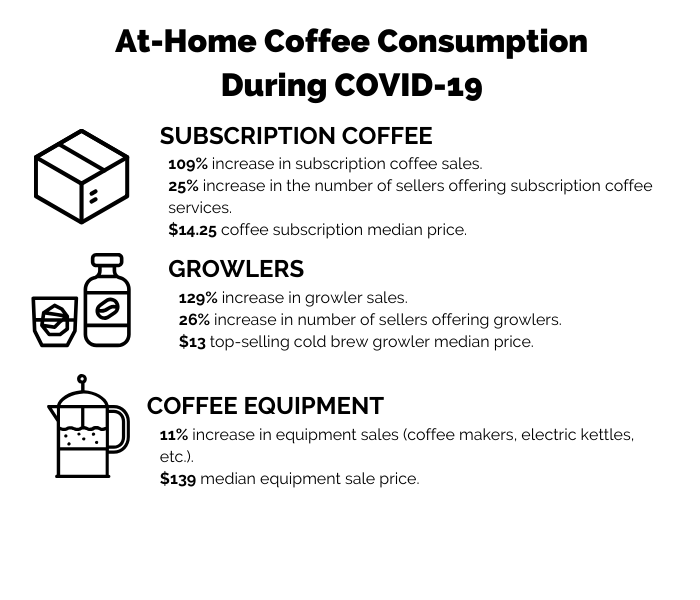 Source: Square/Specialty Coffee Association