CHICAGO – Dom's Kitchen & Market continues to reimagine the supermarket experience.
Following its June 2021 debut in Chicago's Lincoln Park neighborhood, Dom's opened its second store in Chicago's Old Town on November 1. Like the first store, Dom's Old Town is an upscale supermarket concept that offers restaurant-quality meals, handcrafted coffees and wines by the glass, and a curated assortment of groceries.
Calling itself a next-generation omni-channel local food emporium, Dom's recently launched a direct delivery platform and app allowing shoppers to order items for delivery or pickup.
At 27,0000 square feet, Dom's Old Town is 50% larger than its Lincoln Park location and includes 12,000 new items in The Market. A temperature-controlled Wine Cellar featuring high-end wines and premium spirits is a new addition to the Old Town store. Similar to the Lincoln Park store, the Old Town store features a wide assortment of organic produce, meat & seafood with seafood flown in daily, cheese and charcuterie with over 300 cheeses, and a bakery with a new store-made cake program alongside items from Chicago's bakeries.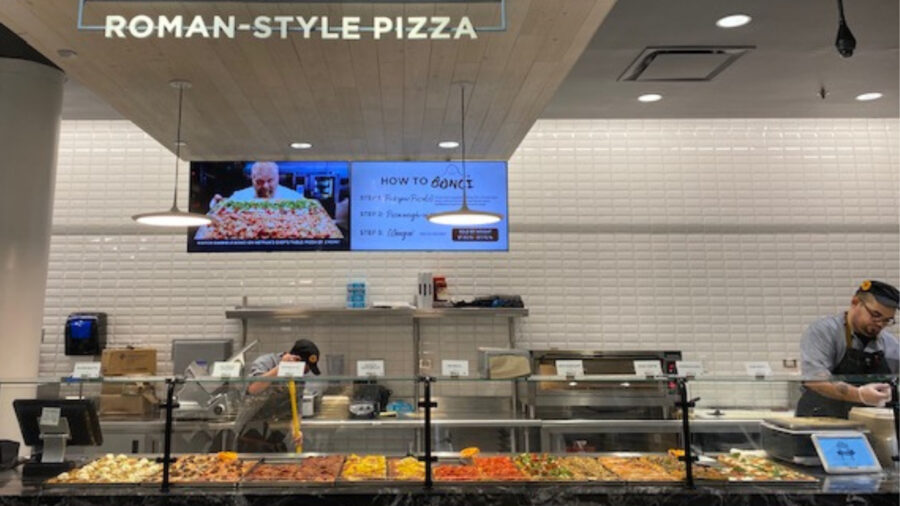 Dom's is led by Bob Mariano, who founded Mariano's after serving as the CEO of Roundy's and Dominick's; Jay Owen of Dom Capital Group, a venture investor in food technology and next-generation commerce; and Don Fitzgerald, a former senior executive at Roundy's, Mariano's, and Dominick's.
"As we continue to grow Dom's, we remain true to our mission, which is to offer well-crafted, locally sourced, globally inspired food in an interactive environment. … ," Don Fitzgerald, Co-CEO, told the audience.

From Breakfast to Dinner: Dine-in, Delivery, or Pickup
Dom's Old Town offers a bevy of foodservice options from a.m. to p.m.. The Brew's coffee bar serves up local coffee from Hexe, Metropolis, and LaColombe along with breakfast sandwiches and bakery items from Corey's Bagels and Doughnut Vault. Its wine bar offers wine, beer, and cocktails. Happy Hour is Monday – Friday from 4-7 p.m.
The Kitchen provides multiple dining options – Stackup (for made-to-order Elevated Burgers and unique sandwiches such as the Fresh Prince of Chicago), Bonci (Roman-style pizza in an exclusive partnership with Bonci), Gohan (sushi rolls, rice bowls, poke bowls), and L'Osteria (hearty Italian mains such as porchetta, grilled salmon oreganata, and macaroni formaggio).
The Old Town store offers the addition of a Hot Bar and Cold Bar. Chef Crafted Hot Foods includes classics like mac n cheese, and Rhode Island-style shrimp. Plant Butcher's Salads includes seasonal rotation of greens, prepared cold salads, and fruits.
Meal solutions like lemon marinated rotisserie chicken and prepared sides are available, as well as grab-and-go prepared meals and pizza dough and sauces to make pizza at home.
In October, the company launched its new Dom's Go direct delivery platform and app that allows shoppers to order ahead for in-store or curbside pickup and delivery. Using Dom's Go, consumers can shop remotely from The Brew, Kitchen, and Market, all at once. Dom's Go is available for all customers within a 5-mile radius of the two stores, and delivery is free for all orders over $150. The Dom's Go app is integrated with Dom's rewards program which offers a free drip coffee every day for shoppers who spend $50 in a month and a free AM beverage every day for those who spend $150 or more in a month.
Speaking about how the consumer shopper basket is increasingly being split between chore shopping and meal-based shopping, Jay Owen, co-Founder, spoke of how "Dom's was  developed as an experiential approach inspiring people to eat and connect."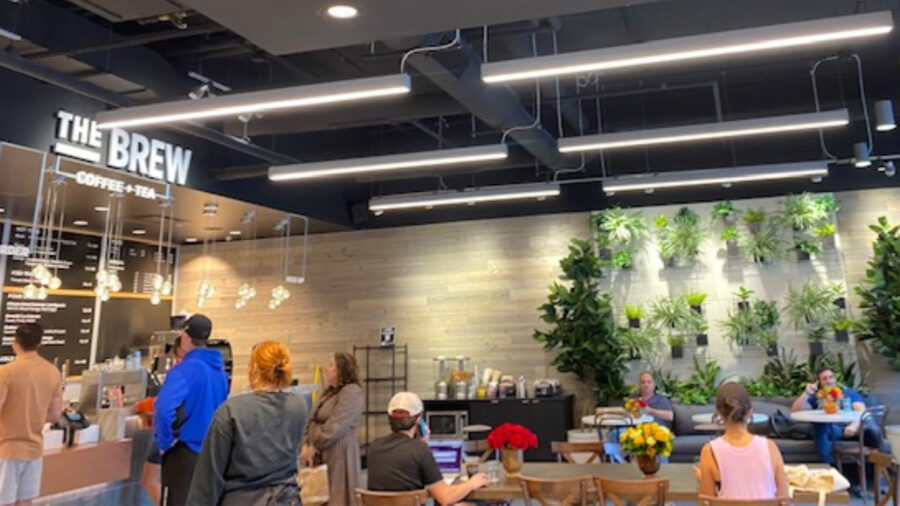 Chef Collaborations
Dom's seeks to use its prepared food offerings to distinguish itself from other supermarket operators as it aims to open a total of 15 stores in Chicagoland by 2025. In May, the company announced a partnership with restaurateur Brendan Sodikoff to oversee hospitality and culinary operations. The newly created Dom's Chefs Council will work with executive chef and director of culinary James Klewin to develop new prepared food offerings.
Virginia Lee is a food, drinks & beauty trends market researcher. She has advised companies on innovation and market entry opportunities in consumer packaged goods at Euromonitor International, Brightfield Group, and Innova Market Insights. Connect with Virginia on Twitter and Instagram at @VirginiaALee.