On the heels of a stagnant sales year for store brands, Amazon and Kroger are bulking up their private label portfolios with plant-based products.
Is category innovation on the horizon?
Private label retail sales volume declined in 2021, with sales volume dropping by 3% year over year in the September 2021 to December 2021 period, reported Convenience Store News.
A variety of factors have contributed to the deceleration, including supply chain challenges and less purchasing by Gen Z and Millennial consumers.
According to a recent webinar hosted by the Private Label Manufacturers Association (PLMA), innovation is critical to counteract this downturn — and plant-based products could play a key role.
Overall, meat and dairy alternatives appeared on both sides of the private label performance spectrum, flagging the overall potential of plant-based store brands while also highlighting consumers' desire for product enhancements.
IRI data also indicates an uptick in store brand unit sales across some emerging plant-based categories.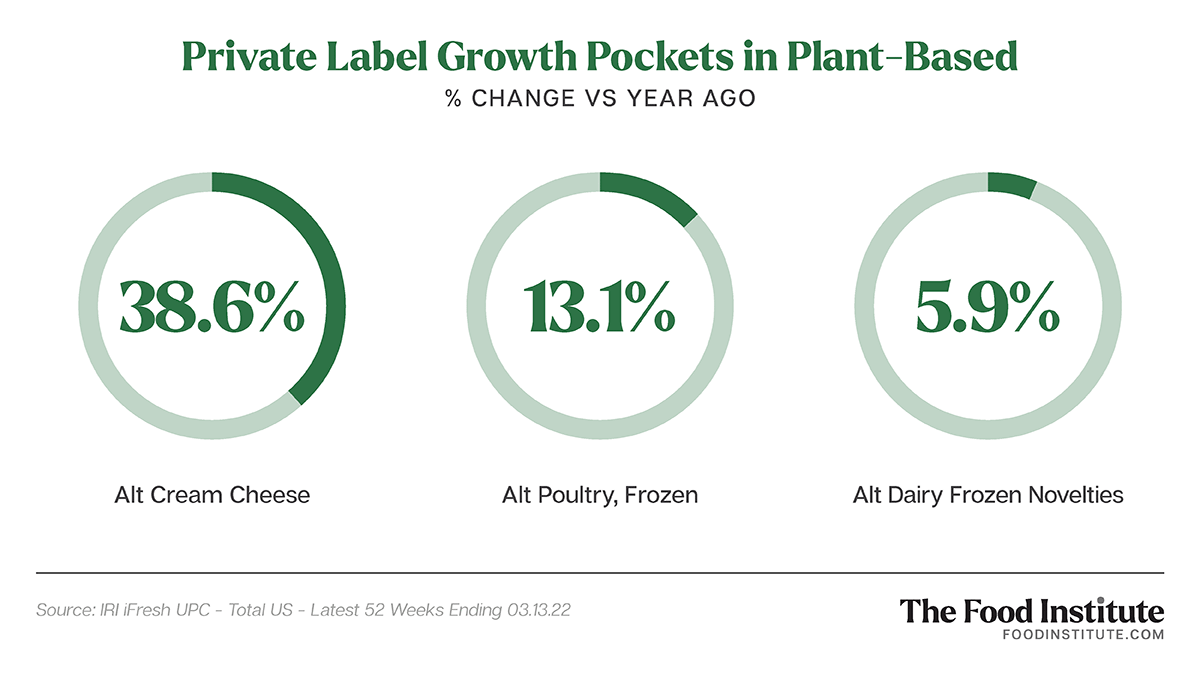 Furthermore, today's shopper profile is not one-size-fits-all.
A 2021 Daymon Proprietary Study showed that 46% of Gen Z and 43% of Millennial shoppers view private brands as better than national brands when it comes to offering new and innovative products.
"Shoppers are increasingly becoming brand-agnostic, extending loyalty to retailers that best provide for their evolving needs and values," Jean Ryan, Senior Director of Strategy and Design at Daymon told The Food Institute.

Retailer Activity
Last week, Amazon launched Fresh Plant-Based, a meat and dairy alternative lineup that includes burger patties, almond milk, and faux chicken nuggets, reported Supermarket News.
In recent years, Amazon has built a strong private label grocery portfolio in what industry observers view as a grab for market share. In April 2020, the company rolled out a food line called Aplenty, which includes everything from pantry staples to frozen foods.
Meanwhile, Kroger — the largest supermarket chain in the U.S — announced a new plant-based meal partnership with meat-alternative giant Impossible Foods in early March. The move will expand upon the grocery giant's pre-existing line of plant-based alternatives which launched in 2019.
Credit Suisse analyst Robert Moskow recently wrote that the Kroger-Impossible Foods tie-up could be viewed as a threat to rival Beyond Meat "…because it demonstrates the willingness of a big competitor to 'margin down' into co-branded private label products in order to maximize the reach of its products," reported CNBC.
Private Label Impacts
In addition to challenging Beyond, the Kroger-Impossible Foods tie-up could introduce meat alternatives to more consumers, particularly those who are more price sensitive.
While this development would check a critical box for traditional private label consumers, retailers of all sizes will need to push the innovation envelope much further to win over younger generations.
As presenter Elizabeth Horvath, vice president of marketing for Kerry, noted in the PLMA webinar, these "adventure seeking" age groups are often willing to look beyond the price tag for attributes like flavor variety and nutritional benefits.
Ryan, meanwhile, believes top retailers are up to the challenge because they understand their target consumers' wants, needs, and behaviors – and can leverage their private brands accordingly.