ANAHEIM, Calif. – Natural Products Expo West 2022 was a welcome moment of normalcy for the food industry.
The Anaheim Convention Center buzzed with an energy that hadn't been felt since 2019 – when the term "coronavirus" had yet to enter the global lexicon. Before the five-day event concluded last Saturday, more than 2,700 exhibitors filled the venue's nearly 480,000 square feet, and attendees filled the building with palpable excitement.
Attendees were engaged, the convention center's aisles were packed, and the week's industry networking events were fully attended.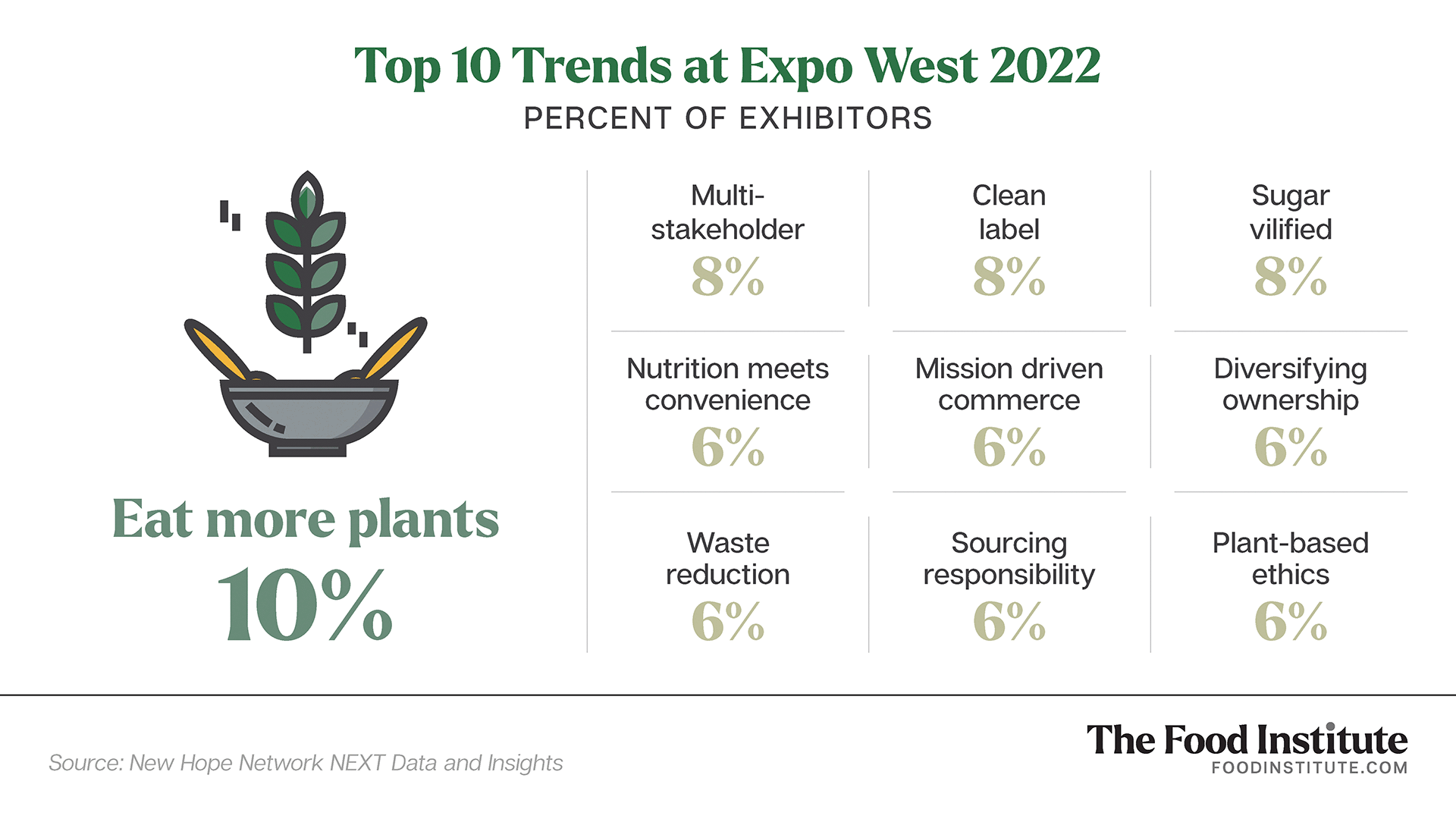 Expo West 2022 had an undeniably exciting atmosphere.
Among the reasons for that excitement were countless innovations in categories like natural and organic foods and beverages. Here are five key takeaways from the event.
Natural and organic foods and beverages are growing faster than the industry average, with rising consumer interest in health and wellness driving expansion. Sales of natural and organic foods are set to exceed $300 billion by 2024, and $400 billion by 2040, based on estimates by New Hope.
Sustainability remains a major trend. Several brands are pushing regenerative farming practices, and the industry is exhibiting plenty of innovation regarding sustainability. That's particularly true in the plant-based space, with brands producing products like alt-chicken nuggets, ice cream, and cheese, by leveraging ingredients like Jackfruit, lentils, chickpeas, and sunflower seeds.
Along those lines, standout products were Myoko's Creamery's liquid vegan pizza mozzarella, vegan eggs like those from Just Egg or Wunder Eggs, and plant-based scallops from Mind Blown. Meanwhile, upcycled brands with a mission, like Renewal Mills, also had attendees talking.
Brands are embracing diversity. Brands that celebrate diversity appear to be gathering steam. Products in this category that gained attention included:
Deep Indian Kitchen's plant-based Chik'n Tikka Masala
Fila Manila Filipino American Kitchen's Ube purple yam and coconut jam
Fly by Jing Sichuan chili sauce
Functional nutrition is having its moment, evidenced by new snacks and beverages. Products with health benefits that claim to help consumers think and relax are growing in prominence, leveraging Siberian Ginseng for energy or ashwagandha, a medicinal herb purported to aid users with mood, memory and stress, for example.

Brands are reinventing comfort foods and inspiring nostalgia. Several brands displayed taste-forward products that build upon traditional comfort foods, like Belgian Boys French Toast, Chubby Snacks' Peanut Butter & Jelly sandwich, and Goodles Cheddy Mac. These types of snacks with a modern twist are gaining significant traction.
Meanwhile, if attendance at Expo West 2022 was any indication, industry events are back. While COVID-related safety precautions were still apparent, most attendees seemed quite comfortable at the in-person event.
Attendance at this year's Expo West, approximately 57,000 attendees, was significantly less than the estimated 85,000 who attended the 2019 show, as reported by foodprocessing.com. Still, the gathering was impressive, and a clear sign that in-person events are back.
Editor's note: Joseph Chen is the CEO of research management and insight consultancy Leo & Dragon and previously worked for the likes of Mondelez International, McDonald's, Hershey, Unilever, and Kraft. Brian Choi is CEO of The Food Institute.