Plant-based protein is popping up in more products than ever before, but challenges related to flavor and texture have left a bad taste in the mouths of many consumers.
In response, some companies are utilizing genomics to improve the quality of key crops like soybeans and peas from the seed level.
By analyzing the genomes of a wide variety of plants, researchers are crossbreeding crop species with desirable traits — such as higher protein and more neutral flavor — to see which combinations will create the best future crops, reported Wired.
"There are many factors that influence the taste and texture of plant-based food, but the protein makes the biggest impact by far," said Sigal Meirovitch, senior director and head of R&D at Equinom, an Israeli company focused on improving yellow pea crops, in the same article. "It's the most prominent ingredient by volume in a plant-based burger, aside from water."

Major Protein Sources
Soybeans are a leading source for the plant-based protein isolates and concentrates used in supplements from protein bars and shakes to fortified dairy products and meat substitutes.
However, with consumer sensitivity to food allergens on the rise, many companies are seeking alternatives like peas, another high-ranking plant-based protein with unique benefits and challenges.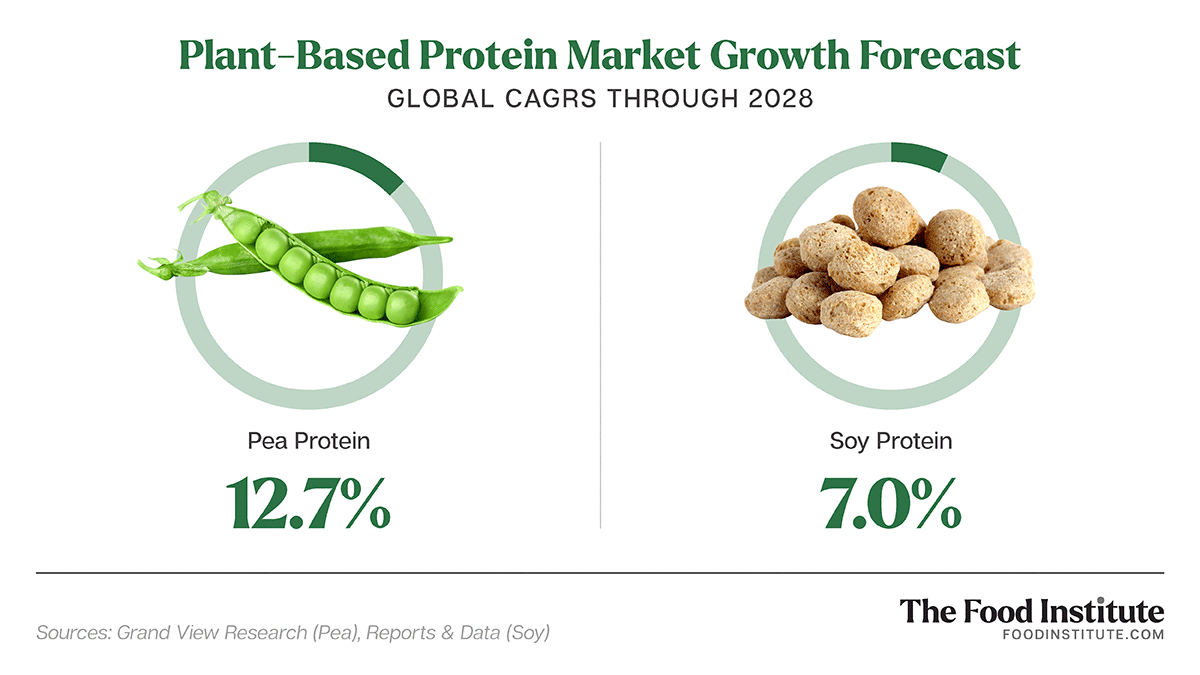 There are over eighty million acres of soybeans in the United States alone versus eleven million acres of peas grown worldwide, said Tyler Lorenzen, CEO of Puris, the largest U.S. pea seed company, in a recent Food Institute Podcast. "This delta is meaningful."
Furthermore, crops like the soybean have been bred to favor high yields for animal feed, which has lowered their protein content over time.
"Along the way of domestication, we've lost a lot of that protein content, which is super important to a lot of these newer applications," Matt Begemann, senior director of gene editing and trait discovery at Benson Hill told Wired. Thus far, the U.S. food production company has developed 35 soybean variants with protein content that is up to 8% higher than the industry standard.
Flavor Considerations
In addition to changing the chemical composition — and thereby, the taste — of crops, high protein variants have less need for processing, which may add salty, metallic, or artificial residual flavors.
Breeding variants can also boost flavor neutrality, which is a considerable challenge for pea producers.
At Equinom, an in-house panel tastes products like pea-based flours and ice creams on a weekly basis to compare the crops the team has bred against other varieties on the market.
"After we see the results, we send the more successful varieties to an outside tasting panel who verify and validate the results," Meirovitch said.
Needs by Application
Puris has also fine-tuned its major offerings to remove the flavor of peas, but as the company expands into niche categories, it must create new products accordingly.
"Taste is unique by the application," said Lorenzen. For instance, when adding more plant-based protein into a ready-to-drink beverage — most specifically pea or soy — the quality of taste diminishes. However, how something tastes in a plant-based burger, is "a whole different equation to solve."
When it comes to meat alternatives, Youling Xiong, a professor of food science at the University of Kentucky told Wired that he believes the importance of flavor is secondary to recreating the mouthfeel of animal products.
Meirovitch echoes this sentiment, noting that "protein is what separates a mediocre, dry, beany burger from a truly delicious and juicy meaty burger."
Experimenting with other crops, such as mung bean and Andean lupin could be another good way of finding better tastes and textures. "We should not limit our imagination to just a few traditional proteins, said Xiong. "We should explore anything possible."