The foodservice industry has changed.
With cooking-averse Millennials and more women in the workforce, home cooking has lost its appeal and eating out has become more and more commonplace. In fact, Americans now spend more at restaurants than they do at grocery stores. Restaurants have grown from 25% of food spending in the 1950s to more than half today reported The Atlantic (Jun. 20, 2017). The trend of rising consumer preference for eating out has intensified in recent years. Foodservice employment has surged since the recession ended nearly six years ago, growing twice as fast as overall payrolls. The restaurant industry appears to be in a Gilded Age; however there is one segment in the restaurant industry that hasn't shared in the success.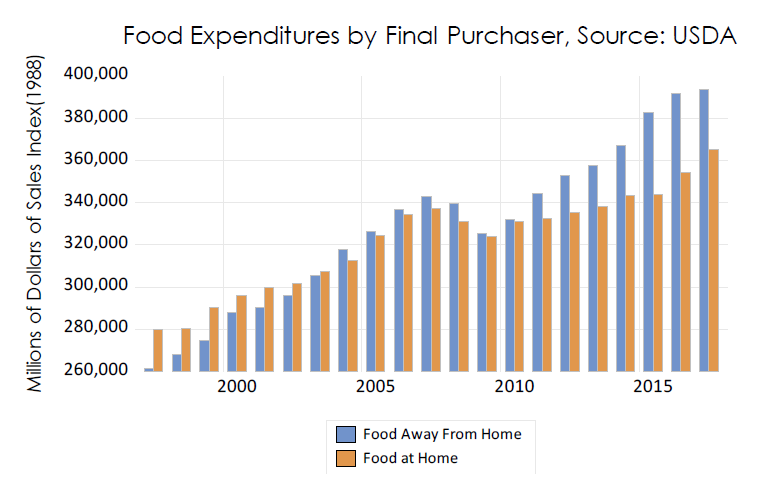 In the midst of the great tide of restaurant growth, one of themost simple concepts, the buffet, has been struggling to make ends meet. Restaurant goers are showing a preference for delivery, takeout and restaurants with an upscale perception. The rustic theme of the classical sit down buffet has fallen out of favor, with sales noticeably down in the last decade. Over the past five years, the buffet restaurant industry revenue declined -1.1% to reach a revenue of $7 billion in 2018. In the same time frame, the number of businesses operating buffets declined -0.7% and the number of employees declined -2.9%.
To cut costs in the face of declining sales, buffet style restaurants have resorted to cutting payrolls by laying of staff and cutting employee hours. These cuts appear to have done little to negate losses as most buffets already operate on a thin staff to begin with. The only buffet style chain to have sustained success over this period appears to be Golden Corral.
In 2016, the buffet sector saw two of its biggest chains file for Chapter 11. Ovation Brands, one of America's largest chain buffet restaurateurs and owners of Old Country Buffet and Ryan's Buffet, filed for Chapter 11 bankruptcy for the third time in eight years. In that same year Garden Fresh Restaurant Corp, the owner/operator of Souplantation and Sweet Tomatoes, filed for Chapter 11 bankruptcy protection, as well. At the time, Garden Fresh was nearly $175 million in debt. In this time of hardship, other buffet restaurants are trying a different technique rather than cutting back.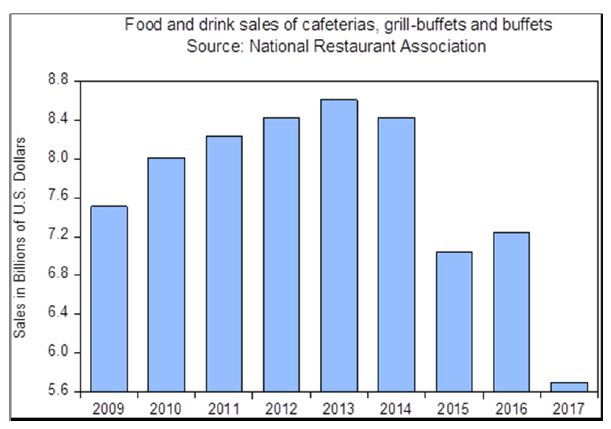 Buffet style restaurants are increasingly seen as unhealthy by health conscious consumers. Such customers may see buffet food as cheaper or lower quality, featuring unfresh ingredients that have been sitting in an aluminum bin. Last year, however, Golden Corral attempted to break that narrative with a new prototype that took two years to develop. The new design spruces up the buffet areas and has a semi-open kitchen design to highlight the chain's grill and its freshly made items. The new design appears to be generating sales at a rate higher than the company expected.
The company expected franchisees to remodel 27 to 30 units this year. "Because of the initial success of the remodels, we have franchisees wanting to accelerate their remodel timeline," Golden Corral CEO Lance Trenary said, noting that the company now expects 35 to 40 locations to be remodeled, reported Restaurant Business Online (Apr. 11, 2018).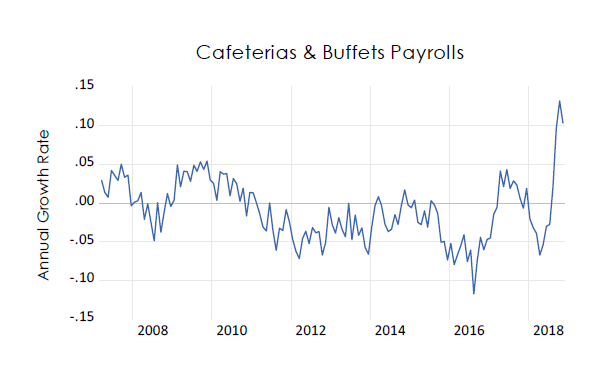 These efforts come from Golden Corral's desire to revamp the image of the way American's see buffets. Golden Corral is also attempting to make improvements to attract younger customers as traditionally buffets and cafeteria are more popular with elderly Americans who often have a limited income. The results for Golden Corral have been striking, in a perceived dying industry Golden Corral posted a 3.7% increase in sales in 2017. Data suggests that more buffets are adopting this method of restaurant investment over cost cutting as payrolls for cafeterias and buffets have risen nearly 9% in the last four months after years of decline.