Blaze Pizza, in the opinion of college kids, is "lit." And sandwiches from Five Guys and Jersey Mike's, apparently, "just hit different."
New data sheds light on Gen Z's food preferences: A report by Yelp and BrokeScholar noted that college students' favorite fast-food brands are Blaze Pizza, followed by Five Guys and Jersey Mike's. To compile the report, BrokeScholar collected a list of QSRs located near 144 U.S. colleges and took note of their Yelp ratings.

Among the report's top takeaways:
BLAZE PIZZA IS ON FIRE
Of the 144 universities BrokeScholar researched, 20 voted Blaze Pizza as their favorite fast-food restaurant. Seven Blaze locations received a Yelp rating of 4.5 stars out of 5.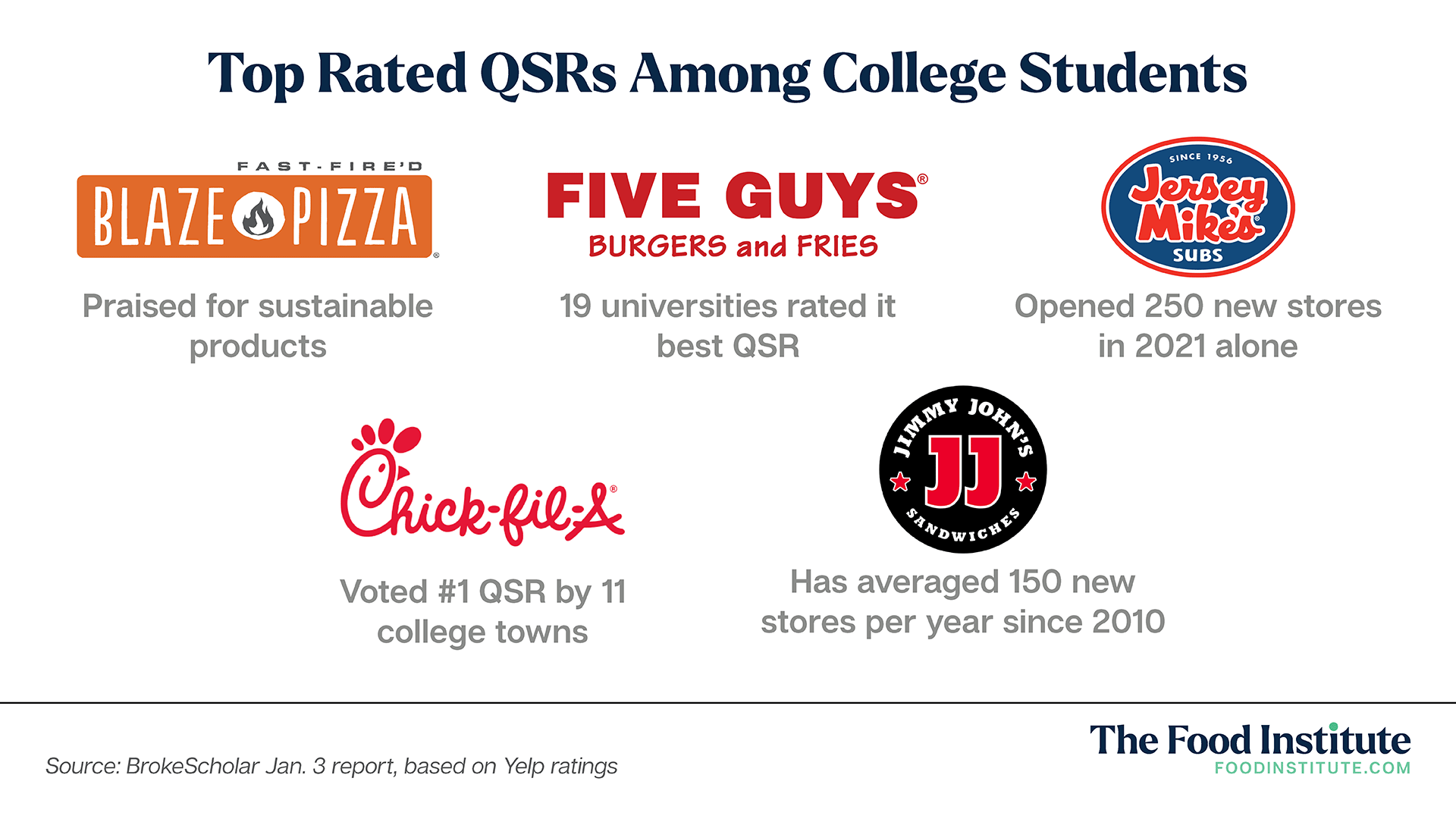 The pizza chain gained praise in part because it appeals to Gen Z's demands for responsibly-sourced ingredients and eco-friendly packaging.
"Newcomers like Blaze Pizza are surging ahead in many college towns. That could be because the upstart capitalizes on young people's increasing demand for environmentally sustainable products," wrote report author Dr. Jessica Share.
SANDWICHES REMAIN POPULAR
Sandwiches from shops like Jersey Mike's Subs and Potbelly are the highest-rated grab-and-go category nationally, with 30% of college towns giving their highest-rating to such a sandwich shop. Forty-six of the 145 most popular national fast-food eateries are serving sandwiches, which cater to the fast-paced atmosphere of college campuses.

Sandwich shops are also expanding rapidly. For example, Jersey Mike's – the top-rated sandwich shop among college students – opened 250 new locations in 2021 alone. Jimmy John's has also expanded at a breakneck pace, opening 150 new stores per year since 2010, BrokeScholar noted.
LOCAL RESTAURANTS RECEIVE PRAISE
While national QSRs are clearly prized by college students, hometown favorites are also winning students' hearts, BrokeScholar noted. Three local favorites especially stood out:
5th Street Burgers & Fries. Located near Arizona State and started as a delivery service during the pandemic, 5th

Street gets 5 out of 5 stars in Yelp ratings, due in part to creative ingredients like maple aioli ranch.

Veg & Go. Located near UC Riverside, Veg & Go has been praised for its plant-based offerings, like pea protein burgers and vegan wings.
Mimi's. This Chicago eatery features innovative menu items like jerk chicken tacos and broccoli bowls.