CHICAGO – Members of the restaurant industry gathered in Chicago for the National Restaurant Association Show between in late May to taste the latest in culinary trends. Major themes at the show included automation, marketing to Gen Z, and plant-based protein.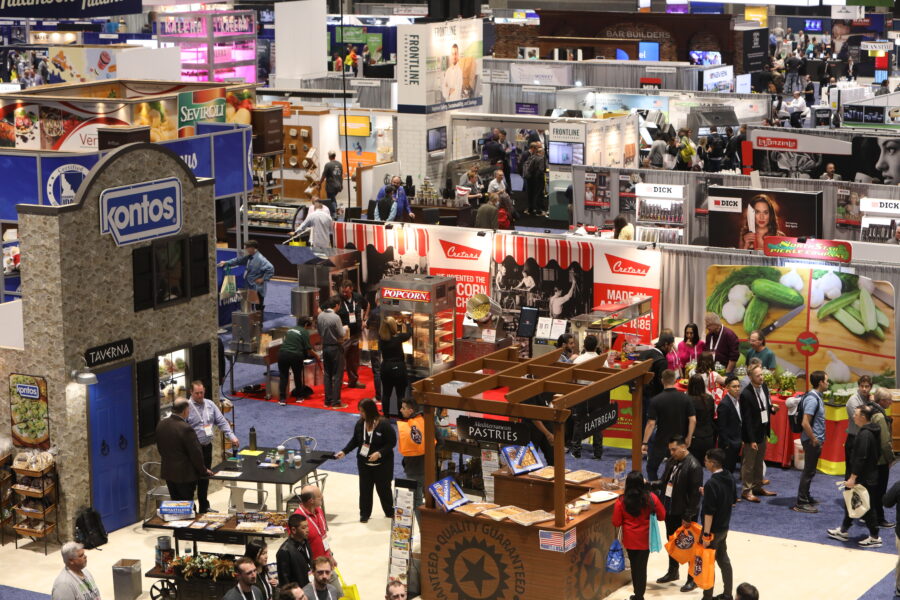 Here's a closer look:
AUTOMATION
The coronavirus pandemic has, of course, amplified the challenges of hiring and retaining restaurant workers. As a result, in Chicago technology providers offered up multiple ways to improve customer experience and increase productivity.
During one event panel, speakers from Lenovo, Deloitte Digital, NVIDIA, RadiusAI, attn.ive, and Vistry discussed how artificial intelligence (AI) and neuro-linguistic programming (NLP) can be used to modernize the customer experience. "With AI, any automation capability you can do in physical space, you can automate" such as a drive-thru where the robotics arm can grab a cup of coffee and deliver it to a customer, said Deloitte Digital executive Mahesh Chandramouli.
He added, "AI is not a science experiment. It is tangible value to you guys."

Robotics companies at the show touted robots' ease of use, increased productivity, and reliability. The multi-cuisine robotic chef from Nala Robotics uses AI and machine learning to learn to cook nearly any cuisine.
Middleby's booth, meanwhile, featured L2F's FryBot that uses automation to streamline and improve safety in deep-frying. Numerous companies including Segway Robotics and Pringle Robotics offered autonomous serving robots that can serve and bus dishes. At PepsiCo's booth Bear Robotics partnered with PepsiCo to feature Servi Blue robots that can work 9 hours a shift and log 19 miles traveled.
SoundHound AI, Inc. launched its SoundHound for Restaurants voice assistant automated phone ordering system that uses conversational AI technology to answer phone calls with zero wait time and handle multiple calls at the same time.
GEN Z
Limited-service restaurants are courting Gen Z (those born between 1997 and 2012) as this cohort of consumers likes to eat out and sets culinary trends for others.
According to The Coca-Cola Company's 2021 DINE360 study: Gen Z makes more restaurant trips than any other generation, with 22% of Gen Z visiting restaurants 4-6 times per week.
This digitally native generation is more apt to place their takeout order through restaurants' mobile apps than other generations as well as being more likely to use drive-thru and delivery. This generation values food indulgence and is more likely to choose beverages viewed as treats, such as iced coffee.
Gen Z patrons can buy made-to-order iced coffees as well as hot coffee beverages through Coca-Cola's new Costa Smart Café, which makes drinks using fresh Costa Coffee coffee beans, which are ground inside the machine, and fresh milk, which is frothed by the machine. The autonomous machine is designed to create over 100 drinks before human help is needed.
Botrista's DrinkBot creates consistently crafted cold beverages such as smoothies for Gen Z consumers through the use of an algorithmic dispensing technology.
Snackpass is a mobile order pickup app designed to bring repeat business to QSRs through its loyalty program and social features. Snackpass allows users to see what their friends are ordering, place group orders, and gift meal credits to friends.
One of Gen Z's favorite drinks is bubble tea, the colorful and customizable beverages enjoyed with friends at bubble tea shops. Bubble tea's popularity has expanded in the U.S., especially among Millennials and Gen Z. At the show, bubble tea specialists Possmei International and Bossen exhibited their full range of teas, tapioca pearls and popping boba juice balls. Pecan Deluxe Candy Co., meanwhile, introduced Popping Boba as "flavors that pop" with an edible transparent shell.
Additionally, Pocas International Corp. featured ready-to-drink Taiwan Classic Bubble Tea in a canned format.
Virginia Lee is a food, drinks & beauty trends market researcher. She has advised companies on innovation and market entry opportunities in consumer packaged goods at Euromonitor International, Brightfield Group, and Innova Market Insights. Connect with Virginia on Twitter and Instagram at @VirginiaALee.