(Editor's Note 6/15/2022: For updated coverage on the shell egg market, please read "Analysts: Expect Continued Demand for Eggs Despite High Prices")
Egg buyers may have found some relief in March as prices moderated, but prices are on the rise again.
The wholesale cost for a dozen eggs reached $2.50 on April 13, rising 92.3% from March's figures and 160.3% from the prior year, according to Food Institute analysis of USDA data. Over the winter, average prices reached $2.08 on February 9 but moderated to $1.56 by March 9. However, the national price average was hovering at $3.00 per dozen on April 13.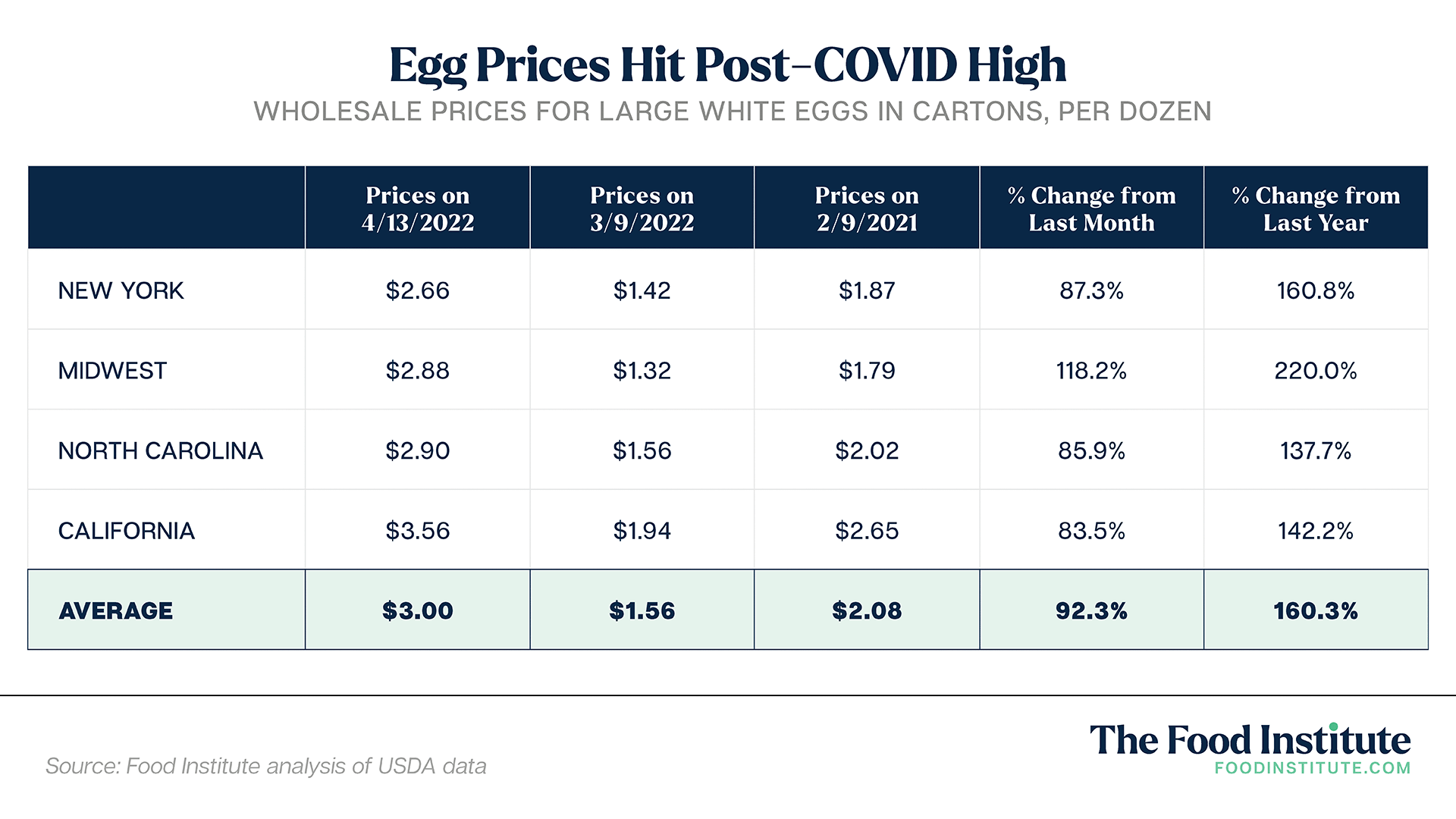 While the first quarter of 2022 has seen increased prices for eggs, the March dip was likely a seasonal encountered annually between the Christmas and Easter holidays, according to Kevin Bergquist, Wells Fargo sector manager, Food and Agribusiness Industry Advisors.
"Historically, egg prices at both the consumer and retail levels weaken in the interim months between the Christmas holidays and Easter. Week-to-week pricing is usually unpredictable and volatile, and this year has been no different. Egg producers have recognized this price pattern for decades, and often adjust flock management practices during the first quarter of the year to reduce egg production and help support prices," he said in an e-mail to The Food Institute.

Effect of HPAI on National Flock
Highly pathogenic avian influenza (HPAI) reaching U.S. poultry farms in 2022 has undoubtedly affected production, according to Bergquist.
"The 'rebound' in April 2022 egg prices is really the double impact of HPAI and pre-Easter buying. All the other factors noted are still in play, but now the recent depopulation of over 6% of the total U.S. flock to control the disease is having both a direct and a psychological impact on the market," he said.
Bergquist referenced the first quarter of 2015, when HPAI hit U.S. flocks and killed or caused the culling of 35 million egg-laying hens. Industry reports noted 18.7 million hens had died during the current HPAI outbreak. It remains unclear how prices will respond upon further HPAI infections, but prices were trending at their highest levels since at least January 2013, according to data provided by Bergquist.
"The 2022 HPAI outbreak is still developing with new infection cases announced and confirmed virtually every day. How many birds will ultimately be removed from the total US laying flock is unknown, but it currently stands at over 21MM layers out of a pre-HPAI flock size of roughly 325MM layers… It is very possible that the total layer flock could fall below 300MM layers, a figure not seen since mid-2016. The egg supply shock is real, and higher egg prices will undoubtedly continue for the remainder of 2022," he said.
Eggs Outpace Record Inflation in March
Inflation for the egg category outpaced a variety of record inflation metrics in March, according to Food Institute analysis of Bureau of Census data as reported in the Consumer Price Index.
Egg prices were up 11.2% in March when compared to the month a year earlier, outpacing general inflation (8.5%), food (8.8%), and food-at-home (10%). Meanwhile, on the producer side, prices were up 1.9%, according to analysis of the Produce Price Index.
Bergquist noted it was difficult to pinpoint exactly why eggs were trending higher than general inflation.
"Eggs and poultry do not have the government program price protection afforded to both beef and hogs, and as a result, the process of price discovery for egg producers is often negotiated on a weekly basis. Thus, whenever exogenous factors influence the system, prices can be more reactionary, either upwards or downwards. Also, eggs are often used as 'feature' goods in advertising to draw in consumers, and grocers can price eggs above or below the prevailing wholesale markets," he said.

Unit Sales Drop at Supermarkets
Unit sales of fresh eggs were down 9% year-over-year for the 52 weeks ending April 10 to about 2.2 billion eggs, according to Food Institute analysis of IRI data.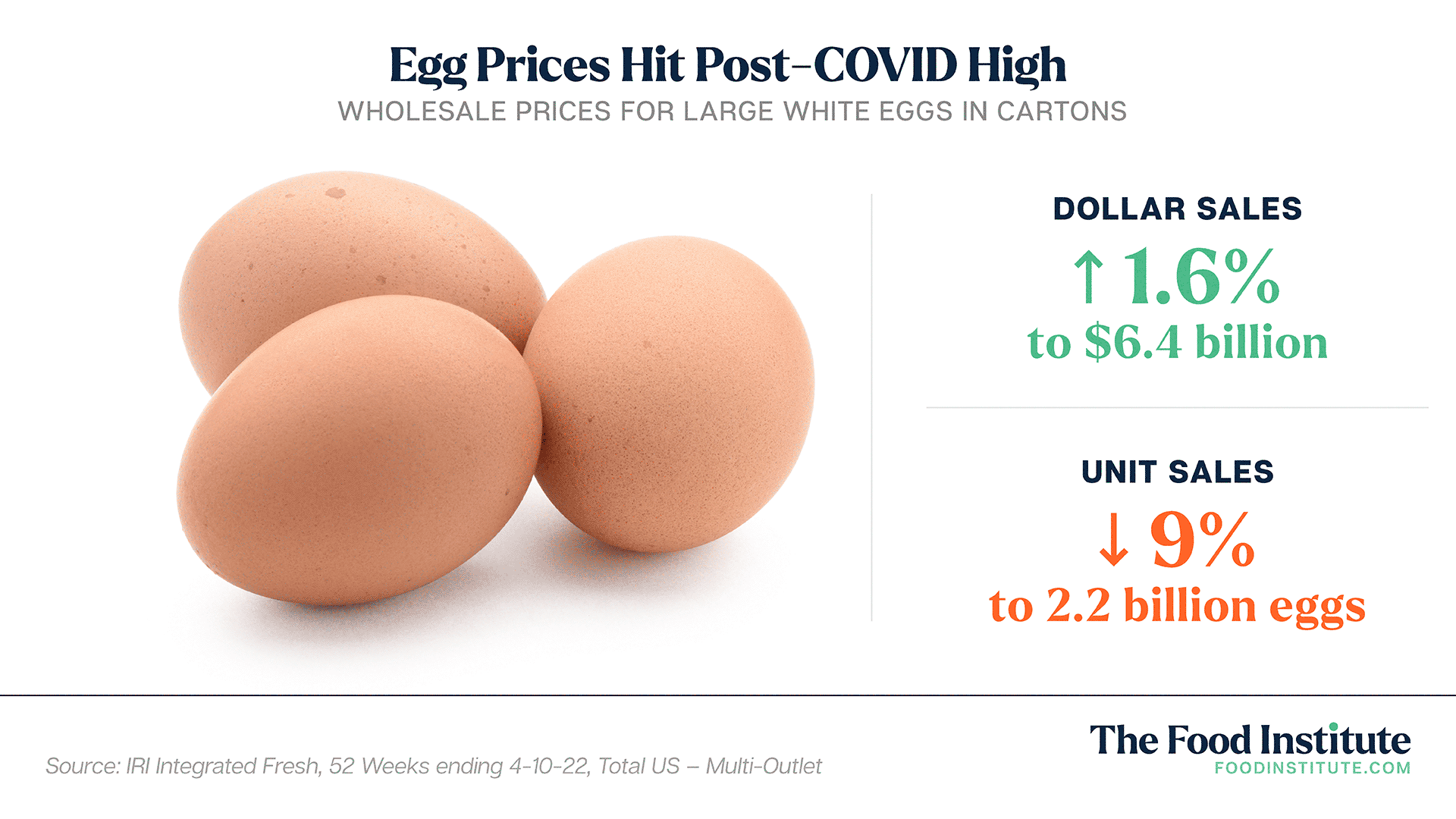 This was despite a 1.6% increase in dollar sales for the period, indicating that rising prices were influencing consumer purchasing behavior. IRI noted prices increased 11.2% over the period to about $2.92 per unit, which represented a mix of 12- and 18-pack eggs, among other sizes.
"Egg sales volume is lower, but dollar expenditures are up. Rising consumer prices across all foodstuffs undoubtedly is a factor in the slowing of supermarket sales, although eggs remain a very competitively priced protein option for the consumer. But what we're also seeing is a return of away-from-home foodservice purchases supplanting the at-home consumer food buys, which greatly expanded during the COVID19 lockdown period," Bergquist noted.
"As consumers continue to return to dining at restaurants and reduce the amount of food actually prepared at home, especially baked goods, the volume of eggs consumed will likely return to a pre-COVID19 trend," he concluded.