Albertsons Cos. has entered the shoppable media space in a new collaboration with video platform Firework. Through the partnership, the grocer aims to transform its digital offerings with community-oriented experiences led by interactive short-form and livestream content.
The end-to-end implementation will be a multi-fold initiative, according to a company press release. In the initial phase, Albertsons will use Firework to deploy short video content and cooking experiences on its various banner websites.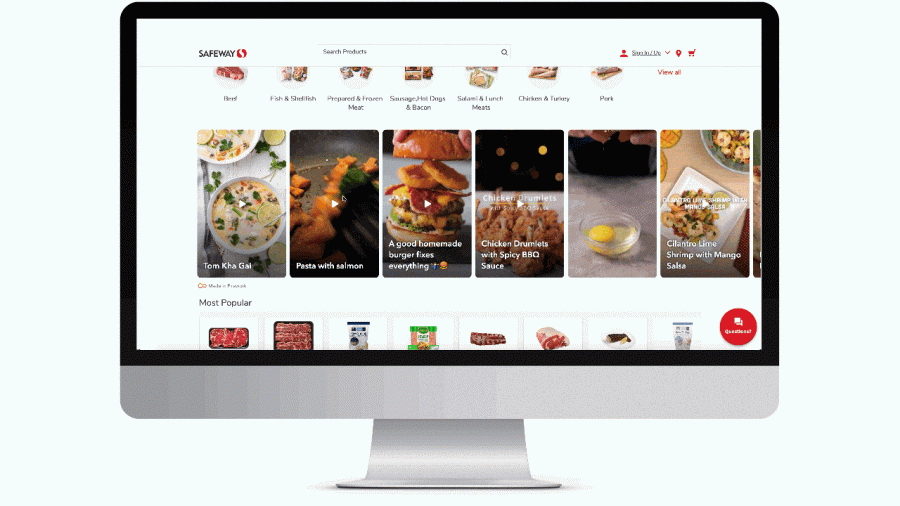 "This [partnership] isn't just about creating new ways to feature our products," said Chris Rupp, Chief Customer and Digital Officer at Albertsons Companies in the release. "This is about bringing delight and inspiration to digital shopping to make online experiences as fun as discovering new products in our stores."
---

---
Platform Functionality
The Firework platform enables consumers to interactively view brand and product videos while browsing for items in the online store and adding them to their shopping carts at the same time. The additional livestreaming video feature allows stores to host virtual events and interact with shoppers in real time.
As Vincent Yang, co-founder and CEO of Firework noted, the platform gives retailers the power to build a human connection with their audiences—within their own domain and on their own terms.
"With Firework, we found the first platform capable of digitally recreating the sense of freshness, discovery and community that you previously could only find within our stores, all using the video and livestream formats that our digital shoppers love most," said Rupp.

Additional Revenue Sources
Firework also enables Albertsons to sell "digital shelf space" to brands they carry in the form of video ad placement. Furthermore, on-site ad hosting provides the retail grocer with direct access to consumer data and monetization opportunities of their shoppable video content.
Staying ahead of the digital advertising curve has significant benefits as competition among major retail players in space continues to heat up. The move positions Albertsons as the first grocery retailer to pursue shoppable media, on the heels of Walmart's recent venture with media corporation Meredith.