What's up with Gen X? While this resilient consumer set isn't as sizeable as their cohorts, their spending power is slated to rise in the years to come. Here are the latest stats from Brightfield Group's Consumer Dashboard. 
Generational Snapshot
Born between 1965 and 1980, Generation X accounts for approximately one quarter (26.4%) of survey respondents. The majority live in the suburbs (41.8%) and over half are married. Most Gen Xer's either have no children (35.5%) or have children who are now adults.
When it comes to media coverage and marketing, Gen X often receives less consideration than baby boomers and millennials due to the size of the group.
"When Gen X was entering the workforce, baby boomers outnumbered them and had more power and influence—and they never left," Marcus Collins, marketing professor at the Ross School of Business, told The Food Institute. "As Gen X started to rise up the ranks, they were quickly outnumbered by the size of millennials who, generally speaking, played by their own rules thanks in part to the evolution of the media landscape."
Today, Gen X accounts for just 28% of the nation's wealth, while baby boomers hold over half (52%), according to recent data from the Federal Reserve. However, as Investopedia reports, over the next two decades there will be a major transfer of wealth—collectively, around $84 trillion—from baby boomers to younger generations including their Gen X children.
Food & Beverage Favorites 
When it comes to eating and drinking, Gen X's preferences reveal a balance of fresh food staples and classic indulgences.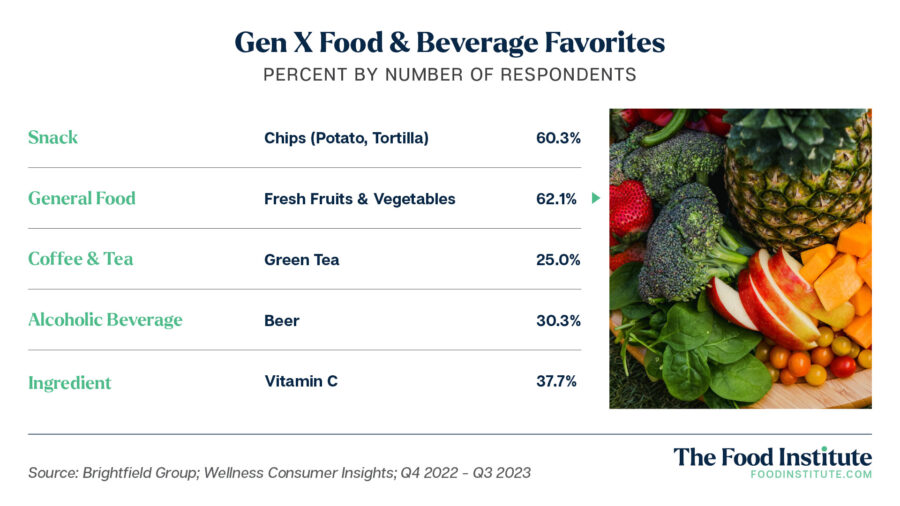 In line with the rest of U.S. consumers, Gen X likes to snack — 81% purchased snacks and bars in the past year. In addition to chips, their leading go-tos include peanut butter (47.2%), popcorn, packaged cookies, and conventional chocolate bars.
Other general foods topping Gen X's grocery list include chicken (53.1%), regular ice cream, frozen fruits and veggies, and red meats, specifically beef and pork.
Popular drinks range from regular soda (43.4%) to 100% orange juice and bottled natural spring water. After beer, wine is their preferred alcoholic beverage.
"Gen X consumers are demonstrating a growing interest in craft beers, artisanal spirits, and premium coffees," said Nazim Almasi, Muslim food scholar and author, to The Food Institute. "They are seeking unique flavor profiles and experiences, valuing quality over mass-produced beverages."

Wellness Interests & Hobbies
The top need states among Gen Xers are relaxation (54.4%) and digestive health (51.1%). Their favorite hobbies include watching TV and movies (39.8%), listening to music, and reading. 
Furthermore, 78.6% of Gen Xers believe exercise is important for mental health.  
Walking ranked second (29.8%) as a favorite hobby. It is also their preferred form of exercise by a significant margin (72.8%) followed by weightlifting (23.7%), running, and bicycling.
Health and Dietary Preferences
Most survey respondents (50.3%) claimed they do not conform to one particular diet. However, low sugar received top mention (24.2%) followed by low carb.
Sugar content also played a key role in what these shoppers look for in foods and beverages. Among ingredient preferences, no added sugar (43.6%) took the lead, with no artificial sweeteners and no high-fructose corn syrup also ranking in the top five.
Low sugar was also the top label claim these shoppers look for, followed by high protein and low sodium. Gen Xers also seek foods that are made with real (41.9%) or all-natural ingredients. They gravitate toward health claims related to hydration (36.9%), gut health, and boosting energy.
"Gen X consumers are placing a strong emphasis on overall wellness, encompassing physical, mental, and emotional well-being. They are seeking products and services that promote stress reduction, improved sleep, and enhanced energy levels," said Almasi. "Holistic wellness approaches, including mindfulness practices and complementary therapies, are [also] gaining traction among this demographic."