Forty years ago, Heineken's ads used to tout that it was the beer that would "refresh the parts other beers cannot reach." I don't know what that means, but fast forward to 2023 – specifically, Super Bowl LVII – and Heineken wowed viewers with something truly novel: a big-budget, Marvel-assisted Super Bowl ad for…zero-alcohol Heineken?
After Budweiser opened the tap for competing companies to advertise during the game, Heineken debuted the most expensive ad for its most innocuous – but also on-trend, happening, and in every way contemporary – product: Heineken 0.0.
"That is not a trend; that's not a fad," said Jonnie Cahill, Heineken USA chief marketing officer, to Forbes earlier this year, "That's a macro-societal trend away from alcohol."
The numbers hold up. According to recent data from NielsenIQ, total dollar sales of NA drinks in the U.S. in 2022 was $395 million, a whopping 20.6% increase year-over-year.
NA beer sales comprised almost 86% of the entire NA category, up 19.5%
NA wine makes up just over 13% of that segment (up 23.2% YOY)
NA spirits up 1.3% (a wild 88.4% YOY increase)
"The low- and no- market is just about to start," said Dan Gasper, founder and CEO of The Ardent Company, to The Food Institute.
"The low and no-alc market is currently worth around $15 billion. I can't see any reason why that can't be $100 billion by the end of this decade. And if the trend continues, it could be a half-a-billion-dollar market."
No/low drinks are more ubiquitous than ever before. From every segment of the retail and restaurant beverage sectors, moderation is the name of the game. Many companies simply offer both; Wilderton Botanical Spirits, for example, is the nation's first NA distillery and specializes in classic cocktail blends that pair well with seltzer and can easily be added to the real deal.
The market, in other words, is far from binary; consumers don't have to choose one or the other. Most don't, in fact, choosing to adopt the best habits formed during Dry January, maybe, and simply letting their bodies tell them when to add the hard stuff and when not to.
"On the beverage front, look for zero-proof craft cocktails that capture an authentic spirit flavor without alcohol to show up on more menus nationwide," said Brian Loukmas, beverage innovation director at Monin, a century-old gourmet beverage syrups company, to The Food Institute.
Changing flavors and market preferences help account for the growth of the no/low segment, and the breakneck pace of technology doesn't hurt, either; as the ability to mimic alcoholic flavors gets easier, the market has responded in kind.
"That is why the investment in better tasting, more dynamic NA options is growing with consumers' expectations for a well-produced product," added Michael Moberly, Monin's innovation coordinator. "I think the consumer appreciates anything that speaks to them directly. For example, if you love cocktails, you are going to experiment with no-ABV spirits and ready-to-drink (RTD) spirits, such as Old Fashioneds in a can; if you love beer, you can crack open a bottle that tastes, for the most part, the same as one with alcohol content."
Many taste identical. And that's exactly what Heineken and other major beer and spirits brands are betting on: consumers don't need to switch teams. Instead, they can simply add more flavors and attendant experiences to their repertoires.
"Exactly," Gasper added. "Consumers want to drink less but better. We're seeing consumers take an alc drink, take a non-alc drink, take an alc drink, take a non-alc drink; they call it zebra striping. They'll still have four drinks in a bar, just two of them didn't have any alcohol in them…How do I reduce the ABV of my drink but still get a good negroni? That's what's really exciting."
Bottoms Up for Wellness & NA
As of February 2023, the world's largest brewer, Anheuser-Busch InBev SA, reported an unexpected fall in sales volume in the fourth quarter despite an overall resilient brand and positive outlook. Beer sales typically lag inflation, but it's not unreasonable to link a blip in the radar to more than just retail conditions amid inflation; people, especially Gen Z – who stress wellness more than any other generation – are simply drinking less than they used to, BORG outliers aside.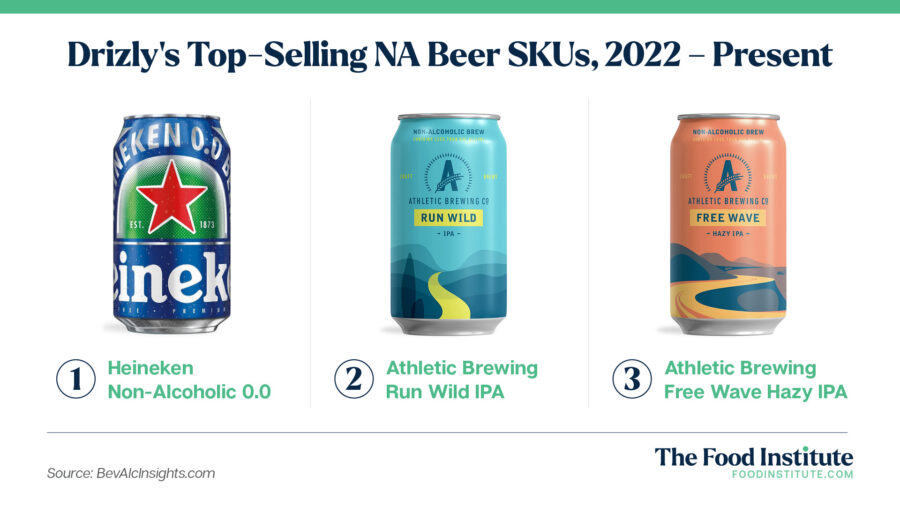 Though many new and legacy beer brands are getting in the NA game, Athletic Brewing Co. is far ahead in terms of legit NA street cred and preferred orders on Drizly:
Heineken Non-Alcoholic 0.0
Athletic Brewing Run Wild IPA
Athletic Brewing Free Wave Hazy IPA
Athletic Brewing Upside Dawn
Budweiser Zero Full-Flavored Zero Alcohol Brew
Athletic Brewing -–Non-Alcoholic Seasonal Offering
Lagunitas IPNA
Clausthaler Original Non-Alcoholic
O'Doul's Non-Alcoholic Beer
Athletic Brewing – Non-Alcoholic Limited Time Offering
NielsenIQ also revealed that Gen Z spends 40% less on alcohol than the millennials, make fewer trips to purchase it, and are less likely to regularly consumer wine and beer. Beer dominates the NA category but spirits are moving up the fastest due to nearly identical flavor, texture, and the ability to enjoy an alcoholic scene (or dinner party) with a beverage every bit as social as its alcoholic counterparts. People don't always smoke because they need to, after all – sometimes it's just nice to stand outside and shoot the breeze.
The winds of change aren't coming in this sector – they're here. And for abstainers or those simply looking to cut back, the wind is in their sails.