"Pllllaaaayyyyy bbbaaaallllll!"
It's a chorus that's thrilled millions for over 100 years in America. It's also the mindset of the suppliers, vendors, stadium contractors, and more who simply want to sell a hot dog and a beer – and all kinds of peanuts, popcorn, local cuisine, melty desserts, and craft beverages to the ballpark-going hordes who just want to see the boys of summer crack a couple dingers over the center field cheap seats. In a year of inflation and rising food prices, baseball – and all the sweet-n-salty foodservice that comes with it – is back.
I've spent many hours at Target Field watching the Minnesota Twins claw their way through (and sometimes out!) of the AL Central, but always as a fan – never as a professional. This year, however, I attended the press preview Taste of Target Field on Monday, April 3, to scope some of the new foods, flavors, and trends, and to chat with some of the representatives of the food industry in one of the largest-scale foodservice venues around – the  American ballpark. 
The Squeeze Is On
"A nickel ain't worth a dime anymore," Yogi Berra once said, summing up today's market more succinctly than anything else I've read. My question is similar – do people still go to the game to watch some ball with a hot dog in one hand and a beer in the other? 
"Absolutely," said Peter Spike, leaning into the question with a hint of a smile on his face. Spike is the general manager of Delaware North Sportservice at Target Field, the foodservice vendor of note for the Minnesota Twins, and immediately understood the real question, which had less to do with economics and more to do with people, fandom, and community. How can you not be romantic about baseball, I thought, echoing Billy Beane in Moneyball. 
"Sixty to seventy percent of what we sell is pure ball-park fare – pretzels, peanuts, popcorn, hotdogs, beer. Most core items we're trying to keep intact, especially in the family value sections."
Since 1915 (when the Boston Red Sox beat the Philadelphia Phillies in five games for the championship), Delaware North has been one of the leading global vendors in sports hospitality and counts over 50 stadiums, ballparks, and arenas in its repertoire. Then, a hot dog cost roughly 15 cents (~$4.47 today). This year, however, fans from Dodger Stadium to Fenway may balk a bit at ballpark prices; the average cost of a ballpark frank is heating up. One major hospitality vendor noted that the cost to acquire hot dogs jumped 20-30% from January 2021 to May 2022, "the highest annual increase in the past 30 years," driven by record-high prices of packaging, labor, meat, gas, and more. 
Early in his presentation in the Truly On Deck brew pub and reception area above right field, Spike introduced new vendors, new tech, and new food/bev options while welcoming Twins fans old and new, describing just how much Target Field and the Minnesota Twins are ready to serve consumers from every market and background. Three new family value sections offer unlimited ballpark staples – that "pure ballpark fare" Spike mentioned above – for about $35 per person. Last year, the average cost of a hot dog at Target Field was $4, so two wieners and a soda (alcoholic drinks are not included) could easily run about $15. Add in a box of popcorn or two, a couple bags of peanuts, a seventh-inning snack during the seventh-inning stretch, and an ice cream in the bottom of the ninth, feeding a family of four – especially with kids – starts to look pretty good from an all-inclusive perspective. Last year, the average cost of a family of four attending a ball game was just over $200, so "$140 give or take sounds good to me," Spike added (he did not have final numbers in front of him). 
"We also want that local connection for people to experience some local fare," Spike noted, mentioning several of the new vendors and a few Twin Cities staples, such as a spicy Kramarczuk's sausage or a steaming slice of 'za from Pizza Luce, highlighting one of the most fun aspects of going to a ball game wherever you are – digging the local culture, trying the local cuisine, and chatting with other fans in line. 
Did You Know? Over 22 million hot dogs are sold at ballparks every year. Lined up end-to-end, that's a 3,100-mile hot dog, roughly Oracle Park (San Francisco Giants) to Fenway Stadium (Boston Red Sox).
Per CNBC, buying some peanuts and Cracker Jacks will cost a little more this year as ballpark franks, plastics, and disposables costs in particular have been ravaged by food inflation and supply chain issues due to the war in Ukraine. Like Spike, the CEO of Sodexo Live, Belinda Oakley, said it doesn't matter where you are – prices are rising. Still, companies like Delaware North and Sodexo are scrambling to ensure anyone can take in a ball game.
"Supply chain as a whole has improved," Spike continued. 
"Last year, trying to stay consistent with your SKUs was challenging at times. I feel more comfortable with it this year. We're still seeing inflationary pressures due to national contracts we had put in place and due to the timing of those contracts we pay what we pay – we live and die by that. Surcharges are still up on most invoices, and as folks feel the pinch at home, we're feeling that too whether it's labor, goods, or services. With any luck that inflationary pressure will come down."
Sure hope so. This is one fan who intends to watch the Twins, walk the concourse, and spend some money on weird, wild stadium food and cool drinks on hot days. And I'm far from the only one wondering how feasible that is in 2023.

The Future Ain't What It Used to Be – Tech at the Ballpark
With another Yogi-ism and the much-lauded addition of the pitch clock this year, fans will be forced to find their favorite foods and vendors a little more quickly than in years past. The bases are two inches wider on each side, already prompting more steals, and the days of 17-inning pitchers' duels may be gone with the new extra inning rule that starts runners on second.
Tech enhancements adorn the stadium concourse as well. Direct mobile ordering is now available at many stadiums so fans can take in every shutout or perfect game opportunity without leaving their seats and missing the big play (or error). Delaware North partnered with Amazon's new Just Walk Out technology, enabling Amazon One users to wave their smartphones over outlets labeled "Express Grill" to purchase the same ballpark staples mentioned above (and beer! So much beer). The Express Grills also offer prepared food, not just prepackaged snacks. Self-checkout kiosks also abound at stadiums around the country. 
Of course, you may not even have to leave your seat except to use the bathroom. "2023 is the year fans forget standing in line," Evan Wain, COO and co-founder of Ordr, told The Food Institute.
"It is the year of in-seat ordering and delivery – and the technology being adopted right now will dramatically improve everything from how you get your beer and nachos to how you enter the stadium in the first place."
"A hot dog at the ball park beats roast beef at the Ritz." – Humphrey Bogart
Wain says that it's less about what we eat in stadiums and more about how; as Spike noted, most ballpark eaters stick to the time-tested staples. Wain also noted that stadiums that partner with Ordr in-seat technology show that 77% of total stadium orders are for in-seat delivery, revealing just how much the entire stadium spectrum of foodservice has changed. 
"Data shows people buy more – and get to enjoy the game more – when they don't need to leave their seat." 
And when they do, self-checkout kiosks will be more prevalent than ever. Tech companies like Mashgin partner with major venues to provide swift food service to fans, using AI and cameras "to instantly identify and ring up the price of packaged goods, drinks, and open-plated food items from any angle," said Jack Hogan, VP of strategic partnerships at Mashgin, to The Food Institute. 
"Average transaction times [at our kiosks] are between 11 and 15 seconds, and the average line time at concession stands is 13.5 minutes," Hogan said. 
From a supplier perspective, Spike said Delaware North has dabbled with AI but hasn't committed to it fully for creating menus and inventory lists and orders.
"To some degree we've used AI to help track guest services responsiveness, or being able to understand where guests are in the ballpark or what purchasing trends are. You can tell AI to write a menu, cost it out, and it'll tell you how many people to feed. We haven't done anything official with that yet – we want to do it responsibly – but there's a lot out there that could certainly benefit the industry."
And if it benefits the industry, it might benefit the common consumer and the brands, businesses, and people in service to them. This year (and more each season), mobile ordering and self-checkout will be many consumers' primary means of nabbing that nacho basket or chicken tenders for the kids. Fans may want to start clocking the blazing speed of their deliveries instead of the blur of the baseball from the mound.
For most of us, the cost of a day at the park is easy enough to calculate. The value, however, is harder to quantify and more memorable to anticipate, share, and remember. Here are some brief stats to help you quantify another year at the ballpark. 
"Let the Big Dog Eat!" SNCKRmetrics at the Ballpark
Like the game itself, there are scads of data available to really break down the snacking lineup from ballpark to ballpark. Save the SABRmetrics for the color guys – here are some tasty data points from last year (when the Houston Astros beat the Philadelphia Phillies in six games to win the World Series).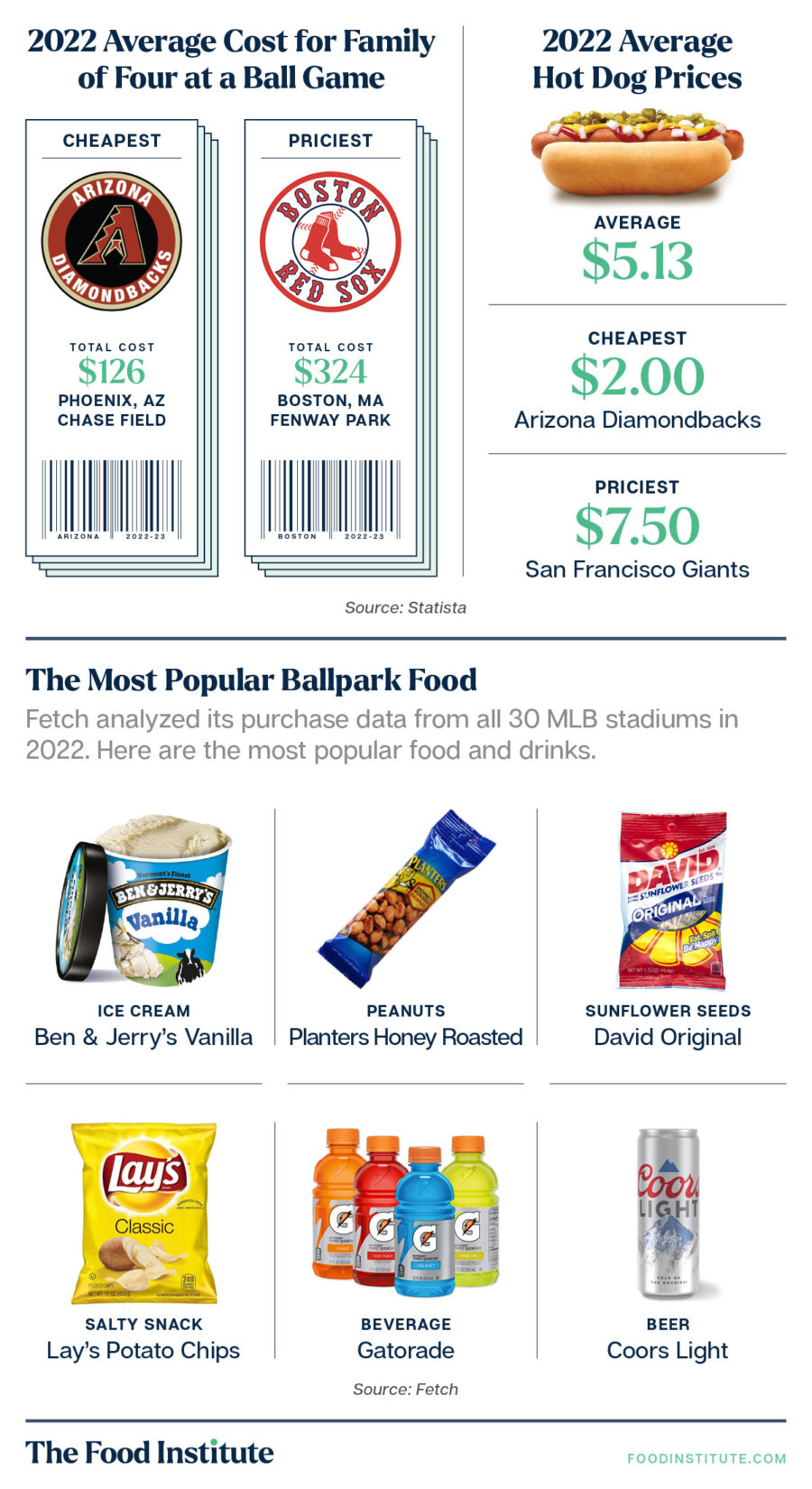 Only one thing left to do—