Despite easing inflation concerns, consumers are still preparing 85% of meals at home, which presents significant opportunities to drive sales across fresh grocery.
In a recent webinar covering Top Trends in Fresh, Circana and FMI took a deep dive into the three major mindsets that motivate these consumers' needs and wants, and how to best position offerings for maximum growth in response.
Fresh Essentials 
Fresh essentials bring consumers to the store, and with shoppers stocking up less to manage their budgets, quick trip frequency is up 2.6% year-over-year (YOY). Storewide, the produce and bakery departments are fueling trip frequency, while meat and deli lead overall wallet spend.
The most frequently bought fresh foods are a blend of sweet and savory products. Leading YOY trip drivers include center store sandwich bread (+8.1%), bananas (+8.0%), and mixed berries (+5.8%).
While price and promotion remain critical—51% of shoppers are still looking for sales & deals more often—these promotions aren't driving as much lift due to inflated price tags.
"Fresh staples are carried everywhere, so you've got to stand out," said Sally Lyons Wyatt, EVP and Practice Leader of Client Insights at Circana. "You have to be able to then take price, manage it, and maybe use promotions to deepen it… to get more households, increase the buy rate, and/or increase the frequency."

Escapes & Indulgences
While consumers come for the essentials, they are also willing to spend more to escape, indulge, or entertain. Corresponding product purchases are often driven by impulse and can deepen basket sales.
The leading motivations behind impulse purchases at the grocery store are satisfying hunger or thirst (44%), "rewarding myself" (30%), treating someone else (29%), and trying something new (20%).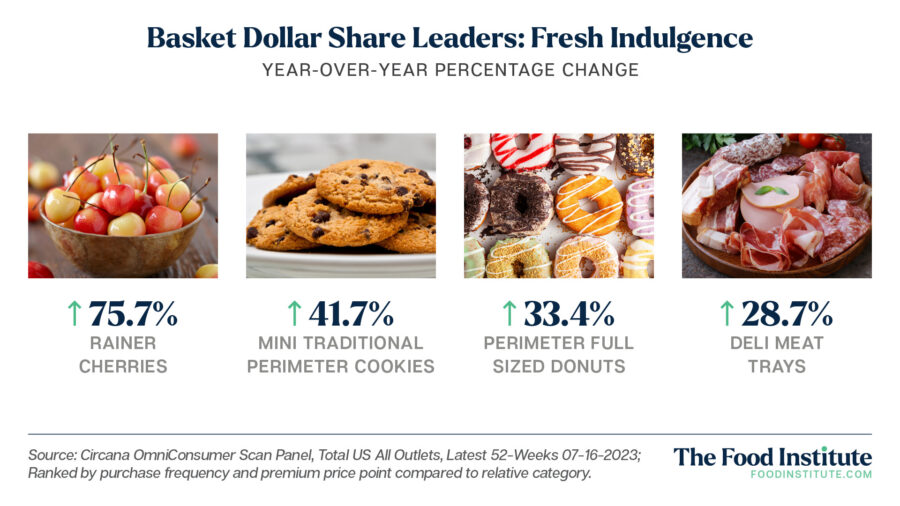 Holidays also encourage indulgence. Displays, packaging, and signage that help shoppers connect with the mindset of the occasion are trending well.
As Jonna Parker, Principal of Fresh Center of Excellence at Circana observed, fresh presents the consumer with opportunities and low price points to indulge, experience positive emotions, and entertain.
"It is imperative that we take advantage of making it simple and relevant for the consumer to find what they need," said Parker. "When we make it easy for the shopper, they will reward us with their loyalty and their dollars."

The Convenience Continuum
Fresh also offers a spectrum of options to make, assemble, or serve a meal. In the four weeks ending July 16, 2023, 35% of trips included a combination of fresh items across key "convenience continuum" touchpoints: raw ingredients, added value offerings, and ready-to heat/eat takeaways.
Among the three, heat and eat sides and entrees saw the highest YOY growth (6.5%), due in part to the products' higher price point. However, raw fresh and processed meat combined with raw vegetables hold 60% of overall dollar share.
Chicken is one of the fastest growing fresh proteins across the continuum. For instance, among consumers who buy pre-marinated "added value" chicken, 70% also bought raw chicken breast and 28% also bought rotisserie chicken.
Because convenience is important to consumers segments at opposite ends of the spectrum—passionate home cooks and convenience seekers—there is room for all products to win. As Parker noted, the importance of understanding shoppers' preferences and what convenience means to them cannot be understated.
"Ultimately, fresh needs to take a holistic approach," said Parker. "Recommending solutions, not silos, is going to be the key to capturing market share and deepening baskets."