America is snacking more than ever. Countless crumbs are tumbling to the floor as Americans reach for the sweet, the salty, the savory, the sublime. The cookie wars may be over but the candy wars have just begun.
And one company is offering new metrics to understand it all and offering guidance on breaking into new markets. On Tuesday, May 16, Alpha-Diver joined The Food Institute to present The Snack 50, a psychological measurement of the top 50 snacking brands.
"It's the industry's first measure of the psychological drivers of real-world consumer behavior" as it relates to snacking, according to Hunter Thurman, president of Alpha-Diver, a market research firm that applies neuroscience to more deeply understand marketplace behavior whose clients include McDonald's, Coca-Cola, and many more.
According to Circana Group and reported by The Wall Street Journal, nearly half of American consumers snack three times or more every day, a figure up 8% in the past two years. Last year, U.S. snack sales soared to over $180 billion, up 11% from the previous year. That is a lot of cookies, crackers, bars, chips, and treats, making big business a delightfully flavorful prospect for companies like Hershey and Mondelez International. Grocers like Kroger are catering to snackers with large-volume boxes of snacks at 24-36 per box. Cereal companies are selling Saturday morning favorites as single-serve pouches, combining Fruity Pebbles, say, with popcorn. Salty is tangoing with sweet, spicy butting in with savory.

In the snack world, it's all happening.
But why? Why do people snack the way they do, and why do they buy the snacks they buy? Some are motivated by health; others are motivated by the snackers around them. Others just want a quick treat to beat the 2:00 malaise; some seek simple and gratifying emotional pleasure from a quick dunk, a salty fistful, a mouthwatering squeeze. The answers are as diverse as the snacking aisle itself but all boil down to a simple question: why do we snack the way we do and support some brands over others?
That's what the Snack 50 helps answer.
So Sweet Once It Hits Your Lips
The webinar included snackers from all around the world, Cincinnati to Sweden, Pittsburgh to Portugal. Thurman's down-to-earth and measured approach to Alpha-Diver's thorough research and methodology made for the best type of webinar – swift, loaded with intel, simple graphics, and a hot Q&A chat session in the sidebar. Here are some key takeaways:
With every food purchase at every location, there are dozens of micro-transactions happening inside your brain; what am I in the mood for? Whom will I be snacking with, and what do they need (or think of my snack choice)? Do I care about being healthy? Questions like these inform the Snack 50.
Each brand was ranked by a Psych Pulse score based on consumer behavior, trajectory, and emotional response. Collectively, the list covered over $50 billion in snacking sales last year, 12 categories, and a neuroscience workup based on over 100 psychological metrics. The average test-taking consumer was 45 years old; the average household income was $50,000.
Without further ado, the top 10 Snack 50 brands are: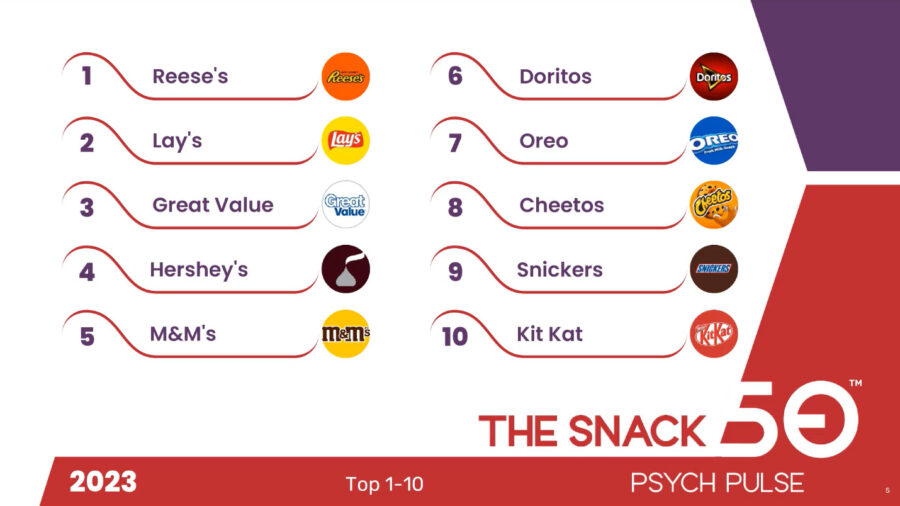 Aldi came in at #13. Meat snacks and traditional protein were represented by Slim Jim (#21) and Jack Link's (#26), while Target's private label brand, Good and Gather, came in at #46.
Top performers in the snack category include chocolate, chips, and cookies. The bottom performers are meat snacks, mixed nuts, and pretzels.
The top three snacking brands with rising momentum are Aplenty, Favorite Day, and Happy Belly – all private label brands. The bottom three are Twizzlers, Chex Mix, and Chewy.
Thurman described four mental lenses his company uses to help assess why and how people snack the way they do. The drivers are Rational ("this snack will be good for me"); Experiential ("I want to try this snack"); Tribal ("This is how we snack"); and Instinctual ("This snack speaks to me"). The top snack brands within these categories are: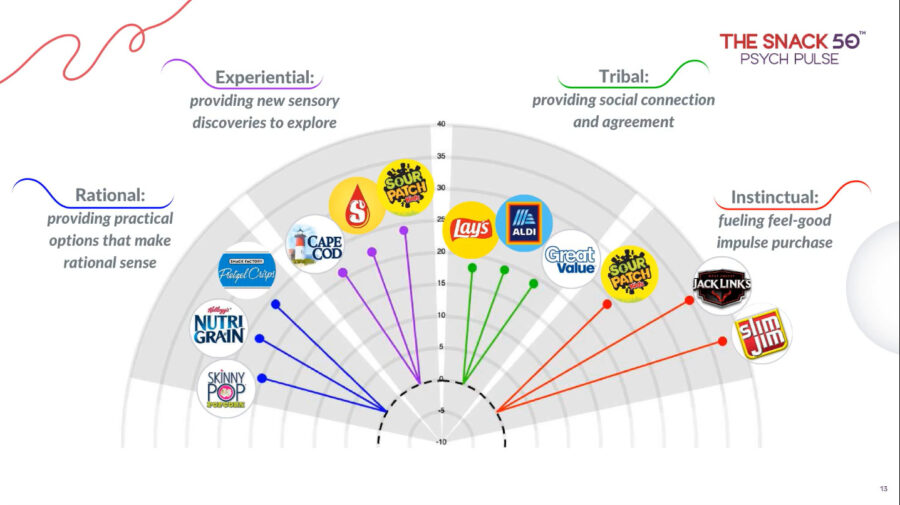 Rational: Nutrigrain, SkinnyPOP, Snack Factory
Experiential: Cape Cod, Starburst, Sour Patch Kids
Tribal: Lay's, Aldi, Great Value
Instinctual: Sour Patch, Jack Link's, Slim Jim
Private Label Does Not Equal Trade-Down
Thurman stressed that private label brands such as Good & Gather (Target) and Great Value (Walmart) suffer from a huge market misperception that their quality is inferior and that private label purchases constitute economic (and flavorful) compromises. Instead, the market is proving the opposite true.
"If these brands offer 'safe choice' equity for consumers, how do you argue with that?" he asked. "Instead, brands should be asking 'what is the opportunity to innovate and capture new markets?' "
"Price does not drive consumer behavior as much as most assume," he continued. "Don't look at these brands as trade-downs in the conventional sense, because that word creates too many economic assumptions." If he could kill that word in the food market, he said he would.
Instead, "People are strongly emotionally attached to brands like Aldi and Trader Joe's. Trader Joe's is not expensive, but people don't go there because it's cheap. Banish this idea of trade down and ask 'why are people switching?' It's probably emotional."
Here are some metrics on the top brands from different emotional, more qualitative ends of the spectrum:
Price: Jack Link's, Blue Diamond Almonds, Planters
Time: Aldi, Happy Belly, Aplenty
Social: Great Value, Popcorners, Favorite Day
Physical: APlenty, Snickers, Dot's Pretzels
Emotional: Oreo, Kirkland, Airheads
(As an Oreo stan, I can account for this; it makes no sense that any given time I have half a dozen boxes of Oreos in my pantry. They simply make me happy despite the occasional late-night, post-curling dunk, crunch, 'n' binge I embark upon, setting sail on a sea of 2% to the land of calories).
Thurman closed out his presentation with a few simple thoughts: why are people buying so many soft drinks, which we know are bad for you, when their prices are up almost 20%? Why does McDonald's do so well amid inflation? The answer isn't simply economics; it must lie somewhere in the emotions. That's the kind of data Alpha-Diver provides to the snacking and greater food/bev industries.
"Context is king and queen; context matters," he said. "Think about yourself and your life, whether you're at work, at home with friends and family, or on a weekend. You're not a different person, but there are three different contexts, and what drives your decisions varies wildly. The same is true with snacks."
The full webinar is available to FI members. For more information on becoming a member, click here.