A new report suggests that the pandemic boom for U.S. subscription brands is wearing off.
Attest, an SaaS consumer research platform, on Thursday released its latest direct-to-consumer research report, surveying 2,000 Americans. And the results weren't entirely positive for food and beverage subscriptions.
In fact, the report suggests that subscription brands will need to work harder to win customers in 2022. The survey (which can be downloaded here) found that 41% of respondents have an active product subscription –  down 6% from a year earlier.
The data also highlights that fewer consumers are actively looking for a new product subscription.
Other noteworthy survey findings included the following: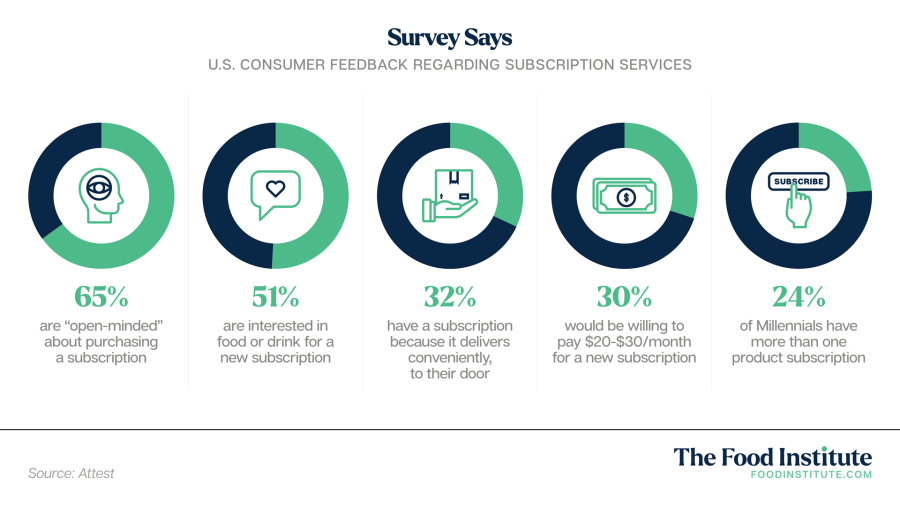 WHAT AMERICANS ARE SUBSCRIBING TO
Of the respondents who have a subscription, over a third (37%) have a food or drink subscription, making it the most popular type. Hello Fresh and Blue Apron topped the category.
That second-leading segment is personal care or health-fitness (36%).
The most noteworthy shift from a year ago is the rise of pet product subscriptions. In 2020, they were the fifth most popular type of subscription box but rose to third over the past year (at 32%).
In terms of demographics, Millennials aged 26-40 are the most likely cohort (49%) to have product subscriptions. Meanwhile, Gen X (aged 41-55) were most likely to say they had a product subscription in the past but no longer do (32%).
Survey respondents cited convenience (32%) as the top reason for their subscription purchase, which doubled from 16% in 2020.
When asked to describe what a perfect subscription brand looks like, U.S. consumers expressed a desire to have plans that were:
Convenient
A good value
Practical, and
Easy to cancel

OPPORTUNITIES REMAIN
Despite the decline in consumer subscriptions this year, the survey found that nearly two-thirds of Americans remain open-minded to purchasing one.
Asked what they feel is currently missing from the category, consumers cited alcohol as the top item, followed by cannabis.
Kyle Beldoch, senior relationship manager at Ordergroove, told The Food Institute in an email that, by delivering personalization, convenience, and cost savings through subscription experiences in the months ahead, food and beverage companies can create authentic connections that drive "an affinity" for their brand.
"To drive convenience and a frictionless experience for subscribers, merchants should offer [consumers] control over their subscriptions," said Beldoch, whose employer enables commerce experiences for hundreds of brands and retailers. "Subscribers should have the ability to skip an order, swap products, and easily cancel their order."