A few food companies scored big thanks to this year's Super Bowl.
AdAdapted, a shopping list marketing and insights platform, recently researched the influence of this year's Super Bowl commercials and found two chip brands, for example, received big boosts from their ads.
"In the week following the game, brands like Gillette, Lay's, Avocados from Mexico, and Hellmann's saw significant increases in consumers adding advertising products to their grocery lists," said Molly McFarland, co-founder of AdAdapted.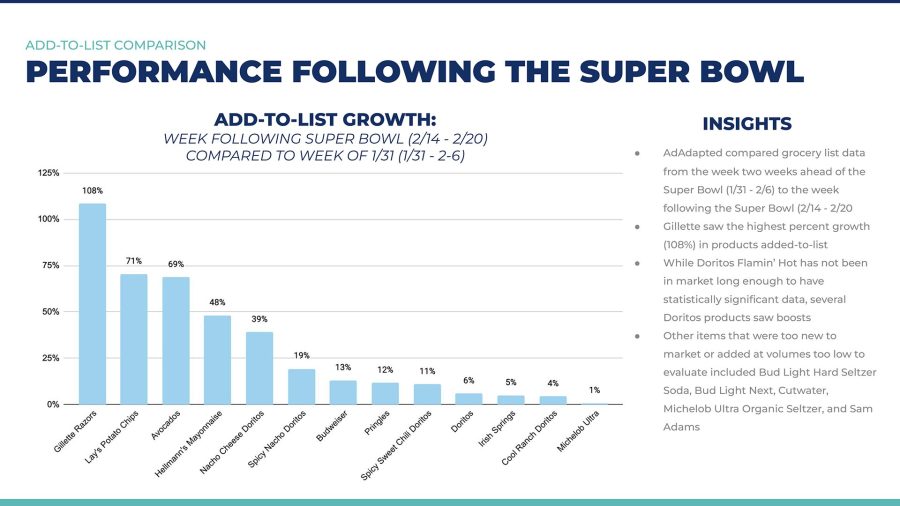 Lay's received a 71% boost in "add-to-mobile-shopping-list rate" by consumers in the week following the Super Bowl, while Nacho Cheese Doritos (+39%) also scored big.
Clearly, any reports about the death of TV advertising appear to be exaggerated. And, it certainly appears Super Bowl advertising is well worth the spend – $7 million for a 30-second spot this year, for the Los Angeles Rams' showdown against the Cincinnati Bengals. According to eMarketer, this year's NFL championship was the most-watched Super Bowl in the last five years, reinforcing the value to advertisers.
And, it would appear Super Bowl commercials often do influence consumer behavior.

While Gillette (+108%) received the biggest boost to its add-to-shopping-list rate, multiple food items benefited significantly from Super Sunday, too. Here's a closer look:
Lay's received a 71% boost in add-to-list rate following its "Golden Memories" ad featuring actors Seth Rogen and Paul Rudd.
Doritos saw boosts across the board, as several of its products witnessed increased add-to-list behavior, including Spicy Nacho Doritos (+19%), Spicy Sweet Chili Doritos (+11%), and original Doritos (+6%).
Avocados from Mexico partnered with GSD&M for a minute-long Super Bowl ad and, in the week following the game, avocados appeared on lists 69% more compared to the week prior.
Hellmann's jumped 48% following a Super Bowl ad focusing on food waste featuring comedian Pete Davidson.
"Our shopping list data shows clear results," McFarland said. "Advertisers seeking to drive brand awareness via Super Bowl commercials experienced varying degrees of success in influencing pre-shop behavior."