The sugar reduction trend is growing in candy and confectionary, boosted by broader product assortments and new innovations.
A recent IRI report on sugar-free chocolate and candy explores this market and highlights opportunities for continued growth. Here are a few key takeaways:
Market Overview
Over the last three years, the candy aisle has been a hot spot for consumers.
In 2021, U.S. confectionery sales reached an all-time high of $28.9 billion in the IRI-measured marketplace, with combined chocolate and non-chocolate dollar sales growing relative to 2020, but also exceeding the pre-pandemic normal of 2019.
Within this category, chocolates and candies with reduced sugar, no sugar or no added sugar are currently experiencing more growth – in both dollar and volume sales – than their traditional counterparts.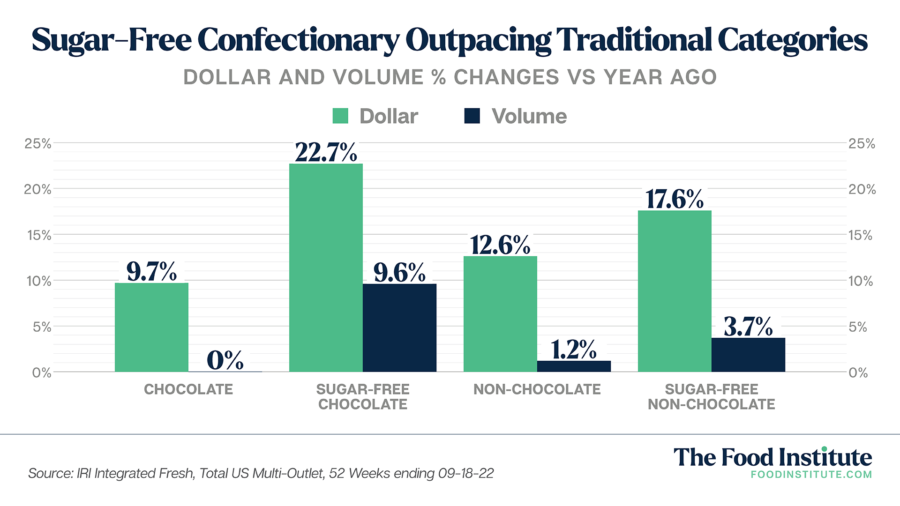 In pounds, sales of sugar-free chocolate have doubled since 2017, with larger product assortments from major manufacturers like The Hershey Company giving the segment an added lift.
Comparatively speaking, sugar-free non-chocolate candy sales have remained flat. This imbalance makes the segment a hot spot for innovation, with IRI attributing it, in part, to a significantly larger assortment of sugar-free chocolate products on the shelves.
During store tours in markets around the U.S. and Europe, Anne-Marie Roerink, President of 210 Analytics, has witnessed tremendous innovation across reduced sugar confectionary.
"[Low- and no-sugar offerings] have been the growth leader within chocolate for years, though this is based on much smaller sales," said Roerink. "There's also wider availability across non-chocolate formats, including gummies, hard sugar and chewy candy, lollipops, and licorice."
Consumer Insights
According to the report, more than 40% of consumers now look for low-sugar claims when choosing new products. Across total edibles in the 52-week period ending August 8, 2022, sugar reduction attributes saw the largest year-over-year dollar share growth among health and wellness claims.
Shoppers who buy sugar-free candy also have an overall higher basket ring than non-sugar-free candy buyers. Furthermore, no single consumer segment is driving this growth, which broadens the potential for targeted messaging.
When considering the motivation behind purchasing reduced sugar treats, Roerink notes that the general assumption was that they provided a solution for people who need to avoid sugar for medical reasons.
"In reality, the reasons were very widespread, including [consumers] liking the taste better," said Roerink. "In the end…taste has to win to prompt a second purchase, along with product and brand loyalty. I think the confectionery industry has kept that idea front and center in all its innovations and that is a big key to its sales success."
Future Opportunities
Innovation, particularly for sugar-free, non-chocolate candy offerings, should continue to be a key consideration as retailers and manufacturers explore further growth opportunities.
On the production side, successful products often utilize innovations within the ingredient industry. "There are quite a number of [ingredient] options these days that do not negatively affect the taste [of a product] and replace the volume and properties of sugar to create the right texture and flavor," Roerink said.
In the retail space, opportunities exist to promote sugar-free candy throughout the year – not just during holidays – and to create more inspiration for impulse purchases, in-store and online.
Retailers can also explore opportunities to cross-promote these products with other items that are frequently purchased by the same buyers, including sugar substitutes, nutritional bars, fruit drink mixes and frozen dairy desserts.