The 10th annual Growth Leaders study from IRI and Boston Consulting Group (BCG) explores the top performing consumer packaged goods (CPG) companies of 2021 and strategies that enabled their growth.
The total U.S. CPG industry grew 2.7% in 2021, breaking expectations for sharper slowdown from a pandemic-driven 10.6% growth spike the previous year.
"The results of our study demonstrate the beginning of a return to historical consumption trends and behaviors, though demand is elevated from the pre-pandemic period," said Dr. Krishnakumar (KK) S. Davey, president of Client Engagement for IRI in a related webinar.
"Findings also highlight that, across large, midsized and small CPG companies, the 2021 growth leaders won by navigating the continued pressures of the COVID-19 consumer behavior and operational environments, while also responding to strong consumer trends."

Industry Overview
According to the report, CPG volume at home was down in 2021 compared to the year prior but remained elevated on a two-year basis. Large CPG companies continued to drive growth via pricing, while smaller companies capitalized on continued supply constraints and targeted demand.
In an IRI analysis of sales by manufacturer size, small CPG companies saw the largest year over year increase in overall market share (4.9%), followed by large (2.8%), and medium (2%) producers.
Meanwhile, private label share dropped 0.1%. Private label unit sales dropped 6.6% in 2021, compared to a 3% decline for branded CPGs
"One of the most interesting trends we saw emerge in this year's growth leader lists was that large CPG manufacturers grew share for the first time in five years — and nine out of ten large growth leaders grew volume despite lapping significantly elevated volumes from 2020," said Aman Gupta, managing director and partner at Boston Consulting Group, during the webinar.
Company Rankings
Across food and beverage companies, the 2021 Growth Leader rankings reflected themes related to snacking, indulgence, health, and wellness.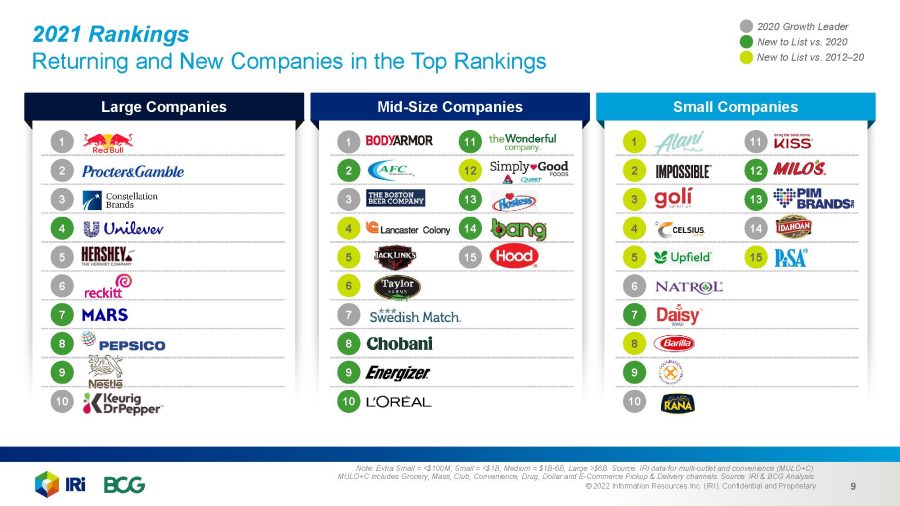 Food & Beverage Snapshot:
Large CPGs (>$6B sales): Red Bull topped the list, with Constellation Brands and Hershey landing in the top five.
Mid-Size ($1–$6B sales): Food and beverage companies dominated the top five with sports drink BodyArmor and grab-and-go sushi specialist AFC Franchise Corporation taking the lead.
Small ($100M–$1B sales): Plant-based producers Impossible and Upfield Foods ranked highest in this group alongside functional beverage company Celsius, all of which are new to the annual ranking list.

Performance Drivers
Staying responsive to COVID-19 trends played a key role in growth leader success in 2021. While in-home stock ups declined, impacting dry good and frozen categories, other trends accelerated, such as:
Self-Care/Nutrition & Performance

Enhanced hydration with electrolytes and clean ingredients.
Functional ingredient-led or enhanced foods.

Indulgence & Reward

Comfort and nostalgia from familiar snack and beverage brands
Permissible indulgence of health-oriented variations

On-the-Go

Perimeter & fresh offerings
Products serving overall convenience
Core company capabilities, such as increased pricing, supply chain fulfillment and omnichannel reach were also operational enablers in 2021. These factors will remain critical in the year ahead.
"Looking forward, we expect that CPGs with flexible and dynamic supply chains, strong omnichannel capabilities, enhanced productivity solutions, and the ability to adapt their portfolio to respond to consumer trends will be best positioned to win in 2022 and beyond," said Gupta.