California strawberry production is expected to increase in 2020, leading industry experts to project record volumes in spring and early summer.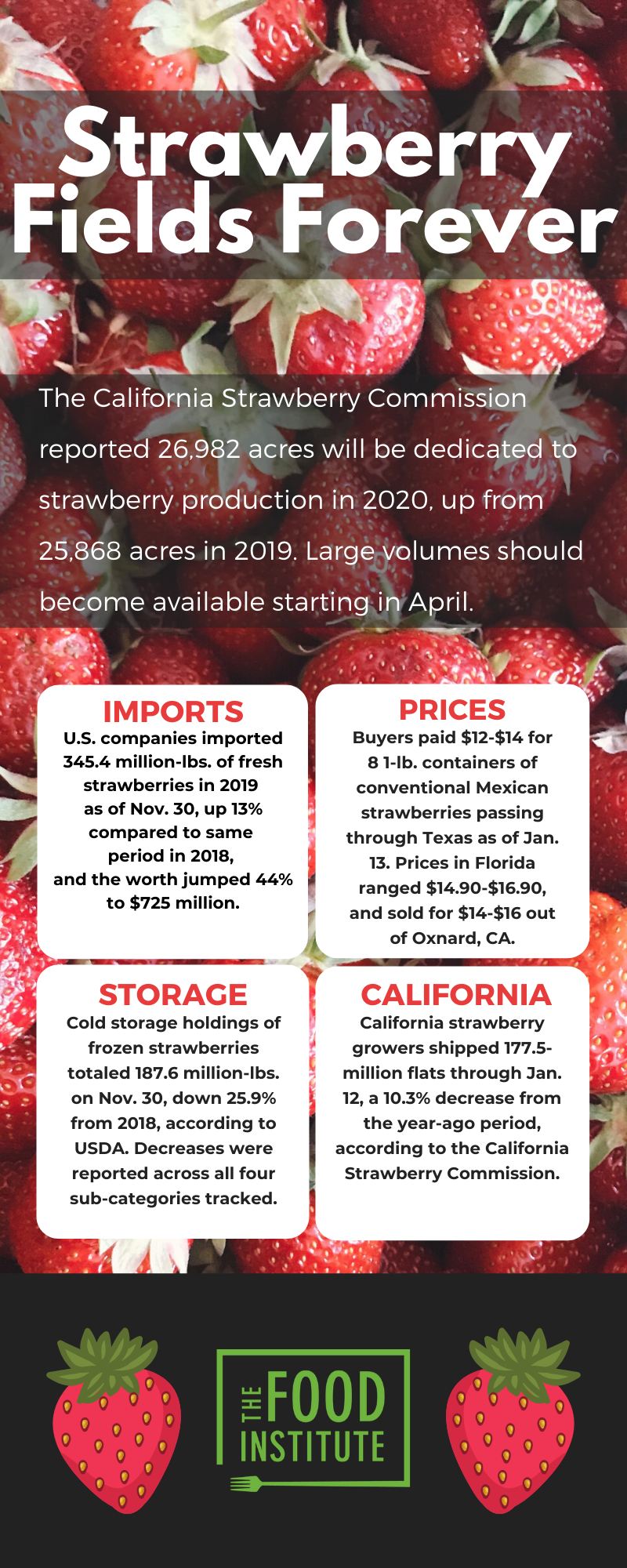 Acreage devoted to strawberry production for winter, spring, and summer production will increase 4.3% in 2020 compared to 2019, totaling 26,982 acres, up from 25,868, according to the California Strawberry Commission.
However, the 2020 total is down from the totals reported in 2016 through 2018: 29,318 acres, 29,726 acres, and 27,426 acres, respectively. Organic acreage for the winter, spring, and summer harvests was reported at 3,213 acres, up 7.4% when compared to 2019. Acreage for fall production was estimated at 911 acres, down 7.5% from the prior year. When combined, land devoted to organic strawberry production will account for 12.3% of the state's overall acreage.
While the acreage increase may seem modest, the commission noted enhanced utilization of higher-yielding varieties allowed California farmers to reduce acreage while increasing yields. Industry experts believed 2019 would follow a similar pattern until a weather anomaly disrupted fruit production between late May and early June. With normal weather patterns, California strawberry volumes are expected to reach record levels between April 12 and July 4.
In a few years, the "Keepsake" variety may join the other new types of strawberries planted in California. Developed by USDA, the cultivar is a midseason, spring-bearing, or short-day strawberry and the newest result from an increased effort by the USDA's Agricultural Research Service at Beltsville, MD, to develop strawberries with improved shelf life.
Compared with other current strawberry cultivars and breeding selections evaluated after two weeks in cold storage, Keepsake had a lower proportion of degraded and decayed fruits. The proportion of fruits degraded at one week was 29%, lower than for all the other cultivars tested, including Chandler (81%) and Camarosa (93%). With no fumigation or fungicides in annual plasticulture, Keepsake's total fruit rot decay was 14%, similar to that of Flavorfest and lower than that of Chandler at 16%.
Another new variety of berry is catching attention for its price. The "Omakase berry," grown in New Jersey by Oishii, is fetching prices as high as $50 for a package of eight. The berry is known for its seedless exterior and creamy texture, along with its "beautiful aroma and exceptional sweetness," reported TIME (Jan. 9).
In the current season, California strawberry growers shipped 177.5-million flats through Jan. 12, a 10.3% decrease from the year-ago period, according to the California Strawberry Commission. The highest recorded daily production during the one-week period was Jan. 7 with a total of 163,327 flats.
Pricing for 8 1-lb. containers of conventional strawberries grown in central Florida were priced between $14.90-$16.90 on Jan. 13, while the same grown in the Oxnard District of California ranged in price between $14.00-$16.00. Pricing from California's Santa Maria district was reportedly between $10.00-$12.00.
Fresh imports are helping to keep pace with demand as the U.S. imported 345.4 million-lbs. in 2019 through November, representing a 13% increase from the same period in the prior year, according to Bureau of Census statistics. Total worth jumped 44% during the period to $725 million.
Prices for Mexican product passing through Texas increased the week ending Jan. 13 when compared to Jan. 6, with 8 1-lb. containers with lids selling mostly between $12.00-$14.00, according to USDA. Prices for product passing through Otay Mesa, CA, were mostly $14.00.
Cold storage holdings of frozen strawberries totaled 187.6 million-lbs. on Nov. 30, down 25.9% from 2018, according to USDA. Decreases were reported across all four sub-categories tracked. A report contact noted the Oct. 31 cold storage figures represented a 32-year-low. As a result, determining a market for frozen strawberry prices was elusive.
The Processing Strawberry Advisory Board of California reported 347.6 million-lbs. of Grade No. 1 freezer berries the week ending Nov. 23, 2019, down from the 409.4 million-lbs. reported for the date in 2018 and 391.4 million-lbs. in 2017.