The $7.44 trillion U.S food industry is investing in e-commerce, robotics, and technology like never before.
A recent report from Exploding Topics — a trend-tracking software platform that analyzes millions of searches, conversations and mentions across the internet — unpacked several related developments impacting the food and beverage industry today.
Here are three noteworthy trends for food producers and grocery retailers to prioritize in the year ahead.
1. Massive Growth in DTC Food & Beverage
On the heels of the pandemic boost in delivery demand, food and beverage is now the fastest-growing category in online retail.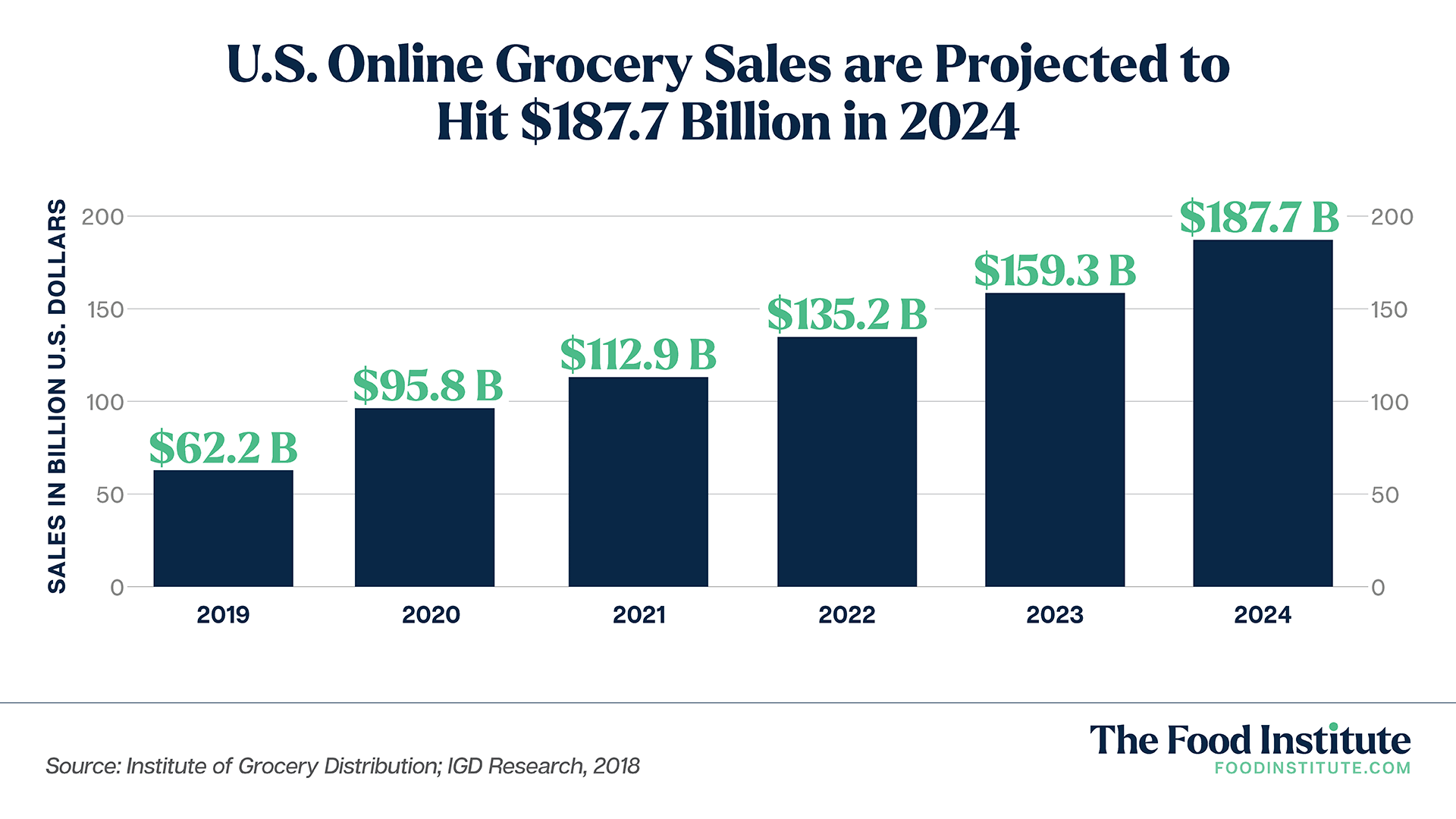 However, even before pandemic lockdowns began, ecommerce food sales were growing, thanks to direct-to-consumer (DTC) food and beverage brands.
"The rise of digital advertising, recent explosion of tiktok, and shift in lifestyles due to COVID has led to consumers being much more open to shopping at home than they ever were before," Filip Pejic, co-founder at Pearly Drinks, told The Food Institute.  "Even though we have all started going back to the grocery store again, we now know what's out there and what products are better to be purchased online."
As Exploding Topics notes, many DTC food startups are finding traction through underserved markets, such as those that cater to special dietary needs.
"In today's landscape, a lot more small food and beverage brands can exist and leverage the internet to distribute products to a hyper-specific audience," said Pejic.
For instance, search growth for plant-based nutritional brand "Laird Superfood" has increased by 153% over 5 years. Search volume for "Magic Spoon," a high-protein, low-carb breakfast cereal brand for adults, has grown by 45% over the past 2 years.
Pejic, who previously worked directly with major retailers like Costco and Walmart at P&G, offered several predictions for how DTC might impact grocery retailers over the next five years:
Retailers will become much more aggressive online, using it as a channel to test new products.
They will bring well-performing DTC brands into their stores for limited-time drops.
They will launch their own versions of DTC brands as exclusives (Target is already doing this with their incubator)

2. Social Media Inspiring Home Cooks
During the lockdown days of the pandemic, foodie influencers and brands exploded on social media channels like TikTok, as more consumers experimented with cooking.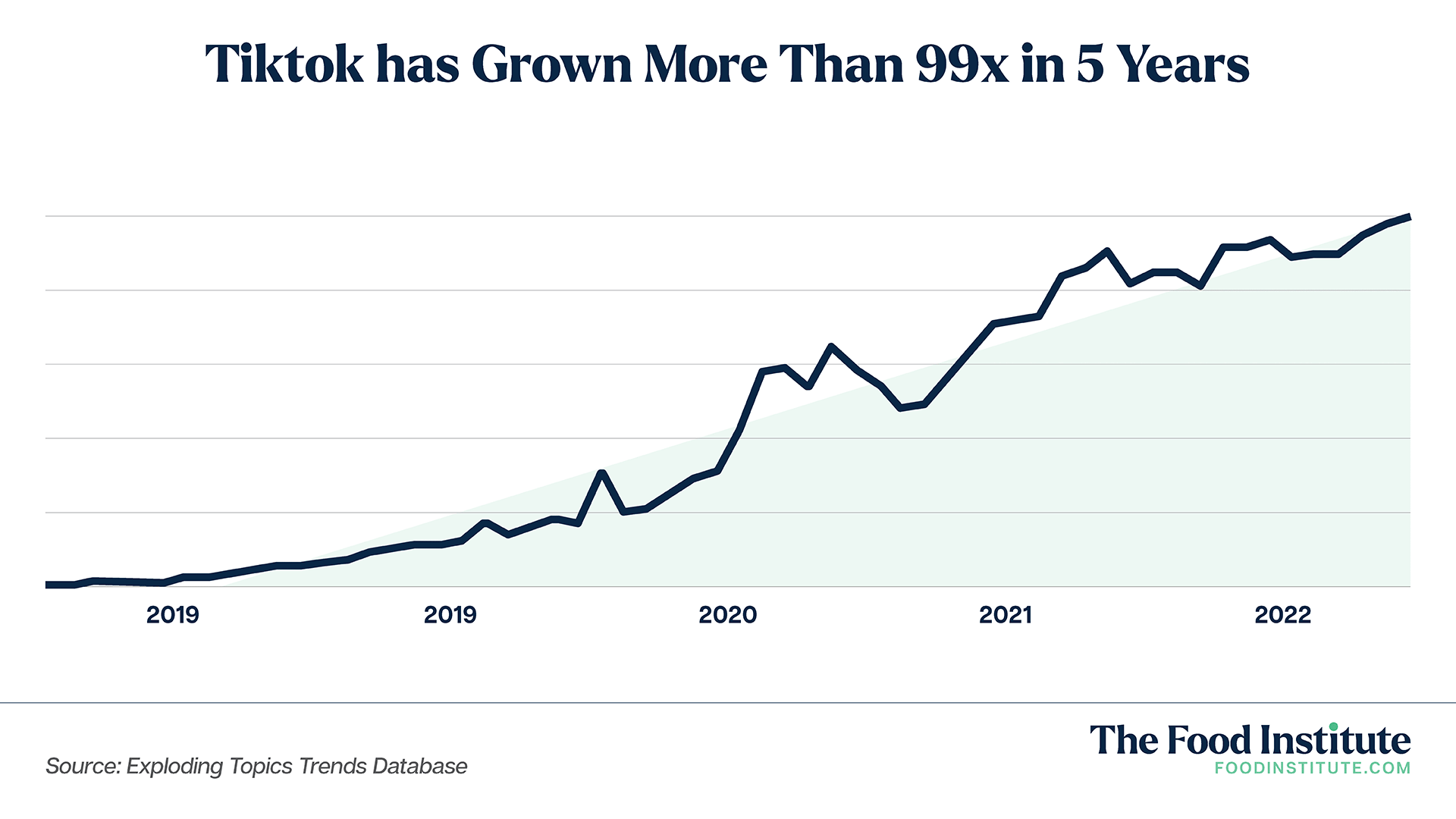 A 2022 trend report from FONA International shows that 70% of consumers plan to continue cooking at home after the pandemic. Furthermore, 36% said social media has changed how they cook at home.
As this trend continues to gain momentum, cafes and retail chains are picking up on products inspired by social media.
For instance, following the TikTok whipped coffee craze in early 2020, upscale convenience store chain, Foxtrot Market, and a bubble tea company, Fat Straws, started offering versions of the drink in their cafes.
In the years ahead, the FONA report advises product developers and retailers to be mindful of trending recipes and flavors that might work for their brand and to keep a particularly watchful eye on TikTok Kitchens. Social media influencer collaborations with brands can also be opportunistic for developers who are looking to target younger audiences especially.

3. Vertical Farming
The pandemic and other recent supply chain disruptions illustrated the fragility of our current food system, which relies on centralized growing and affordable shipping to move produce across the country, Chris Rawley, CEO of Harvest Returns, told The Food Institute.
These developments have significantly accelerated developments within the vertical farming sector.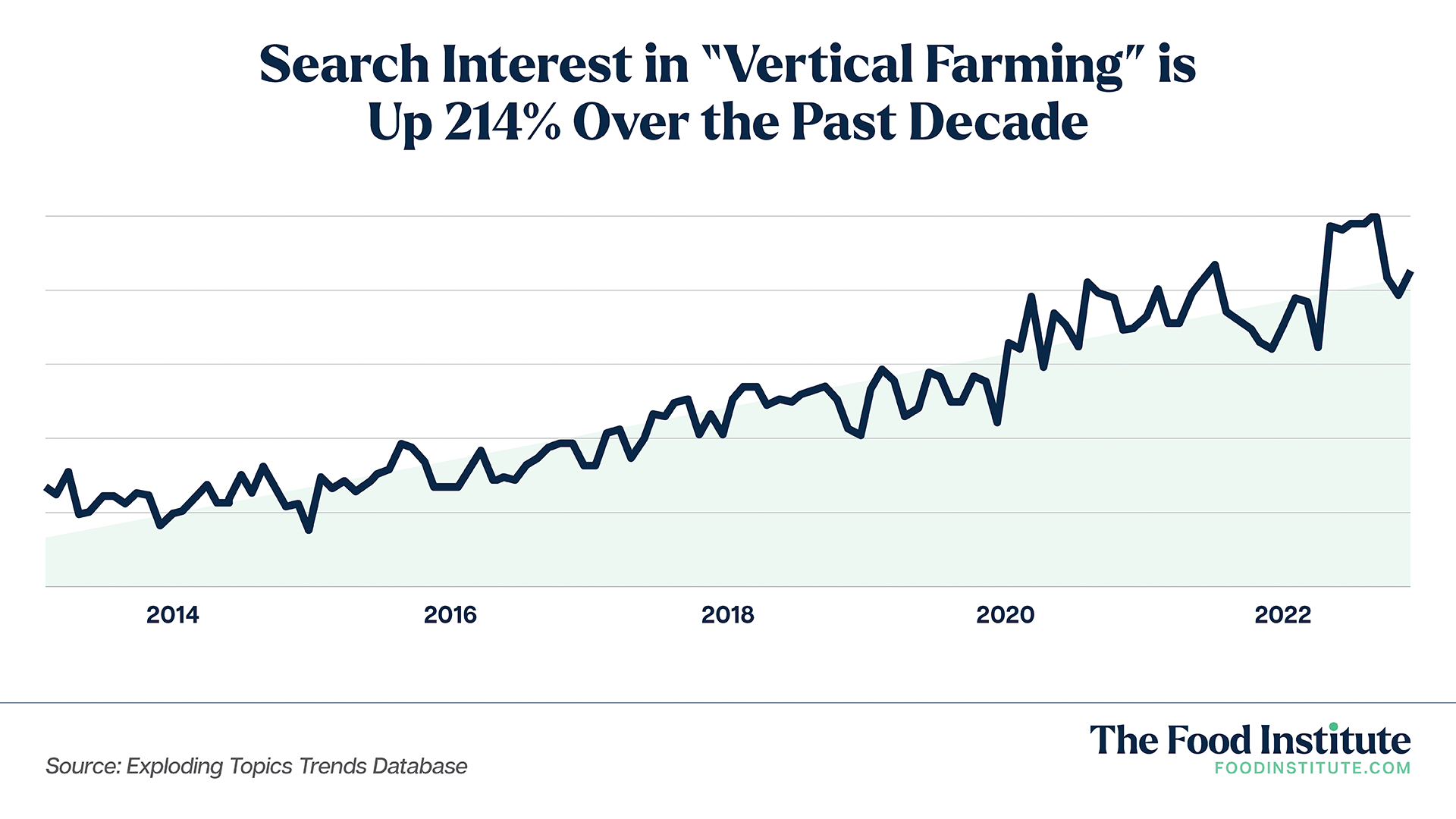 "Over the next several years, investments in controlled environment agriculture and vertical farming will help to decentralize America's food system," said Rawley. "Fruits and vegetables grown locally around the country will shorten supply chains, require less fuel to transport, and provide fresher produce year- round to consumers."
As Assaf Dotan, CEO of Grace Breeding notes, growing leafy crops under controlled conditions can also dramatically reduce the use of pesticides and decrease the cultivation life cycle, which translates to more yield and simpler rotation between different crops.
"Vertical farming can be installed close to the grocery store or restaurant and easily delivered, said Dotan. "The leafy greens are delivered fresh, clean of insects, and agrochemicals, and will enjoy a longer shelf life."