Regionality is playing a major role in seasonal innovation this summer, as budget-conscious consumers incorporate more local attractions into their travel itineraries. Here are some tips and takeaways from a recent trendspotting webinar by food and beverage intelligence platform, Datassential.
Recreational Venues are Hot 
In a recent Datassential survey, nearly half of consumers said that they did not have any specific travel plans between June and August of 2023. Furthermore, the majority of those who did plan to hit the road were opting for domestic over international excursions.
With travel focused on more localized occasions and destinations, attendance at recreational venues is up significantly across the country, from stadiums and amusement parks to local fairs and movie theaters.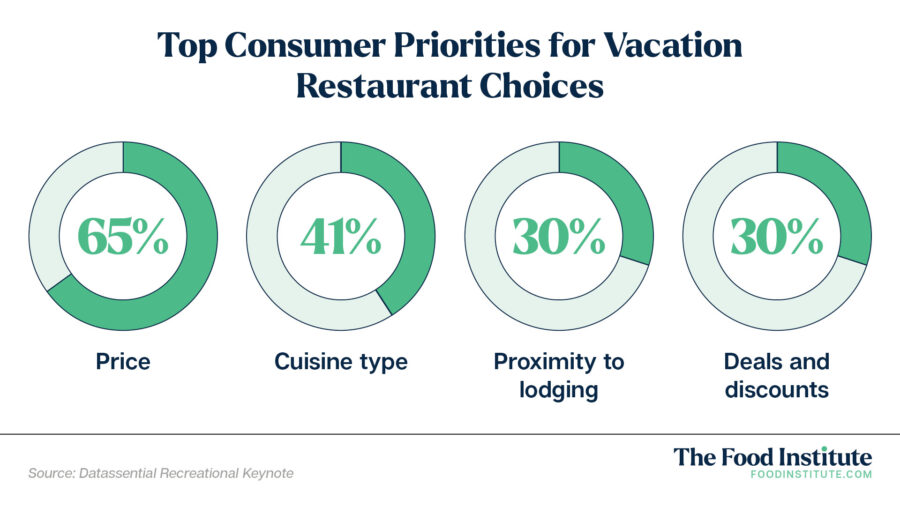 The elevated foot traffic is also boosting food sales and driving innovation in the space. These destinations are becoming "a more salient food destination for consumers across all ages," said Huy Do, publications manager at Datassential. "This is something that really needs investigating."
As Do notes, food and fun are interchangeable at recreational venues and when consumers go places to be entertained, they're often more impulsive and uninhibited.
"There are opportunities for foodservice operators to step up their food and beverage offerings to engage consumers on premise [with] craveable dishes that people can share on social media, things that are affordable, things that make people excited."

Local LTO Inspo 
In addition to being popular attractions this summer, seasonal event spaces are a hotbed of food experimentation.
In addition to stadiums and amusement parks across the country, 'if you're looking for really over-the-top wild foods to support your innovation work for [future] LTOs or unusual CPG products, always look to state fairs," noted Mike Kostyo, resident Trendologist and Senior Managing Editor at Datassential.
Stadiums and amusement parks are serving up more international foods this year. Examples from Six Flags "Flavors of the World Festival" include:
Salchipapa, Peruvian fries topped with hotdogs
Morir Soñando, an orange juice milk beverage from the Dominican Republic
Indian fare such as Gulab Jamun and Masala Chai
Inspirations from the Wisconsin State Fair include sweet and savory dill pickle doughnuts and sweet potato iced lattes with brown sugar boba pearls.
For stay-at-home consumers, upside-down puff pastry tarts are trending on TikTok. These hand-held snacks are simple to make and showcase the sweet and savory flavors of summer produce. 
Nostalgia treats that incorporate s'mores flavors are also trending across foodservice along with funnel cake fries and soft-serve dip cones.

Location, Location, Location
Regionality plays a big role in seasonal trends and this combination can also be highly influential with nostalgia offerings. "Summer has so much of that comfort food thing," said Claire Conaghan, associate director of publications at Datassential. "What's summer to me might be different from what's summer to you, depending on where I grew up in the U.S. and what state fairs I attended."
Convenience stores are under-leveraging summer LTOs. "[When] you're going on long trips …you are probably stopping to get gas, but you are going to go make a second purchase at a fast-food restaurant with more interesting introductions if [c-stores] aren't prioritizing their food," Conaghan added.