As consumers continue to blur the line between snacks and meals, the plant-based category is playing an active role in the space between.
Seventy-eight percent of global consumers say their definition of snacks has evolved over the last three years to include different types of foods and occasions for eating, according to a recent study by Mondelēz International.
Furthermore, over 90% of Americans said they have replaced at least one meal per week with a snack in 2021, while about 70% of millennials said they prefer snacks to meals, reported Exploding Topics.
One key trend in this shift is consumers prioritizing options that they perceive to be better for themselves and the environment.
Accordingly, a report by Market Research Future shows the plant-based snacks market is estimated to reach $72 billion by 2027 and register a CAGR of 7.85% during the forecast period.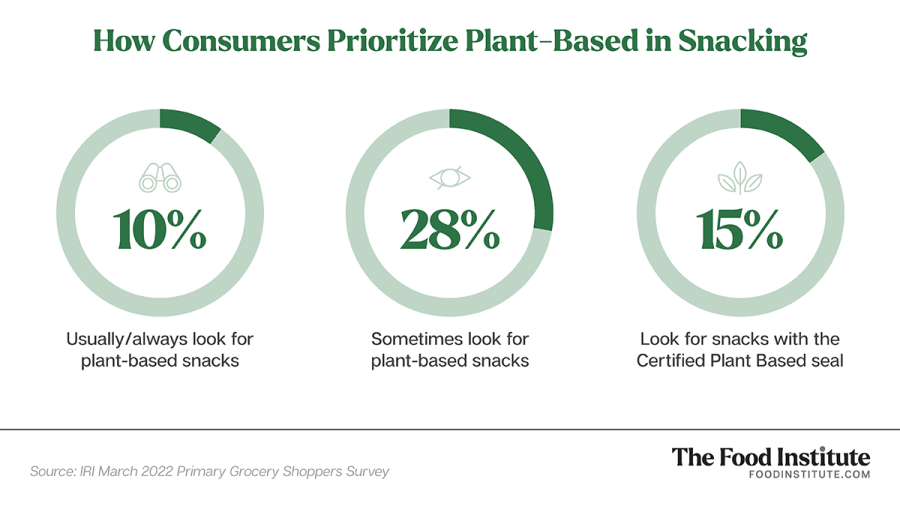 "Consumer awareness is at an all-time high around the sustainability and nutrition of the products they're consuming," Jennifer Estevez, Founder of business advisory service Consciously Planted, told The Food Institute. "At the same time, our world congruently continues along a fast-paced, convenience-driven path with snack foods being an important link to sustainability and health, especially in the plant-based sector."

Protein & Performance
Overall demand for functionality and convenience are propelling categories like jerky and snack bars — and creating ample space for plant-based experimentation.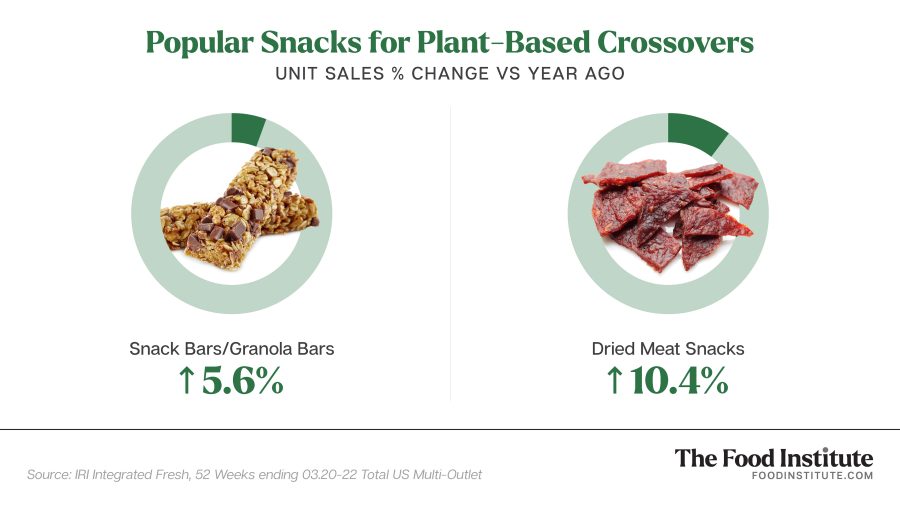 "In 2021, plant-based protein snack products grew 5% in dollars," Sally Lyons Wyatt, Executive Vice President and Practice Leader at IRI told The Food Institute.
The expansion of jerky varieties has been noteworthy, she added. New products feature ingredients ranging from soy and seitan to mushrooms, kelp, and assorted fruits.
Major players are also zeroing in on the category. In March, Beyond Meat Inc. and PepsiCo Inc. announced the first product under their PLANeT Partnership — a plant-based jerky made with protein from peas and mung beans, reported CNBC.
Meanwhile, protein bars hold the second largest share (20%) of the global health and wellness snack market.
Snack bars and "bites" are seeing plant-based crossover from traditional brands as their appeal expands into more dayparts and nutritional performance categories.
"Many well-known protein bars already offer vegan SKU's with companies such as RX bar jumping on the wagon with their newest product addition RX Plant," said Estevez.
Other Trends to Watch
Plant-based snack producers that commit to sustainability and staying local will enjoy added success in 2022, said Larissa Russell, CEO of wholesale B2B marketplace Pod Foods Co.
The Pod Foods 2021 State of Grocery report found that 56% of consumers are shopping locally or buying more locally made products. There has also been a 14x increase in new products hitting the market that are sustainably grown compared to 2020.
"As mainstream supply chain woes continue to face the traditional food procurement supply chain, we predict that more trend-forward plant-based brands such as Akua, Gwell, and Siren Snacks will continue to support the plant-based food movement by providing creative alternatives to full meals and mid-day snacks," Russell said.
Plant-based chocolate is also a snacking category to watch, according to Marcel Bens, managing partner and COO at Emil Capital Partners, an early-stage investment firm focused on companies in the better-for-you consumer goods and services space.
"Chocolate will dominate plant-based transformation as consumers are looking for milk alternatives in chocolate," Bens said. "The production and mouthfeel are not so easy to replicate, so that will be a big win for this category."