Consumers' perception of chocolate as a functional indulgence has made it a growing target for plant-based exploration.
The global vegan chocolate confectionery market is expected to reach $1.41 billion by 2028, registering a compound annual growth rate (CAGR) of 14.8% over the forecast period, according to a report by Grand View Research. In 2020, milk chocolate claimed the largest share in market due to higher demand for its sweet and creamy taste.
Meanwhile, in a November global survey commissioned by Swiss chocolate manufacturer Barry Callebaut, less than half of the respondents (45%) said they were happy with the plant-based milk chocolates available them — indicating a significant runway for product innovation.
"We see that taste and variety are important triggers to go for a plant-based treat," Sofia Popova, a marketing executive at Barry Callebaut, told Food Ingredients First. "Flexitarians are by far the leading group in driving the demand and "plant-based" is the most appreciated claim versus vegan or dairy-free."

Category Drivers
More than 30% of respondents increased their chocolate consumption as a result of COVID-19, according to Cargill's 2021 ChocoLogic study. IRI data for the 52-week period ending January 23 shows overall unit sales for chocolate remain steady, with a slight 0.6% increase year over year.
Throughout the pandemic, consumers sought foods that they found to be both indulgent and functional, which further boosted chocolate's appeal. These attributes continue to top trend forecasts for 2022.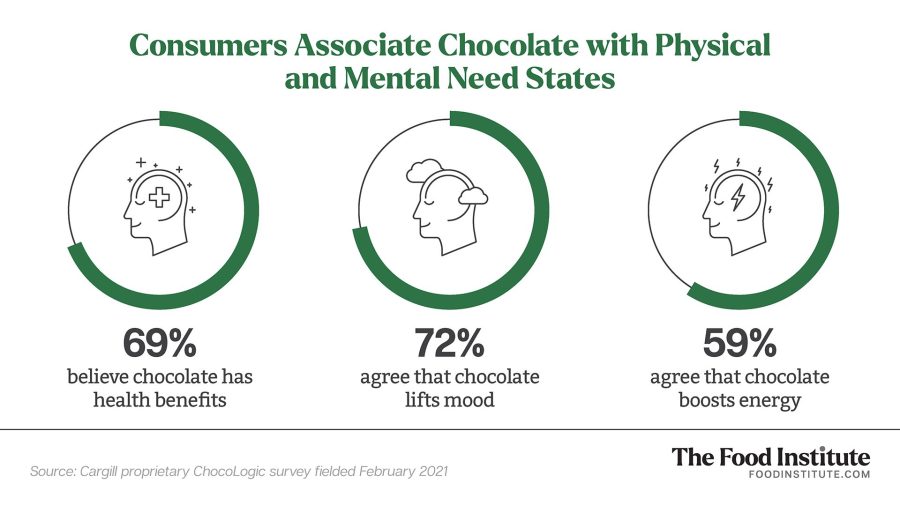 While plants are a key ingredient in chocolate and contribute to its perceived health benefits, only dark chocolate varieties can be considered naturally vegan or plant-based.
As the Cargill study shows, 52% of consumers who choose dark chocolate do so because they believe it is healthier. However, chocolate type is the top purchase consideration and milk chocolate is the most favored variety universally.
"Plant-based chocolate is both a modern invention and a centuries-old recipe," plant-based blogger Tara Orcutt told The Food Institute. "The actual plant-based shift in the chocolate business is happening in the milk chocolate area, with new and interesting dairy substitutes… Rice, coconut, almonds, and oat-based milks have all grown increasingly popular."
Industry Movement
In the past year, several international players have released plant-based twists on consumer favorites.
In June 2021, Nestlé released KitKat "V" in select countries in Europe. Four months later, Mondelēz International launched the Cadbury "Plant Bar" in response to consumer demand in the U.K, reported Ingredients Network.
Meanwhile, The Hershey Co. began a limited U.S. distribution of "Oat Made" bars in September, on the heels of its $450 million acquisition of better-for-you chocolate brand Lily's Sweets, reported Food Dive.
In January, Cargill unveiled a new dark chocolate vegan variation, "ExtraVeganZa," which boasts improved functionality through plant-based "power" ingredients, such as sunflower kernel powder, and organic rice syrup.
The same month, Mondelēz announced its acquisition of well-being snack brand HU, which became a premium chocolate category leader in the U.S. through its vegan and paleo-friendly bars.
Going All In
While most players are largely experimenting with plant-based variations, craft chocolate maker TCHO has opted to replace its complete six-bar milk chocolate lineup with plant-based dairy alternatives and make its entire portfolio animal free by 2023, reported Morning Brew.
Despite concerns about isolating milk-chocolate consumers, TCHO wanted to prioritize its green goals, which include lowering its carbon footprint and reducing deforestation.
"For us, this whole process wasn't about closing the door on dairy as much as opening up all new possibilities of flavor, texture, quality and sustainability" Brad Kintzer, Chief Chocolate Maker at TCHO told The Food Institute.  "By carefully reverse engineering our traditional milk chocolate, we were able to design a new plant-based milk that kept what we loved but was something very much new and delicious."