As pandemic demand for meal subscription services dwindles, the industry continues to evolve — for better or worse. Could plant-based varieties boost overall market growth in the year ahead?
According to a recent report by Adroit Market Research, the global vegan meal kit delivery service market is expected to reach $62.3 billion (USD) by 2029, growing at an average compound rate of 16.6% during the forecast period,.
"While there are a few key players in the space, the market is still fairly fragmented, and there is plenty of room for new entrants," Danny Henderson, Fitness Analyst at Researching Health, told The Food Institute. "The main drivers of growth are the increasing awareness of the health and environmental benefits of plant-based eating, the convenience of food delivery, and the growing number of vegan-friendly restaurants."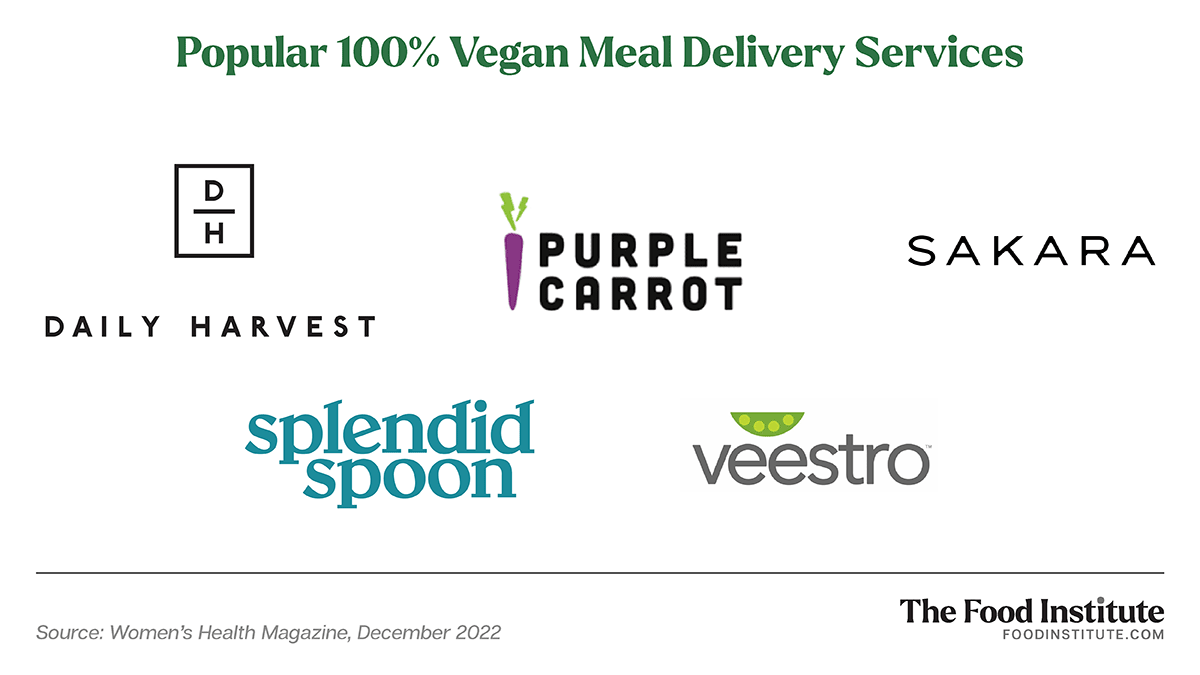 "We see 87% of Americans seeking to eat more vegetarian or plant-forward which translates to a huge shift in consumer behavior because so much of the American diet contains animal proteins," Nicole Centeno, Founder and Co-CEO of Splendid Spoon told The Food Institute.
Last month, Splendid Spoon joined forces with Violife, Dr. Praeger, and Afia to expand their offerings through a new line of "Dishes" with larger portion sizes.
"We sweat the details and seek to collaborate with experts in nutrition, taste, growing practices, and the many cultural applications of ingredients for both flavor and healing," said Centeno. "Each of these partners is building beautiful food experiences that build better communities and a more sustainable planet."

Market Challenges
In 2022, the food subscription and meal kit delivery sector saw a significant decline in demand.
According to The Financial Times, meal kit service Hello Fresh experienced an 70% drop in share price last year, while shares in competitor Blue Apron fell 88% over the same period, driving the company to pivot into a retail distribution partnership with Walmart.
Furthermore, meal delivery startup Freshly – which was acquired by Nestle in 2020 –ceased operations in December. As Progressive Grocer reports, inflation and changing consumer habits forced the company's hand.
Overall, industry fragmentation makes it challenging for companies to scale up.
"The industry is still relatively young, and there is a lot of room for growth," Charles Leaver, Chief Financial Officer at Healthier Trajectory told The Food Institute. "However, this also means that there is a lot of competition and that companies need to be able to execute well in order to be successful."
The consumer base for the subscription business model is also limited, especially for plant-based products, which intensifies the competition.
"Every market participant in this situation tries to draw these few customers in order to simply survive," said Preston Powell, the CEO of Webserv. "The protection of quality and flavor is difficult. As you grow over time, you will occasionally notice that peoples' tastes change rapidly, and the company needs to adapt to it as quickly as possible."
According to Dan Gallagher, ISSA Certified Nutritionist at Aegle Nutrition, developing new recipes that retain customer loyalty may require extra resource allocation from a business perspective, which could further tax already stretched resources caused by coronavirus disruptions.
"Despite these challenges, this booming sector offers ample opportunities to meet unmet needs and innovators can capitalize on growing demand," said Gallagher.

Additional Drivers
According to Centeno, there are a few ways in which plant-based meal subscription companies could play a role in broader industry growth – and plant-based adoption – in the year ahead:
New habits require consistency, which can be reinforced with subscription services.
Subscription behavior allows platforms to provide personalized recommendations based on goals, nutrition needs, and flavor profiles.
Subscriptions can also provide a path for savings as brands reward loyalty and larger volume orders.
Another key growth driver is the convenience factor.
"The demand for food delivery providers is largely being driven by customers who are overworked, individuals who work mandatory overtime, and a growing amount of employed women since it is almost hard to go grocery shopping," said Mika Tomada, PR Specialist at London-based meal prep servicing company, Plant Sumo.
"With busy schedules, many people need more time to plan, shop for, and prepare plant-based meals from scratch," Karan Tiwari, content manager at LonelyAxe, told The Food Institute. "Vegan food delivery services take the hassle out of meal planning, allowing consumers to simply choose from a selection of pre-prepared meals delivered straight to their door."