ROSEMONT, Illinois – The Plant-Based Foods pavilion at the recent Private Label Trade Show hosted numerous exhibitors offering plant-based products to address consumer concerns about health, the environment, and animal welfare.
Speaking about private label foods during the Retail Trends Breakfast, Caroline Davidson, director, agency and channel partnership for SPINS, said "What we see that has actually higher percentage growth change – and consumers are willing to pay more for – are plant-based alternatives: the higher-protein, lower-sugar, like better-for-you dietary requirements" instead of commodity categories like bread, spices, and dairy.
Plant-based beef and chicken analogues
Makers of plant-based meat alternatives at the Private Label Management Association's recent event focused on health benefits, sustainability, and flavor. Ensemble Foods noted that its plant-based chicken alternatives are a source of protein, along with being vegan, Halal, and kosher certified.
Improved Nature LLC stated that its Nature's PRIME plant protein shreds and tenders only contain soy protein and are Kosher Pareve, Halal certified, Non-GMO Project Verified, and gluten free.
Meanwhile, Great American Plant Co. highlighted the sustainable sourcing of its plant-based burger patties, noting that it's domestically sourced and manufactured. Before the Butcher emphasized its solid flavor by noting that its UNCUT Plant-Based Breakfast Sausage and UNCUT Plant-Based Taco Ground have won the National Restaurant Show's Food and Beverage (FABI) awards.

Deli slices and seafood
Deli slices and seafood plant-based options were also plentiful at the Chicago-area show. Inspired by her great-grandfather's history of operating New York delis, Jenny Goldfarb developed a 100% plant-based Unreal Corn'd Beef to satisfy her nostalgic cravings after she adopted a vegan lifestyle. Unreal Deli is billed as the only premium plant-based deli meat on the market with its protein-packed, kosher certified, GMO-free positioning.
Elsewhere, seafood alternatives included crabless cakes and fish flavour plant-based sticks (Emerge Foods), fish burgers (Future Food Group's PLNT), fish fingers and tuna (Schouten USA Inc.), and vegan tuna (WORTHINGTON).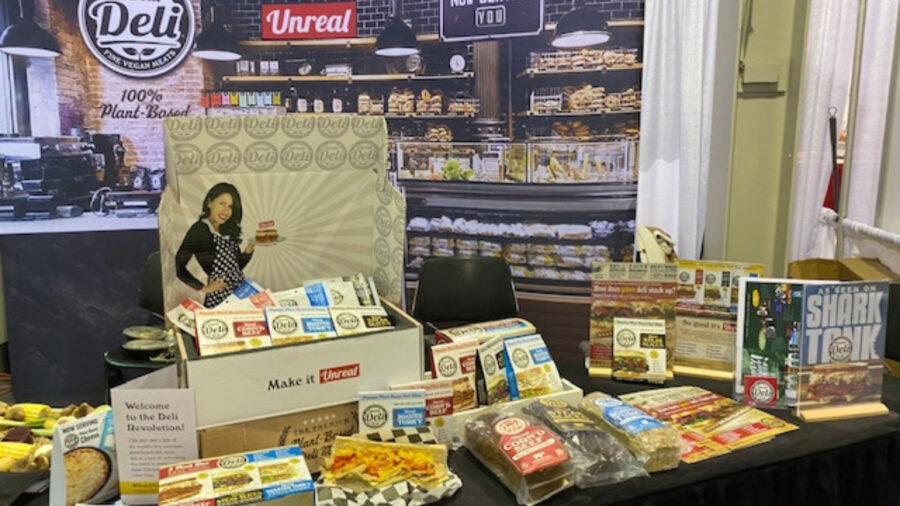 Plant-based meals
Plant-based alternatives to popular restaurant dishes included alternatives to Shawarma, a Middle Eastern dish typically made with thin slices of chicken or lamb that are stacked and roasted on a vertical rotisserie.
Botanical Butcher offered a Plant Based Shawarma, while Teva Deli provided Mediterranean Style Shawarma. Mac & cheese options included Plant-Based Mac & Cheeze from Avocadamama and Magic Cheese Vegan Cheese Sauce from Livingjin Co., Ltd made with fermented soybeans for a healthy gut.
Red Gold, Inc. sampled its Plant-Based Chili made with pea protein crumbles. Meanwhile, BC Gourmet USA Inc. offered a Sauces'n Love refrigerated Plant-Based Bolognese made with textured pea protein.

Dairy alternatives
Oats had a big presence among the dairy alternatives at the show.
Oatbox promoted its oat milk made with Canadian oats. WayFare Foods showed its cream cheeses and sour cream made from butter beans and oats. Prana Organic featured its Granolove on the go Brownie Crunch Granola Cereal with Oat Beverage that is designed to be mixed with water. To appeal to a wide range of consumers, Culture Fresh Foods, Inc. sampled yogurts made with oat, coconut, or almond. In the cheese category,
ARMORED FRESH stated that its line of almond milk-based cheese alternatives including its Shreds Mozzarella exceeds the nutrients of dairy cheese. MozzaRisella offered Italian-made cheese alternatives to fresh mozzarella cheese and blue cheese made from sprouted brown rice. Finally, Weins Foods offered Plant Ahead mozzarella (with a full 7" Pasta Filata style stretch), Feta cheese packed in authentic rock salt Greek brine, and Parmesan in shred and wedge formats.
Virginia Lee is a food, drinks & beauty trends explorer and market researcher. She has advised companies on innovation and market entry opportunities in consumer packaged goods at Euromonitor International, Brightfield Group, and Innova Market Insights. Connect with Virginia on Twitter and Instagram at @VirginiaALee.