Coffee consumption is going strong throughout the U.S., with drinks away from home on the rise and younger consumers driving the popularity of specialty, refrigerated, and ready-to-drink brews.
According to the National Coffee Data Trends (NCDT) Fall 2021 Report, 60% of Americans had a coffee in the past day — more than any other beverage, including tap water.
Consumers have also increased their coffee consumption away from home by 16% since January 2021.
This traction is also reflected in retail shopping patterns. Furthermore, IRI data from the 52 weeks ending September 19 indicate stronger preference for single cup options over traditional ground varieties.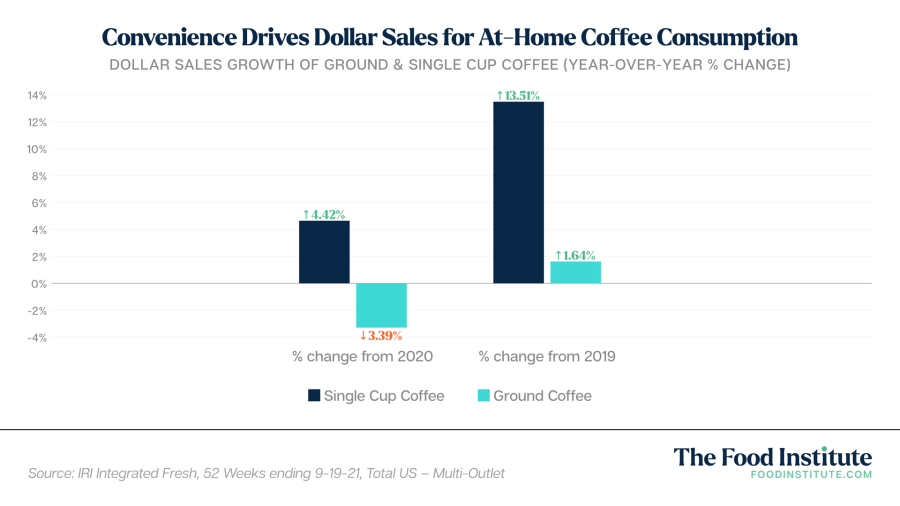 Younger generations are increasing their coffee intake as well. Sixty-five percent of Millennials aged 25-39 reported drinking coffee in the past day, setting a NCDT record high for the age group. Among Gen Z, 46% of respondents aged 18-24 said the same, a figure that has increased 10% since January.
Factors contributing to this increase include the innovation of product offerings, changing work patterns, and drinking coffee as a social activity, Linda Zayer, Professor of Marketing at Loyola University Chicago, told The Food Institute.
"Rather than grabbing a coffee on the morning commute, consumers are treating themselves to a cold coffee beverage with unique flavors they cannot make at home, said Zayer. "In addition, coffee houses with outdoor seating can cater to consumers who feel like it is a safe space to reconnect with others."
Notable Category Growth
Young coffee drinkers are driving sales in the specialty segment, with 49% of 25-to-39-year-olds surveyed drinking at least one cup of specialty coffee in the past day.
Specialty coffee is defined as any espresso or non-espresso-based beverage or traditional coffee that consumers perceive to be brewed from premium coffee beans/grounds. The broad category includes lattes, cappuccinos, frozen blends, nitros, and cold brews.
In grocery stores, specialty items in the ready-to-drink and refrigerated categories have exhibited a significant growth trajectory over the past three years, according to IRI data.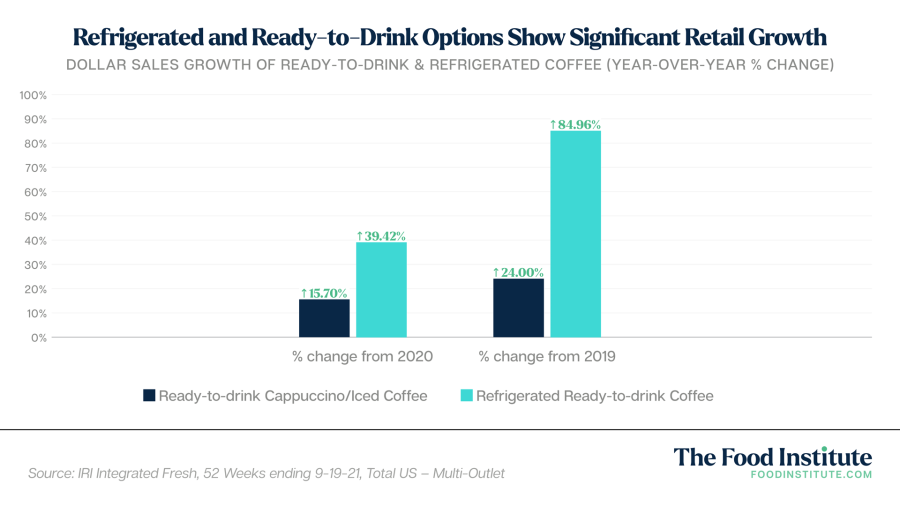 Overall, consumption of cold coffee is up 50% since January 2021, according to NCDT.  The category has surpassed the expected seasonal levels and continues to show the increasing popularity of cold brew, which was virtually unknown when first surveyed in 2015.

Price Outlook
While ongoing food inflation has yet to deter devoted drinkers, coffee futures are sitting around $1.90 per lb., up significantly from July when it sat at the years-long price of about $1 per lb, reported CBS News.
In addition to sustained drought and two July frosts impacting Brazil's coffee output, Colombia's crop is also a concern now, due to heavy rains linked to La Niña, Judy Ganes, president of commodities research company J Ganes Consulting, told The Food Institute.
"Prices were going to go up anyway due to other factors, such as higher freight rates and energy costs," said Ganes. "The climb in the price of coffee is just one more log thrown into the fire."
Consumers will most likely notice price hikes in grocery stores before coffee shops, where the margins aren't tied as closely to the price of coffee, said Ganes. "The entire value chain needs to be flexible and will need to be experimental to showcase new origins or varieties if their typical coffee is not available at a price they can afford to pay."