Even a lingering pandemic has done little to slow the momentum of Merkado, an independent restaurant serving Mexican comfort food in San Francisco. The establishment, which features a menu inspired by Yucatán and Jaliscan cuisine, has been busy in 2022, with families and friends eager to reconnect over margaritas and chips and salsa.
"The concept of coming together in an informal, fun setting to catch up is deeply engrained in Mexican cooking and culinary culture, and Mexican dishes lend themselves to these kinds of social interactions," Fabien Santos, Merkado's operator, told The Food Institute.
Mexican food has never been more popular as consumers embrace the cuisine's bold flavors. The Mexican food market is poised to grow by $113.85 billion through 2026, exhibiting a compound annual growth rate (CAGR) of 6.65%, according to Technavio Research. Fifty-eight percent of the market's growth is expected to originate from North America.

VARIOUS DISHES GAINING STEAM
Mexican food's popularity is apparent throughout the food industry. A recent Datassential report indicated that Mexican dishes like elote (grilled corn; shown below, courtesy of Merkado), adobo sauce, concha (a sweet bread roll), and sandia loca ("crazy watermelon") are gaining popularity.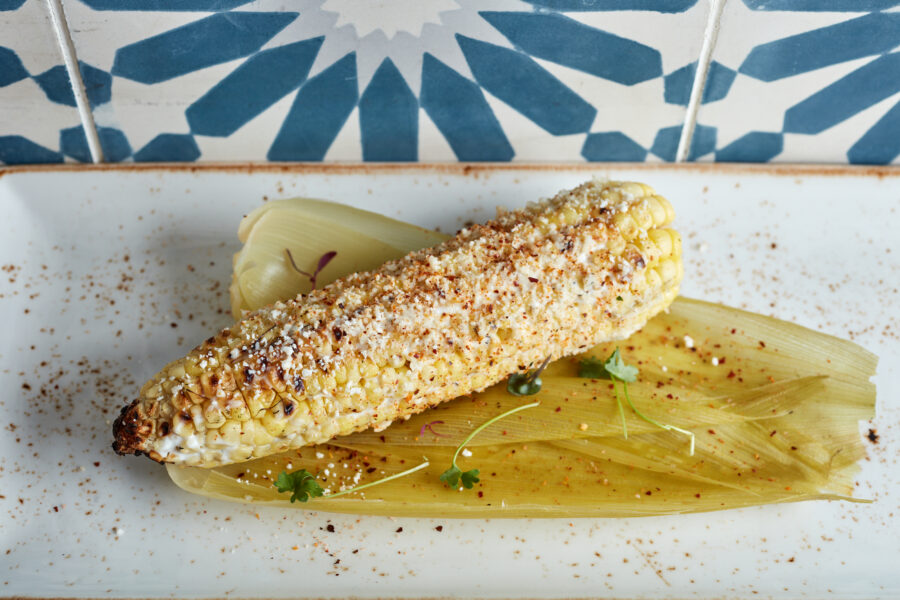 More evidence of Mexican food's growing popularity: fast-food chain El Pollo Loco recently said its limited-time-offering of Shredded Beef Birria tacos, burritos and quesadillas was its most successful new product launch ever and significantly accelerated first-quarter sales.
Mexican cuisine "is versatile and favorable toward those who are price-conscious," Santos said. "With the current difficulties navigating pandemic-related supply chain issues, Mexican restaurants can easily pivot to use ingredients that are more accessible, without compromising the overall flavor of the menu."
The growing Hispanic population in America could also be impacting the cuisine's growth in popularity.

HISPANIC POPULATION GROWING
The U.S. Hispanic population reached 62.1 million in 2020, an increase of 23% over the previous decade, according to Pew Research.
Also, the U.S. Latino population has been shifting away from states with historically large Latino populations. As recently as 1990, 86% of Latinos lived in just nine states (Arizona, California, Colorado, Florida, Illinois, New Jersey, New Mexico, New York, and Texas). North Dakota has been the state with the fastest Hispanic population growth rate at 148%, according to Pew Research.
As the Hispanic population grows in America, some food manufacturers are striving to produce Mexican food that's truly authentic and more varied, inspired by family recipes that have been passed down through generations, while also more frequently sourcing ingredients from Mexican farms.
Manufacturers of Mexican food, like Somos Amigos Inc., aim to replace a narrow view of Mexican food in the U.S. with "one that is as diverse as the food I ate growing up," said CEO Miguel Leal ( Meat + Poultry, April 15).
Editor's note: Photos of 1) the taco platter (top); 2) the elote dish (middle); and 3) the Mixiote Costilla dish (below) were courtesy of Merkado and Molly DeCoudreaux.